Father's hurt brims over before south Kashmir's top army officer
He describing how he had to face taunts from the police since his son, Rifleman Shakir Manzoor, disappeared on August 2 last year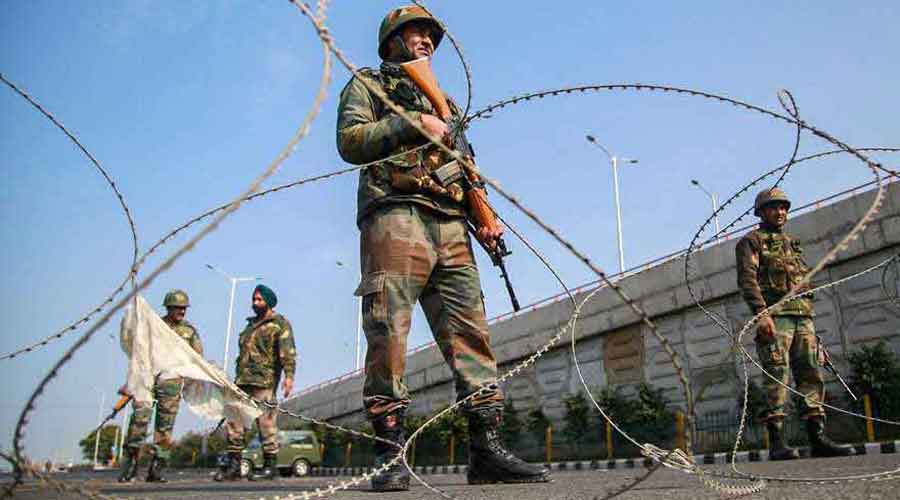 ---
Srinagar
|
Published 24.09.21, 01:32 AM
|
---
When a heavily decomposed body was discovered at a village roadside in Kashmir on Wednesday, it killed a father's last hopes, if any was still left, of seeing his son alive.
But it also gave him a sense of vindication, removing what he called a "stain".
Manzoor Ahmad Wagay on Thursday bared his heart before south Kashmir's top army officer, describing how he had to face taunts from the police since his son, Rifleman Shakir Manzoor, disappeared on August 2 last year.
Eyewitnesses suggested the soldier had been abducted by militants. But some police officers suggested he must have joined the militants or gone over to Pakistan for arms training, Wagay said, providing a peek into how the families of local soldiers were called on to prove their loyalty even during their worst trials.
A day after the body was found, confirming Shakir had been killed by militants, the soldier was buried on Thursday with full military honours.
In attendance were senior army officers, including the head of the counter-insurgency Victor Force, Major General Rashim Bali.
Wagay's pent-up hurt bubbled over at the event.
"Naturally, as a father I'm sad. But I'm also happy because whenever I went to the police, they would express suspicion that he had joined the militants," the 56-year-old told Bali before a large crowd.
"I was living with a stain and felt humiliated. I'm happy that the stigma is removed."
Bali did not respond to Wagay's remarks but thanked the people for joining the family's searches on several occasions.
A police officer in Kulgam did not answer a text message seeking a clarification.
Shakir was kidnapped while he was travelling home to Reshipora, Shopian, to celebrate Id. He was dragged out of his car, which was torched.
His body was found at Mohammedpora in neighbouring Kulgam, a few kilometres from Wagay's home. Wagay said someone must have brought the body to the spot and dumped it, after which some residents informed him.
He identified his son from his bracelet and stitch marks on his foot.
For the preceding 13 months, Wagay had travelled from village to village, often with shovels and spades, to find his son's body. He had been almost certain the militants had killed Shakir, for he had found some of the young man's clothes at three places in nearby Landoora.
Soon after the abduction, Wagay had appealed to the militants through videos to release Shakir or hand over his body if they had killed him, promising he would bear them no grudge.
"My son was in the army.... It is your job to fight the army, I have no complaints against you if you have killed him," Wagay had said in Urdu in one video.
"I shall have no complaints if the mujahideen have abducted and killed him, but I shall have a complaint if his body is not returned to me."
Many people in Kashmir address the militants as mujahideen, a reverential term that roughly translates as "holy warrior". It is understandable for a father whose son could be in militant captivity to use the word.
"Don't give me my son back (alive)," he had said. "If you don't want to forgive (him), then return his body. I won't reproach you."
Family sources said Shakir was listed as missing and not dead, which means the family was not entitled to any compensation during these months.
Emotional scenes were witnessed at Shakir's funeral, with many local women bidding him a tearful farewell.