Workers call out 'achchhe din fraud'
Farmers' protest galvanises Modi-wary poor
Workers call out achchhe din 'fraud'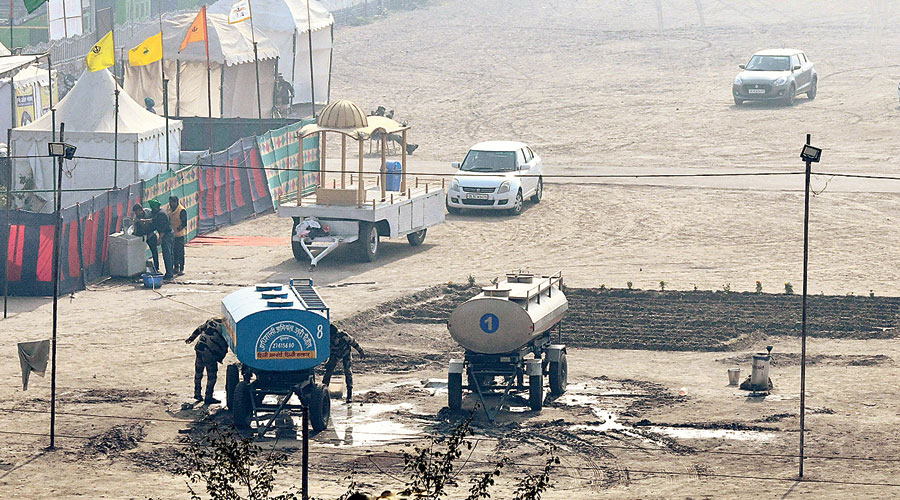 Protesting farmers cultivate vegetables on the Nirankari Samagam ground in Delhi's Burari on Thursday.
Picture by Prem Singh
---
New Delhi
|
Published 01.01.21, 02:12 AM
|
---
If Prime Minister Narendra Modi has triggered a farmer revolt with his new farm laws, a general sense of frustration at his policies and failed promises has attracted a wider segment of the poor to the protests at Delhi's borders.
While the better-off farmers sitting on their tractor trolleys dissected the farm bills and the danger they posed, the landless labourers and daily wage earners gathered at the Delhi-Ghaziabad border with them complained of being duped with the promise of "achchhe din (good days)" six years ago.
"Sirf dhokha (Nothing but fraud)," said an indignant Khyali Ram, who had come from Ramuwala Ganesh village in Moradabad, Uttar Pradesh, about Modi's electoral rhetoric.
"What kind of policies enable the rich to double and triple their incomes in a few years while generations of the poor struggle for survival?" he wondered.
Balkar Singh, a younger man who had come from the same village, cut in to say: "He promised achchhe din, Rs 15 lakh in bank accounts and what not. He said farmers' incomes would double....
"We have to sell paddy for Rs 1,100 against the MSP (minimum support price) of Rs 1,885. Our sugarcane dues are pending. Now he brings in laws that will ruin our lives; our land will be grabbed by corporate groups."
Rohtas Sharma, a landless labourer who too has come from Moradabad and sleeps in the same trolley with 20 others, complained: "Modi did nothing for us; our plight has worsened. I have been barely getting Rs 100 as a day's wages. My children don't go to school. There's no teaching in government schools and the private schools seek Rs 2,000 for admission."
Rohtas, who is happy being at the agitation site because everything from toothpaste to food and warm clothes is free, has vowed not to go back unless the new farm laws are withdrawn.
He knows little about the intricacies of these bills but realises that the farmers are genuinely upset. Asked whether he gets work under the rural job scheme MGNREGA at his village, he said: "Nobody gives us work. The MGNREGA is a fraud."
Farmer Dharampal, the banner on his trolley indicating a communist link, explained why.
"Asardar logon ka kabja hai MGNREGA par (Influential people have captured the MGNREGA)," he said.
"They get job cards issued for themselves and their lackeys, and the money gets transferred to their accounts without their having to do any work. I can say from experience that barely 20 per cent of MGNREGA work is genuine. Things have deteriorated in the last few years."
Balkar, asked whether he had received the latest instalment of Rs 2,000 under the Pradhan Mantri Kisan Samman Nidhi Yojana, said he had not.
"I got nothing, not a single rupee. But I don't need it. I own a tractor, have a pucca house, cattle and enough money to host a feast for the villagers on occasion. I can arrange for music too," he said.
"We had no problems as such, except schools and hospitals that the government should focus on. But the government is bringing in destructive laws.... We are not going away from here, come what may."
Dharampal, who is fiercely opposed to the new farm laws, went on to launch a political broadside against Modi.
"Can you imagine statues worth thousands of crores being built in a country where children don't have food and clothes? For how long will you rule by inciting passions, by fooling people on temples and nationalism?" he said.
"The fire is lit now. The poor have woken up. Now the government will realise that the poor will no longer be happy with crumbs."
What if the movement were somehow quelled and the farmers had to return home unsuccessful?
"There are other ways of protesting: sitting on the road is just one way. Haven't you seen how the boycott call jolted (Reliance's) Jio?" Dharampal said.
"We, the people, hold the key in a democracy. The government's lifeblood is in our hand. The flow will be interrupted whenever the farmers and workers unite. And you will see this time how the BJP and Modi get undone by us."