Expert panel to solve CA exam tangle
Of the 304,000 students who took the tests in May, only about 70,000 cleared them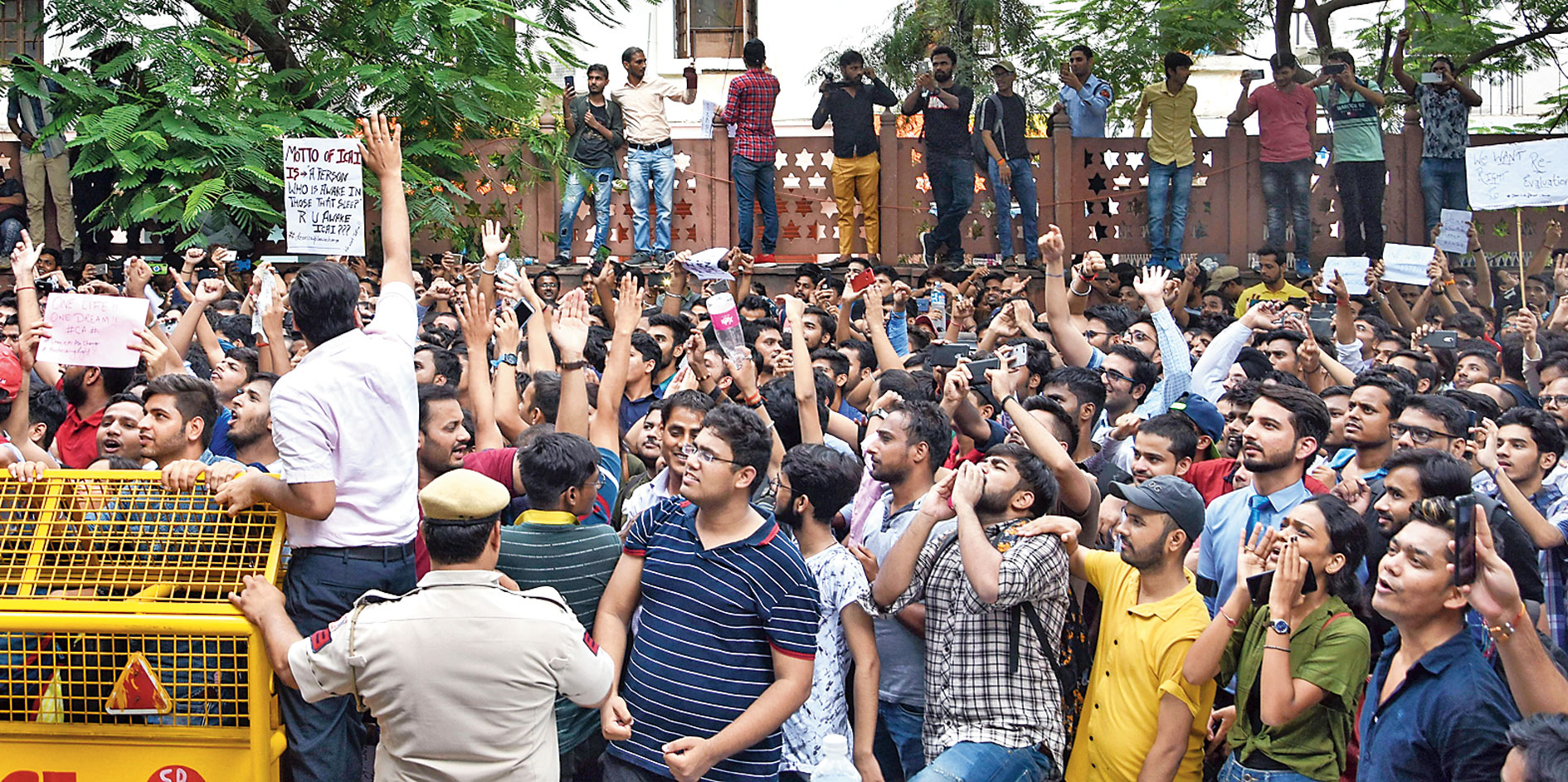 A protest outside the New Delhi office of the Institute of Chartered Accountants of India on Tuesday over allegations that students' answer sheets were not correctly evaluated.
(PTI)
---
New Delhi
|
Published 26.09.19, 08:38 PM
|
---
The Institute of Chartered Accountants of India on Thursday said it would set up a "high-level independent committee" to examine the demand from agitating students for a re-evaluation of their exam papers.
The concession, however, failed to persuade the students to call off their protests, being held in front of the institute headquarters here and its branch offices elsewhere.
Hundreds of students who have taken the foundation, intermediate or final exams of the institute's chartered accountancy programme have been holding a dharna here to protest what they claim was incorrect assessment of their answers.
"There were glaring mistakes in the objective-type test paper. During evaluation, they have not followed their own suggested answer keys," said Ali Shaukat.
All the three exams were held in May and the results declared recently.
Chartered accountancy students need to secure 40 per cent marks in each paper and 50 per cent on aggregate to be able to pass their exams. Of the 304,000 students who took the tests in May, only about 70,000 cleared them.
The agitation began after nearly 53,000 students obtained copies of their evaluated answer papers via the RTI Act and matched their answers with the answer keys. Since then the students have been demanding re-evaluation of their papers.
The Chartered Accountant Act has no provision for re-evaluation of exam papers. The students are demanding an amendment to the act.
Congress leader Rahul Gandhi has endorsed the demand for re-evaluation.
"Across India 12 lakh CA students are fighting for their right to have their exam papers re-evaluated by ICAI," he tweeted. "Given the widespread reports of errors in the evaluation of answer sheets, this demand is justified and should be supported by all political parties."
At a news conference, ICAI president Prafula P. Chhajed said the institute had a foolproof exam system that left no room for interference or lapses. He said an independent committee would be set up to examine the demand for re-evaluation.
"For the facility of re-evaluation, the act has to be amended. The government will have to bring in a bill. The committee will examine the demand for re-evaluation and study the system in other countries. It will suggest a road map," Chhajed said.
The institute later issued a media statement saying the committee would include Justice Anil R. Dave, a former Supreme Court judge; Ved Jain and Amarjit Chopra, both past presidents of the institute; Girish Ahuja, educationist; and P.C. Jain, a government nominee. It added that the institute's acting secretary, Rakesh Sehgal, would act as secretary to the expert committee.
Chhajed said a step-wise marking system had been introduced, under which every descriptive answer was broken down into a sequence of steps, which were marked separately.
Each step correctly answered is awarded marks, he said. If the evaluator has skipped any step, the examinee can apply for a re-check (which is allowed under the act).
Another group of protesters gathered in front of the institute office on Thursday: contract workers sacked by the institute recently.
"I have been working here for the past 10 years. They removed me without notice or compensation," said Rakesh Kumar.