A step away from one final exam
Eminent scientist, Professor Bikash Sinha, evaluates the new education policy, prepared after 34 years, waiting to be implemented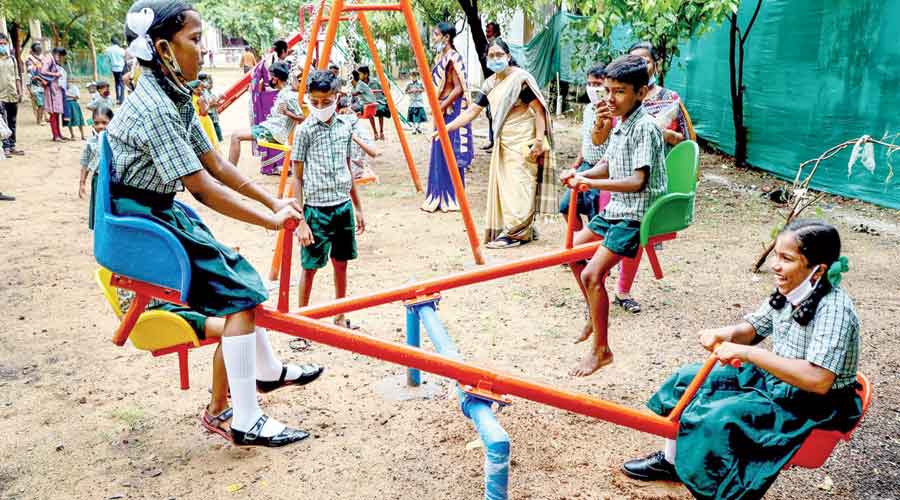 ---
Published 06.11.21, 01:43 AM
|
---
The new education policy, prepared after 34 years, is waiting to be implemented. It seeks to establish a more holistic relationship between the society and its members and proposes an examination-free system geared to flexibility. Eminent scientist, Professor Bikash Sinha, evaluates the new policy.
After 34 long years, a novel education policy has been tabled by an expert committee, headed by the renowned scientist Krishnaswamy Kasturirangan, former director of Isro and erstwhile members of the Planning Commission. When will the policy gain approval and when will it be implemented?
You can well realise the situation. This new education policy has been framed and drafted after 34 years and it has fuelled animated discussions and debates in all relevant spheres. The primary objective of this policy is to lay much less stress on the theory and practice of classical education, which envisages a questionable progress, smooth though often fruitless, from the school level to the attainment of PhD.
This policy needs to be attuned to the demands and requirements of the present society. It does not want to produce mechanical doctors of philosophy. In other words, it does not want to equate education with an abstract theory of progress that has almost nothing to do with the practical requirements of the contemporary society.
One must realise that in 34 years India has evolved substantially, it is almost unrecognisable from the old system. Consequently, a wholesome change in its educational policy is essential. The old has to be replaced by the 'new'.
I think the policy, following a series of discussions, will be tabled in Parliament within the next six months and after a few hectic sessions of parliamentary debates it will reach the stage of implementation. But, even at this preparatory stage, one can emphasise the sea change that it wants to introduce. It does not want to encourage 'copycat robots'. On the contrary, it prompts and provokes the recipients of education to think 'out of the box'.
We have seen the draft. It does not want to stress the need and importance of the final examination, rather it…
Yes, I have discussed this aspect with Dr Kasturirangan who emphatically states that the determining, so-called final examination should be done away with. In its place — and this is important — there should be a continuous assessment.
The new education policy wants to get rid of, once and for all, the psychological terror of examination that gives students as well as their parents sleepless nights. In fact, those who have framed the policy vis-à-vis examination are convinced that a continuous and regular assessment is much more fruitful and revealing than the one do-or-die, final examination at the end of the day. Indeed, this attitude towards examination is really noteworthy and valuable.
Along with this attitude towards examination, is there any other special and novel aspect that has drawn your attention?
Yes, another significant aspect of this new policy is its stress on flexibility, flexibility in choice of subject. There is no harm in combining science with humanities. That makes a student more robust intellectually and confident to face the new world.
While giving this stress, the policymakers have removed the walls separating humanities and science and have proposed that would-be nuclear scientists have all the right to pursue music and philosophy as attendant subjects.
If this coalescing attitude is nurtured, an expert in mathematical science could well-nigh be immersed in poetry as well. Moreover, if this principle is applied and accepted, nothing short of a mini-revolution would take place in the academic world.
Instead of producing quarantined scholars who are tied to their own limited disciplines, we shall have composite, even encyclopaedic, humans who can quote Hamlet's soliloquies and excel in mathematical calculation in one indivisible breath.
 In order to curb the avalanche of students joining colleges after school — primarily because they have nothing better to do — what has been proposed in the policy?
Yes, this almost blind and irreversible policy leading to a plethora of MAs, MPhils and PhDs has to be discarded. Research should be done by scholars who are primarily motivated, and precisely because research is a passion, not pastime.
As for the rest, they should choose vocational courses after the school-leaving stage. You see, this aimless loitering in the corridors of colleges by school-leavers has to be controlled, if not negated. They should not be allowed to 'drift' in this crucial, formative phase of their lives.
At this critical stage, it is the overall duty of the society to offer fruitful, vocational courses. Moreover, we need the guidance and cooperation of an advisory committee as they function in the West and of the industrial-commercial and institutional world, to remove this blockade.
In point of fact, after following the proposals and recommendations of this new education policy, we need to create entrepreneurs of two distinctive kinds. One kind of entrepreneurship would involve itself in the measured and well-regulated production of dedicated scholars and the other would involve the promotion of start-ups by those who can smoothly handle machines and applied science, as well as management prerogatives.
We need to realise — as it has been stressed in the policy — that education is not passing information without knowledge and not passing down facts without wisdom. This immediately implies that the big industry should offer possibility to open up opportunities for achieving excellence in research and development. Fundamental research will flourish and so the industry.
The CERN laboratory is the best example of my thesis. California Institute of Technology, USA, is another glorious example. Finally, we need a more holistic relationship between the society and its members, the former offering a multitude of choices and the latter responding to this offer by selecting professions that cater to the variegated needs of the society.