Disabled DU professor's kin seek bail from Covid-hit jail
One of the prisoners in G.N. Saibaba's cell tested positive at Nagpur Central Prison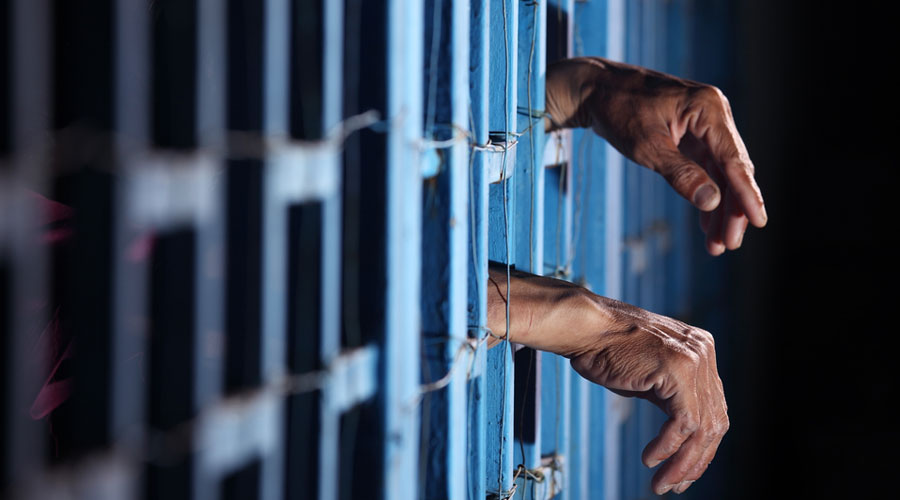 ---
---
The family of G.N. Saibaba, a disabled Delhi University professor serving a life term in a Covid-infested Nagpur jail for links with Maoists, issued a public appeal on Wednesday for bail or parole so he could receive medical treatment.
In jail since 2014, Saibaba is paralysed below his waist due to polio and suffers from several other ailments, according to his family.
His wife A.S. Vasantha Kumari, mother G. Suryavathi and other family members said in a statement that one of the prisoners in his cell had tested positive for Covid-19. "Because of his weak health and existing co-morbidities, Saibaba is further in a more vulnerable situation with his damaged and low immunity," the family said.
Saibaba is held in an egg-shaped cell called the Anda cell — a high-security facility with minimum interaction with other prisoners — in Nagpur Central Prison. More than 200 prisoners and almost 60 personnel in the jail have tested positive for the new coronavirus. At least 40 jail personnel have gone on leave because of the pandemic. There are some 1,750 prisoners in the jail currently, slightly less than its full capacity.
Saibaba's family has issued the statement at a time 79-year-old poet Varavara Rao, under investigation for the Bhima-Koregaon violence and Maoist links, was sent to hospital on Tuesday after a public outcry over his failing health.
In a phone call to Vasantha Kumari on July 6, Saibaba had said doctors at Nagpur's Super Speciality Hospital, where he had been taken on June 25, had advised surgical removal of his gall bladder, which could not be done immediately due to the pandemic.
"… Doctors again suggested using cold and hot packs regularly, use the medical bed for sleeping and six side pillows (to relieve continuous shooting pain), which have not yet been provided. So far, no supporting attendants have been assigned to him. Due to the non-availability of the attendants, he is unable to perform his routine day-to-day activities including going to the toilet," the statement said.
"No one is there to help him and therefore he is using very dirty and unclean clothes and bedsheets for a long time. Such an unhygienic environment most probably leads to bad health conditions, including allergies, infection, etc…. Dr G.N. Saibaba has informed that his left hand is totally on the verge of failure. The nervous systems have further affected the right hand also. Acute pain is spreading along the length of both the hands up to the fingers," the statement added.
Saibaba's family said they were yet to receive his medical reports from the prison authorities, and a parole application as well as a writ petition before Bombay High Court for his release on medical grounds were pending.
Nagpur Central Prison superintendent Anupkumar Kumare and other officials did not respond to a call or messages from this newspaper.
The family added in the statement: "Dr G.N. Saibaba suffers severe physical pain caused by the degeneration of muscles in his hands. He is plagued by pancreatitis, high blood pressure, cardiomyopathy, chronic back pain, immobility and sleeplessness. Consequently, his physical ailments intensified while the lack of pain relief and neglect due to inadequate medical facilities further debilitate his already fragile health….
"In such a precarious health condition of Dr G.N. Saibaba, we appeal to the Maharashtra government and the central government to release him on bail or parole immediately so that he can be provided appropriate medical treatment either at Hyderabad or Delhi where his family members are living. Release all the incarcerated voices of democracy and uphold their right to life."