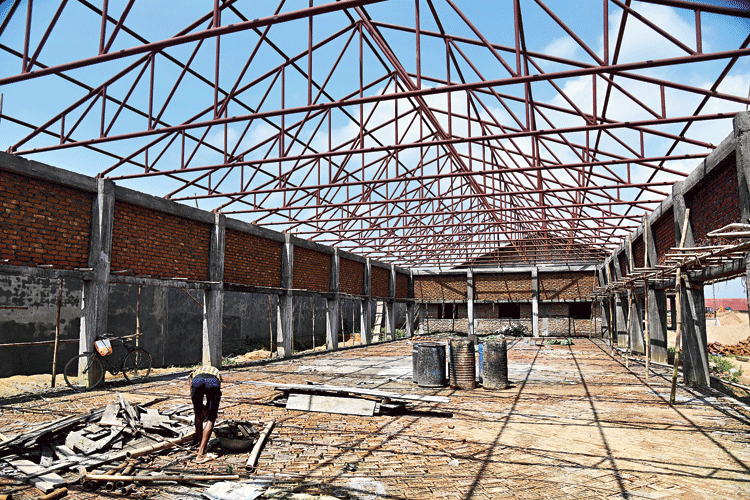 Under-construction detention centre (AP picture)
Prime Minister Narendra Modi on Sunday said in the national capital:
"Congress aur urban Naxals ke dwara udai gayi detention centres ka afwa, sara sar jhooth hai. Bad iraade wali hai, desh ko barbad karne wali hai, ye napak irada se bhari hai, ye jhooth hai, jhooth hai, jhooth hai (The rumour of detention centres being spread by the Congress and urban Naxals is totally false. This is being done with a bad intention to destroy the country, it's filled with evil motives; this is a lie, lie, lie)."
Later, the Prime Minister added: "Koi desh ke Musalamano ko na detention centre bheja jaa raha hai, na Hindustan me koi detention centre hai. Ye safed jhoot hai…. (Neither are any of the country's Muslims being sent to detention centres nor is there any detention centre in India. It's a white lie)."
Modi also said that only in Assam the National Register of Citizens (NRC) was drawn up but that was on the directive of the Supreme Court.
There are no detention centres solely for Muslims in India. But if the Prime Minister's assertion — "na Hindustan me koi detention centre hai (nor is there any detention centre in India)" — is taken literally, it does not tally with reality. There are at least six detention camps in jails in Assam, which is very much part of Hindustan, to house foreigners found staying in India illegally. Ten separate detention centres are coming up.
In November this year, Union minister of the state for home affairs Nityanand Rai said the six camps in Assam housed 1,043 foreigners — 1,025 Bangladeshis and 18 Myanmarese.
If the Prime Minister is excluding Assam from the detention list — on the premise that the Supreme Court had ordered the NRC exercise — his government cannot wash its hands of the detention centres.
The detention camps in Assam are run by the state home department with approval from the Union home ministry. A proposal to set up 10 new ones has been sent to Union ministry but the clearance is pending.
The six detention camps in Assam are in Goalpara, Kokrajhar, Silchar, Dibrugarh, Jorhat and Tezpur to house those declared foreigners by the foreigners tribunals. The detention camps are housed within district jails but the occupants are lodged separately from the other inmates.
The BJP-led government in Assam is building an exclusive detention centre in Lower Assam's Goalpara district at a cost of around Rs 46.51 crore with a capacity to hold 3,000 inmates. Once completed, the occupants of the six detention camps in the prisons will be shifted to the Goalpara centre.
Outside Assam too, the Maharashtra government, under the then chief minister Devendra
Fadnavis, had identified land for the state's first detention centre for illegal immigrants.
Amitabh Gupta, the principal secretary (special) home in Maharashtra, had been quoted in newspaper reports in September this year as saying the process to identify land for a detention centre was started in July when the central government sent instructions to all state governments.
Besides, in a case relating to illegal immigrants in Karnataka High Court in November this year, the Centre had told the court that it had written to all state governments in 2014 and sent a follow-up letter in 2018 to have detention centres to house foreign nationals illegally staying in India.
In the same case, the Karnataka government had told the high court that at present 35 temporary detention centres were operational across the state to house illegal immigrants.