Full immunisation will have to wait till 2022
Despite the fast pace, India will miss year-end goal of vaccinating entire population against Covid
Increased supplies from Serum Institute have helped govt administer more jabs, but full immunisation will have to wait until 2022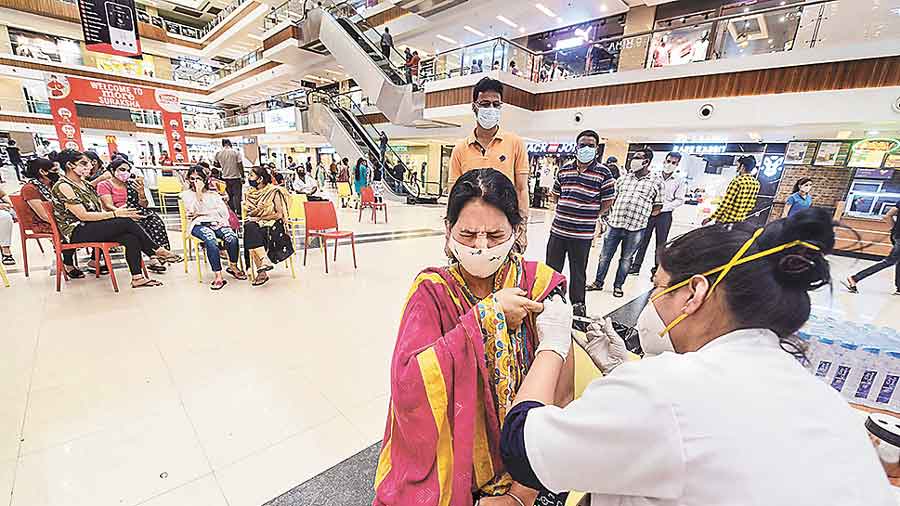 In total, 180 million vaccinations were given in August across India and that's a steep jump from 130 million in July.
File picture
---
New Delhi
|
Published 03.09.21, 03:01 PM
|
---
The government has picked up its vaccination pace but it still won't reach its goal of fully immunising the country's entire adult population against the coronavirus by December 31.
It could get closer than expected to its more modest target of giving all Indians one Covid-19 jab before 2022 rolls around. But it won't reach that objective completely either because some states are far behind on their vaccination schedules and also, say experts, there's the issue of vaccine hesitancy.
There are just 120 days left to the end of the year. West Bengal, going by the last seven-day average, should take 155 days to complete giving residents their first jab and Andhra Pradesh could take 164 days.   
At the other end of the scale, Kerala should finish giving the first doses in just 24 days and Karnataka in 42 days. Rajasthan, moving at the current pace, should be done with the first doses in 44 days. Tiny Goa expects the first jabs to be completed in 15 days while Himachal Pradesh is already done.
Says health economist Rijo M John: "Full vaccination of all adults is out of the question (by year end). As for a single dose, the government might be able to do it if it can maintain the current momentum." However, he adds: "I believe there will still be states that are not able to reach that level, mainly due to hesitancy."
After India's slow vaccine rollout, a large chunk of the credit for making possible the greater number of doses that are being administered probably should go to the Serum Institute of India. The company has stepped up production in a bigger way than anyone expected. That enabled the government to accelerate its vaccination programme in August and even hit a peak of 10.14 million jabs on one day during the month.
In total, 180 million vaccinations were given in August across India and that's a steep jump from 130 million in July.
In the beginning of August, Serum Institute had estimated it could produce about 120 million doses during the month but it was actually able to turn out 150 million, though the company is keeping quiet about its precise figures. Earlier this year, it was producing around 65 million vaccines each month. Serum Institute may up production to 200 million monthly doses from this month.
India has to vaccinate 940 million over the age of 18. So far it has managed to give first jabs to 473 million, or slightly over half the target population. Around 15 per cent is double-jabbed.
The country's vaccination programme has moved in fits and starts throughout the year and the government has offered different figures at different times -- even to the Supreme Court -- about the number of doses that would be available. In May, it said 2.15 billion doses of vaccines would be available by December end. That was modified sharply to 1.35 billion in an affidavit to the Supreme Court. Going by the current production levels, though, even that figure is a tough ask.
India's vaccination drive has stayed centred around Serum Institute even though other vaccines are almost ready for delivery to the public. Zydus Cadila has just received regulatory clearance for its ZyCoV-D three-dose DNA vaccine.
Cadila says it expects to launch on the market by end-September and aims to produce 120 million doses annually. More than 28,000 people in different parts of the country have received the vaccine and it's also been tested on 1,000 children between the ages of 12 and 18. ZyCoV-D is delivered using a disposable needle-free injector. The company is looking at whether three doses can be reduced to two. One advantage of DNA vaccines is that they don't need to be stored at very low temperatures and they are less expensive to produce.
Bharat Biotech, the second Covid-19 vaccine producer which has been in the market for several months, is keeping tight-lipped about its production numbers though it has just opened a new plant for manufacturing the vaccine at Ankleshwar in Gujarat.
Other vaccines like the Russian Sputnik V have also run into trouble with an insufficient number of second dose vaccines to match the first dose vaccines that were available in the country.
Johnson & Johnson has been given emergency use approval for its Janssen vaccine. Similarly, Moderna has been granted emergency use approval but its entry has been held up by the company's demands for immunity from legal liability that the government is reluctant to give.
India will need around 1.86 billion doses of vaccines to ensure that the entire adult population is fully vaccinated and that still looks like a distant goal. In addition, it looks as if youngsters from 12-18 will also have to be vaccinated. About 41 per cent of India's population is below the age of 18.
Currently, places like Delhi have high seropositivity levels. But they will decline over time. Vaccinations must move at a faster pace to avoid the risk of a fresh wave of infections or, even worse, a new more virulent variant than Delta and one which we may not have protection against.