Delhi riot case-hit scholar sees MPhil plot
Safoora Zargar requested vice-chancellor Najma Akhtar on Monday to grant her a final extension so she can complete her thesis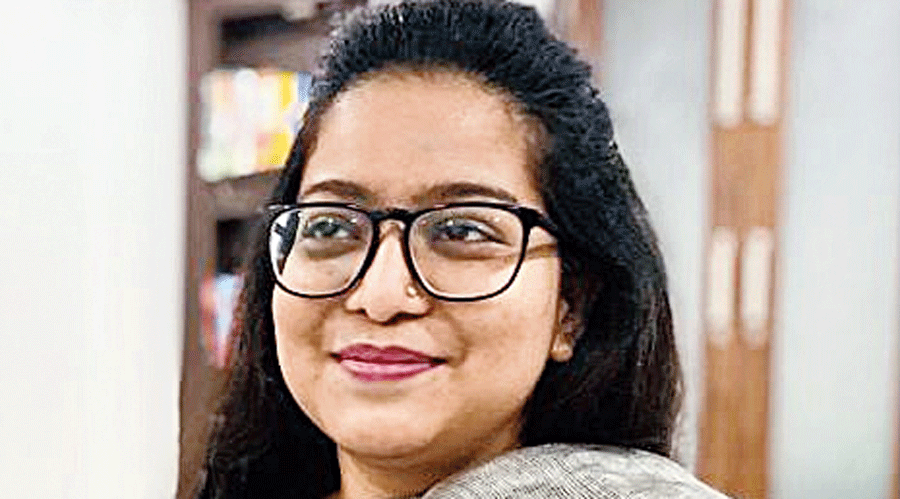 Safoora Zargar.
File photo
---
New Delhi
|
Published 26.08.22, 02:03 AM
|
---
Safoora Zargar, a  research scholar at Jamia Millia Islamia university who is an accused in Delhi riots cases, is hoping against hope that she will be able to complete her MPhil.
Zargar could lose her registration with the centrally funded university if she cannot submit her thesis, for which she has sought an extension and change in supervisor but has been awaiting a response for the past four months. Her research supervisor has pointed out several problems in the draft thesis she had submitted in April this year.
Zargar, who got admission into the integrated MPhil-PhD course in Jamia in February 2019, requested vice-chancellor Najma Akhtar on Monday to grant her a final extension so she can complete her thesis.
Zargar, who lost time mainly because of the Covid disruptions and also her jail stint from April to June 2020 and the associated legal tangle, is doing research on the topic "Socio-spatial segregation among Muslims in Delhi — a case study of Ghaffar Manzil Colony".
As per the Jamia ordinance, the MPhil dissertation has to be submitted after the completion of three semesters. There is a provision of two extensions. A female student is entitled to an additional extension of one year.
In view of the pandemic, the University Grants Commission (UGC) had issued five advisories, once every six months since June 2020, to all varsities asking them to extend the due date for submission of theses by six months.
Most universities allowed the extensions uniformly to all students. Although the UGC advisories did not mention if a student could be granted multiple extensions, many students of Jamia and other varsities have availed themselves of several Covid extensions, a student who has done so confirmed to this newspaper.
When the UGC granted the fifth extension in May this year, it said the relief would be given on a case-to-case basis upon review of a student's work and also taking into account the recommendations of the supervisor and the head of the department.
Zargar was granted two regulation extensions of six months each and one Covid extension for six months, which came to an end on February 6 this year. She completed her fieldwork by November 2021 and submitted her progress report to her supervisor, Kulwinder Kaur.
"My general observation is that you have made a good headway with your research, and identified the categories and concepts through which to articulate your research topic. It also looks like you have done your fieldwork. Your chapterisation scheme is also a good attempt to sort your materials into sub themes," Kaur wrote to Zargar in November 2021.
In December, Zargar applied for further extension of six months under the UGC's Covid-relief scheme but got no response. She was unofficially told by the sociology department to submit an application seeking an extension under the scheme for women scholars, she said. In April this year, she submitted a draft thesis and applied for the extension in the women scholar category. She is yet to receive a response from the university, Zargar said.
A meeting of the research advisory committee was held on July 5 where she was invited to present her work, Zargar said. But her supervisor gave adverse remarks, Zargar said.
"My supervisor had appreciated my work in November 2021. But in July she said the fieldwork was not satisfactory and I should not get further extension. If she had given me her advice after I submitted my draft thesis in April, I could have revised it. The RAC has agreed with her recommendation against granting further extension to me," Zargar told The Telegraph.
She has not received any official communication from the university about cancellation of her registration, but she fears Jamia might do so any day.
"This is a conspiracy against me. When other students were allowed Covid extensions granted by the UGC three-four times in our university and other universities, I was denied it. They sat on my application for extension given to women scholars. Rules have not been followed uniformly. It is like you show me your face and I will tell you the rules," Zorgar said.
She said she faced discrimination mainly because of the cases she had been booked for.
In a statement, the Jamia administration said all possible extensions were given to Zargar. It said Covid extension is given only once to a student. "There is no provision for any further Covid extension as per the UGC notification as the scholar has been claiming," the statement said.
The statement said Zargar did not apply for extension as a woman scholar within the stipulated time, which is before the expiry of her Covid extension on February 6, 2022.
"The scholar's progress has been very unsatisfactory, the application had been filed more than two months after the expiry of stipulated time and therefore extension cannot be given," it said.