David-Goliath contest in Tamil Nadu sparks violence
Voters attributed the violence to the tough challenge Thambi Durai is facing from Jothimani, a rookie in electoral politics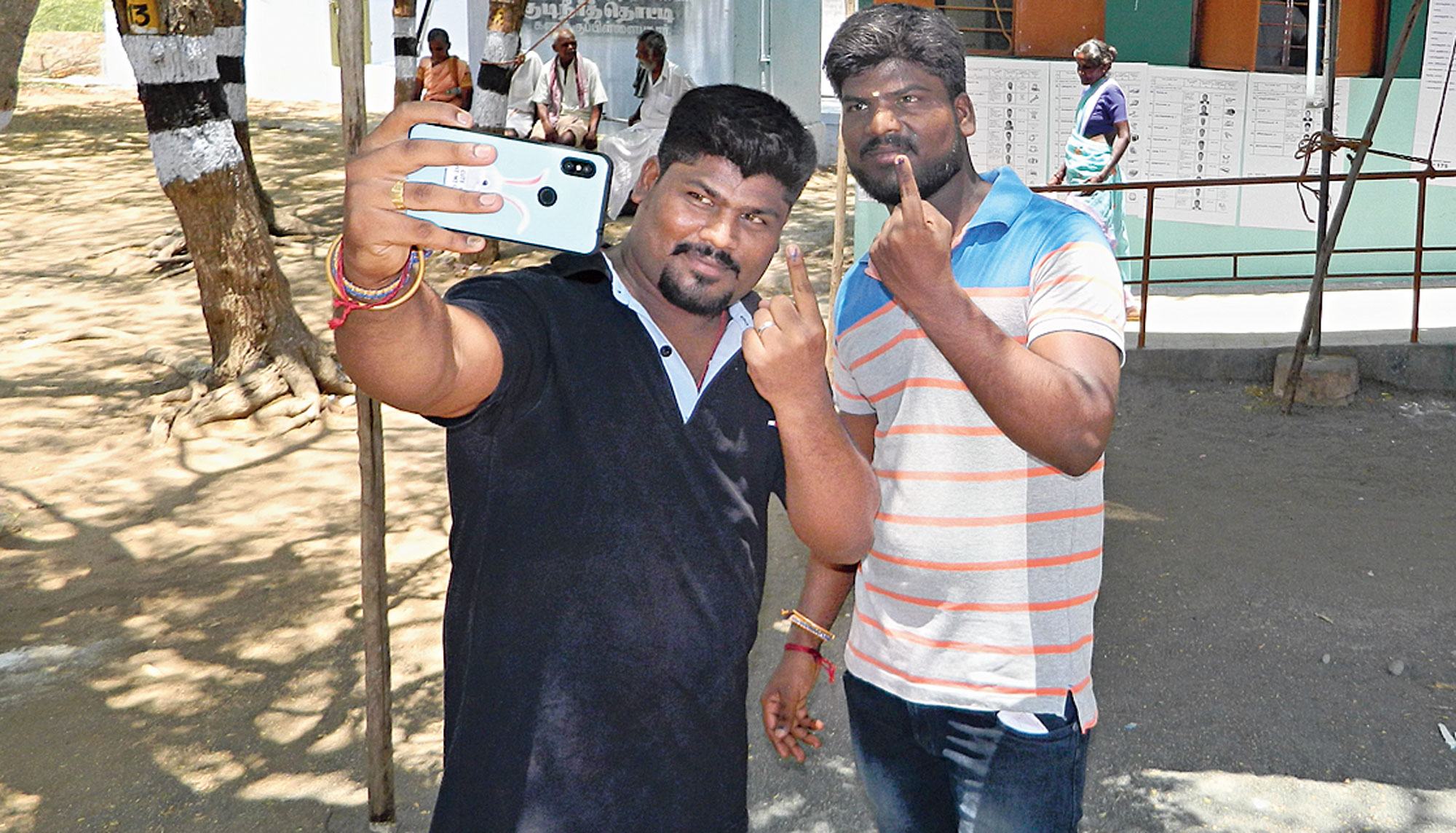 Youths click selfies after voting at Kanakapillaipudur village in Karur on Thursday.
Picture by Pheroze L. Vincent
---
Published 19.04.19, 02:28 AM
|
---
Karur: The Karur Lok Sabha constituency in Tamil Nadu is something of an aberration — it is the only area that has witnessed violence in a state known for peaceful elections.
Many have attributed the tensions to the dynamics of the contest — with the ruling AIADMK's most high-profile candidate facing a stiff challenge from an electoral greenhorn from the Congress.
Voting in Karur passed off peacefully on Thursday, but the constituency witnessed such violence that security had to be beefed up.
On Tuesday, the last day of campaigning, several people, including women and two policemen, were injured in clashes between Congress and DMK activists on one side and AIADMK workers on the other.
The AIADMK has fielded Lok Sabha deputy Speaker M. Thambi Durai from Karur. The four-time MP is facing the Congress's S. Jothimani, a former youth wing general secretary.
Voters attributed the violence to the tough challenge Thambi Durai, 72, is facing from Jothimani, 43, a rookie in electoral politics.
District election officer T. Anbazhagan has filed a case against Jothimani and the DMK candidate for the Aravakurichi Assembly bypoll in Karur, V. Senthil Balaji, for allegedly intimidating him over a rally venue tiff with the AIADMK.
"The whole village is divided," said Murthy, who was waiting outside a polling station near Malaikovilur. "Should we vote for someone just out of respect for his stature or demand a better government?" he said.
Murthy, like many others in villages here, have lost their jobs in textile mills and automobile factories over the past year. The leader he respects is Thambi Durai, and the party he thinks will solve his problems is the Congress.
In the past, villagers switched between factories in this textile hub and farms during sowing or harvest season.
Drumstick and coconut farmer Kathiravel P. at Kanakapillai Pudur said the situation had changed.
"The groundwater level has fallen up to 1,000ft here. Rain had frequently failed, and the (AIADMK) government is not bothered to even dig ponds to save whatever rainwater we get."
Kathiravel, too, expressed respect for Thambi Durai, but anger at AIADMK ally BJP for demonetisation and the GST.
K. Silambarasan, of the same village, did not vote for any of the main candidates.
"They have pumped in so much money that I have lost my respect for them," he said.
Several youth echoed Silambarasan across the Karur seat, spread over four districts. Some of them said they voted for the Naam Tamilar Katchi, a Tamil nationalist party whose flag is similar to the LTTE, and uses images of outfit founder Velupillai Prabhakaran on its banners.
Both the Makkal Needhi Maiam, and the NTK, headed by actor Kamal Haasan and director Seeman, respectively, have fielded candidates across the state.
"In the past also these parties (the DMK and the AIADMK) have almost come to blows. At the end of the day, they are the same. Only money and caste matters for them," an NTK voter, Sarath Kumar, said in Karur. The NTK has fielded orthopaedic doctor R. Karuppaiyah.
His friend Praveen voted for the DMK. The textile export unit he works for has shelved production for six months.
Another friend who accompanied them to vote at St. Theresa's School, civil engineer M. Tamilarasan, now spends his time playing football for a local club.
"Honestly, these clashes don't matter to us. If feels bad to not have a job despite studying in a town where our parents made their fortunes. Whatever be our politics, this time we have all come to vote so we have a better future," Tamilarasan said.