Coronavirus patients doing well: Mamata Banerjee
The CM said the 9 patients who had been cured would be released from the Beleghata ID hospital later in the day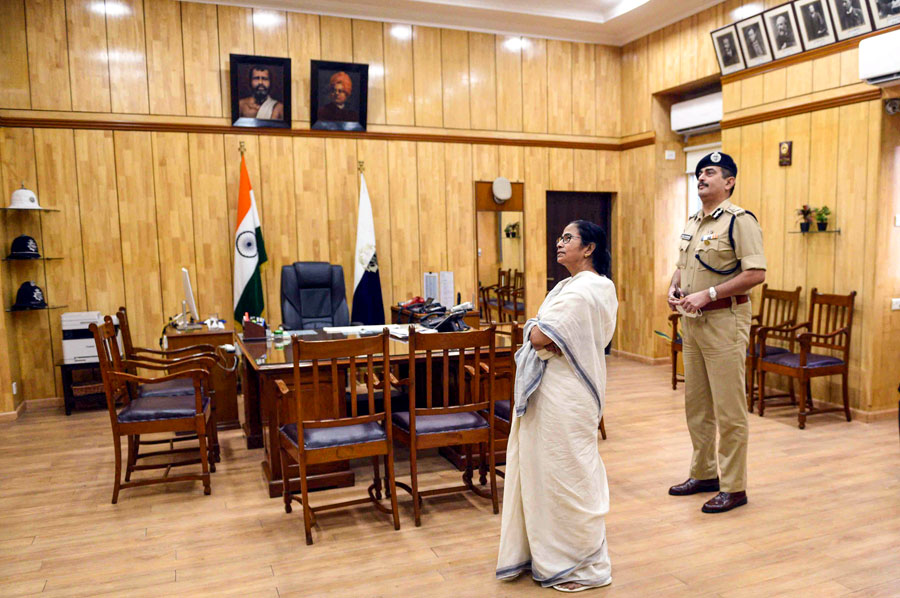 ---
|
Calcutta
|
Published 03.04.20, 11:42 PM
---
Mamata Banerjee on Friday said that four people had tested positive for Covid-19 in Bengal in 24 hours, taking the number of active cases to 38.
The chief minister said the nine patients who had been cured would be released from the Beleghata ID hospital later in the day.
"Bhalo khobor amar kachhe ektai (I have just one piece of good news). All the patients in the (Beleghata) ID hospital are doing well.... I'm so happy. All the Covid-19 cases there are doing well. I want them all to recover quickly and go home," Mamata told a news conference.
"Today, nine of them will be going home…. They are going to leave in the evening. Before I came here, I checked with Beleghata ID, all the patients are doing well. Jar jonyo amar mon ta bhalo hoye galo (It improved my mood)."
Mamata, who has been leading Bengal's fight against the pandemic from the front, has been holding news conferences almost daily for weeks. On days she is unable to, she gets senior officials to conduct the briefings.
Sources close to her said the high frequency of her media interactions was aimed at dispelling misinformation.
"There is so much panic about Covid-19. Then there is the lockdown.… She is trying her best to let people know that the government is doing its job," a source said.
The state BJP has shed its initial restraint and begun criticising Mamata, her party and the state government over the past few days. It has accused her of trying to fudge data to present an improved picture of the Bengal situation.
"She has, however, been firm in minimising misinformation and increasing transparency. The BJP has launched what seems a bid to not only politicise but also communalise aspects of the pandemic," Trinamul secretary-general Partha Chatterjee said.
At the Nabanna media conference, Mamata repeatedly said the number of recovering Covid-19 patients was high in Bengal, and that most of the patients had had direct contact with infected relatives with travel histories.
"That, so far, is something to be optimistic about in such a huge state with so high a population density, with so many international and inter-state borders, railway stations, international airports... a gateway to northeast India and Southeast Asia," she said.
At the news conference, she repeatedly advised caution for the next two weeks.
"Over the next two weeks, which are critical, barbey ektu (there will be a small rise). There's no reason to worry because we will ensure good treatment…. In the absence of co-morbidities, virtually everybody will recover."
Co-morbidities are concurrent health disorders. Coronavirus patients with co-morbidities like high blood pressure, cardiovascular diseases or kidney damage are at greater risk of developing severe disease.
Mamata cautioned people with such existing diseases to consult physicians "and stay safe, stay home".
The chief minister said that home quarantine measures were working well in the state, with 2,936 having run their course of such isolation while 52,029 remained under those restrictions.
The 206 government-run quarantine centres have seen 3,218 of 5,110 people discharged.
Mamata said 167,600 kits of personal protective equipment had been distributed out of the 11 lakh ordered by the state. Of the seven lakh N95 masks ordered, 65,750 had been distributed, as had been 309,850 two-layer masks and 305,000 three-layer masks.
Of the state's total order for 29,000 litres of hand sanitisers, 25,700 litres have been distributed, and of the 20,000 thermal guns ordered, 5,000 have been distributed.
"These figures show what we have given to the hospitals, over and above what we have distributed among first responders like police and cleaning personnel," Mamata said.