Bid to reduce fast-spiralling volume of virus-related items
Covid-19 waste list pruned by CPCB
Order expected to reduce the fast-spiralling volume of Covid-related biomedical waste in most Indian cities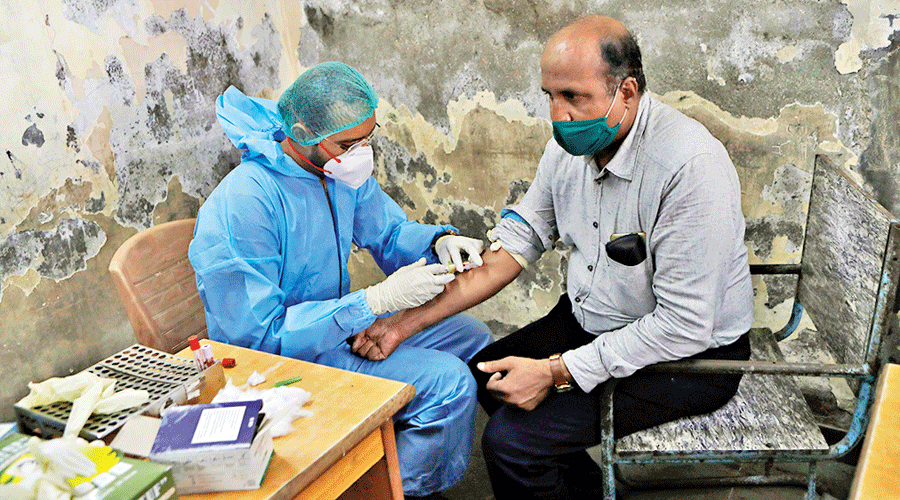 Blood being collected from a plasma donor in Mumbai on Thursday.
AP
---
Calcutta
|
Published 24.07.20, 02:40 AM
|
---
The Central Pollution Control Board (CPCB) has in its latest guidelines stated that food leftovers and other solid waste of Covid-19 patients should no longer be treated as biomedical waste and should be disposed of as general waste after disinfection by municipal authorities.
The order is expected to reduce the fast-spiralling volume of Covid-related biomedical waste in most Indian cities, including Calcutta. Biomedical waste is burnt at designated places by agencies authorised by state governments and pollution watchdogs.
Because of an unprecedented increase in biomedical waste as coronavirus cases continue to rise sharply in the country, the authorities have found it difficult to dispose of such a large volume with the existing infrastructure.
The CPCB has said in its July 21 order that the following items used by coronavirus patients should henceforth be treated as solid waste and not biomedical waste: wrappers of medicines and syringes, medicine boxes and cartons, fruit peels, empty juice bottles or tetra packs, used water bottles, discarded papers, empty bottles of disinfectants, leftover food and disposable food plates.
Such items will, however, have to be collected separately from waste generated by those not infected by the coronavirus, in keeping with Solid Waste Management Rules, 2016.
These Covid-related items will no longer have to be disposed of in the yellow bags meant for biomedical waste treatment, but in black, leak-free plastic bags that have to be securely tied and disinfected with sodium hypochlorite before being handed over to solid waste collectors.
The items used by Covid-19 patients that will continue to be treated as biomedical waste include masks, syringes, tissue paper, toiletries, leftover medicines, catheters and sanitary napkins. These will have to be packed in the designated yellow bags by hospitals, quarantine centres and households that have patients in home isolation and handed over to the agencies disposing of such waste.
Earlier, the CPCB had identified all items used by Covid-19 patients as biomedical waste. 
"In the Calcutta Municipal Corporation and surrounding areas, Covid waste has increased nearly four times since April," a senior health department official said.
An employee of a biomedical waste treatment facility catering to Calcutta and neighbouring areas said: "We are facing a real challenge treating such a high volume of Covid waste."
A senior state pollution control board official said: "We have received a copy of the order and will take action soon."
Environment activists, however, complained that Covid waste management in Calcutta and the rest of Bengal was already unsatisfactory and the new order could add to the confusion.
"If you look at the number of Covid-19 patients and those suspected to have contracted the infection, it is clear that the waste is already collected from far less houses than what is desirable. The new directive, without proper household awareness, may add to the problems and there can be greater risk of contamination," said Naba Dutta of Sabuj Mancha, a network of environment organisations in Bengal.
Sabuj Mancha recently wrote to chief minister Mamata Banerjee demanding her immediate intervention in Covid waste management.
Mask disposal
The latest CPCB guidelines say that masks and gloves used by everyone, whether infected or not, should be cut and kept in paper bags for a minimum of 72 hours before they are disposed of.
The board has also directed commercial establishments such as malls and offices to follow the same procedure while discarding personal protective equipment (PPE).
"Discarded PPEs from general public at commercial establishments, shopping malls, institutions, offices, etc., should be stored in a separate bin for 3 days, thereafter, disposed of as dry general solid waste after cutting/shredding.
"Waste masks and gloves in general households should be kept in a paper bag for a minimum of 72 hours prior to disposal of the same as dry general solid waste after cutting the same to prevent reuse," the CPCB said.
The CPCB also recommended the use of bio-degradable or non-disposable cutlery to minimise waste generation.
"In order to minimise waste generation, as far as possible, non-disposable items must be used for serving food, which are to be handled with appropriate precautions and cleaned and disinfected as per hospital guidelines. If use of disposable items is inevitable, use bio-degradable cutlery…," the CBCB said.
The board has told isolation wards at hospitals and temporary healthcare facilities like rail coaches to use colour-coded bins for Covid waste.
"Use double-layered bags for collection of Covid-19 waste and disinfect all bins/containers every day. From Covid-19 isolation ward, used PPEs such as goggles, face shields, splash-proof aprons, plastic coveralls, hazmat suits, nitrile gloves must be collected in a red bag," the guidelines said.
"Collect used masks, head covers/caps shoe covers, disposable linen gowns and non-plastic or semi-plastic coverall in yellow bags," it added.
Additional reporting by PTI