Vaccine boost and rider
India unlikely to get either product in the doses needed to address its epidemic: Researchers and Officials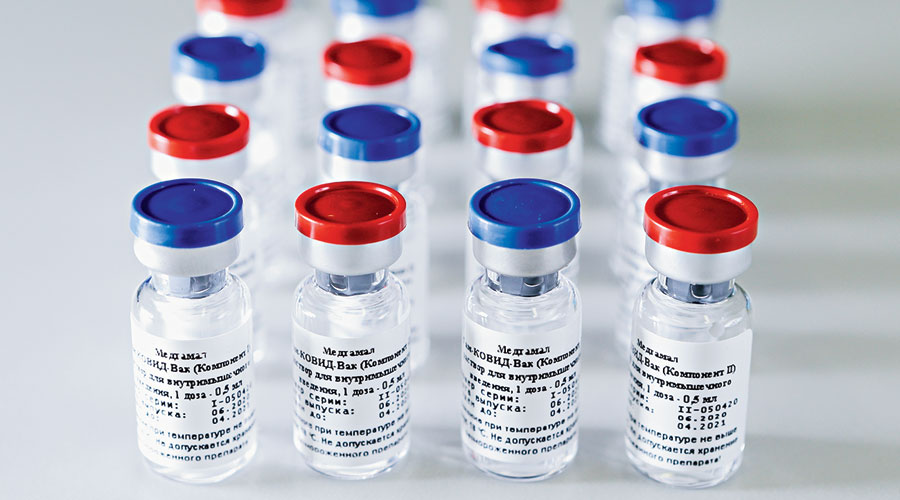 The US-based Pfizer and the Germany-based BioNTech jointly announced on Wednesday that the final analysis in their ongoing clinical trial had indicated a vaccine efficacy rate of 95 per cent
Shutterstock
---
New Delhi
|
Published 19.11.20, 01:50 AM
|
---
The high-efficacy candidate vaccines against the coronavirus disease from Pfizer-BioNTech and Moderna represent triumphs of science, but researchers and officials say India is unlikely to get either product in the doses needed to address its epidemic.
Both the Pfizer-BioNTech and Moderna candidates have in clinical trials shown 95 per cent efficacy in protecting people from Covid-19, emerging from an unprecedented pace of research that has brought vaccines in sight only 10 months since scientists unveiled the genome of SARS-CoV-2, the Covid-19 virus.
The US-based Pfizer and the Germany-based BioNTech jointly announced on Wednesday that the final analysis in their ongoing clinical trial had indicated a vaccine efficacy rate of 95 per cent.
Among over 41,000 people in their trial, there have been 170 cases of coronavirus disease --- 162 cases among those who received placebo injections and 8 cases among those who received the vaccine. Among the 10 severe Covid-19 cases, nine were in the placebo group and one in the vaccine group.
Pfizer-BioNTech said it would submit an application "within days" to the US drug regulatory authority for "emergency use authorisation" of the vaccine. The US-based Moderna had this week announced over 94 per cent efficacy and plans to seek emergency use authorisation "within weeks".
Pfizer and BioNTech have announced they can produce 50 million doses in 2020 and up to 1.3 billion doses during 2021. Moderna has said it can ship 20 million doses in 2020 and 500 million to 1 billion during 2021.
But health researchers and officials in India do not expect either of these vaccines to be available in the country in the quantities required to support mass vaccination campaigns — primarily because high-income nations have already made advance purchase orders.
The US department of health and human services (HHS) had in July announced up to $1.95 billion in funds for Pfizer towards the large-scale manufacture and nationwide distribution of 100 million doses of their candidate. In August, the HHS announced $1.5 billion for 100 million doses of the Moderna vaccine.
"We'll need to wait for other vaccines to emerge," said a clinician-researcher and member of the Centre's expert panel on Covid-19 vaccines. Three candidate vaccines -- including two home-grown ones and one from Oxford university -- are under clinical trial in India for efficacy. Trials on two other candidates are expected to start within days.
Researchers and officials say they are aware that whatever efficacy levels emerge from the trials in India are likely to be compared with the high-efficacy levels of the Pfizer-BioNTech and Moderna candidates. They say vaccines with lower efficacy points need not be interpreted as inferior products.
"We don't compare two vaccines on a table — the vaccination strategy is more important than vaccine efficacy," said Samiran Panda, an infectious disease specialist and head of the division of epidemiology at the Indian Council of Medical Research.
Many regulatory authorities worldwide, including India's Central Drugs Standard Control Organisation, have set 50 per cent efficacy as the threshold for Covid-19 vaccines. This means a candidate vaccine with anything above 50 per cent efficacy, for instance 65 per cent, that meets the safety criteria would get approved.
Public health researchers say an efficient vaccination strategy would target specific groups of the population in efforts to stop the epidemic.
"The 65 versus 95 is not something I'd worry about," Panda said. "I would rather be in a country with a 65 per cent efficacy vaccine with 90 per cent vaccination than in a country with a 90 per cent efficacy vaccine but only 40 per cent vaccination."
Public health researchers say the quantity of vaccines available will critically determine whether a country can address the challenge posed by the Covid-19 pandemic. They have underlined that to stop the pandemic, India would not need to vaccinate 1.3 billion people but 40 to 50 per cent of them.
Such a mass vaccination campaign would require 1 billion to 1.3 billion doses, based on a two-dose vaccination schedule. India's Bharat Biotech, which is testing a home-grown vaccine, has said it can provide 300 million doses per year while the Serum Institute, which is producing AstraZeneca's candidate, could produce 560 million doses a year, of which half will be available for India.
"India is better placed than most countries mainly because of our manufacturing capacity," said Shahid Jameel, a senior virologist and director of the Trivedi School of Biosciences at India's Ashoka University.
"It is an unequal world, so no point asking why one country may get a given vaccine while another may not."
Jameel said the foreign-made vaccines are also expected to be expensive for India. "A price tag of $20 to $35 per dose would be unaffordable for India. Compare that with the $3 per dose pledged by an Indian manufacturer. This is not a race. We expect additional vaccines to emerge over the next six months," he said.
"Eighteen months to a vaccine instead of the usual 10 to 30 years is good going."
The Pfizer-BioNTech and Moderna candidates are both novel vaccines that use genetic material called RNA as a "platform" that promises certain advantages over traditional or other platforms.
India has a candidate RNA vaccine now awaiting the Centre's approval for human trials.
"India should have been working on research related to RNA vaccines before the pandemic. Our biological institutions have had the capacity to do that," said Sudanshu Vrati, a senior virologist at the Regional Centre for Biotechnology in Faridabad.