Needed: steady supply of 7.3m doses daily
Vaccination drive unlikely to meet 516 million doses-target by July-end
The campaign had until Tuesday night administered nearly 384 million doses and will need a steady supply of around 7.3 million per day for the rest of the month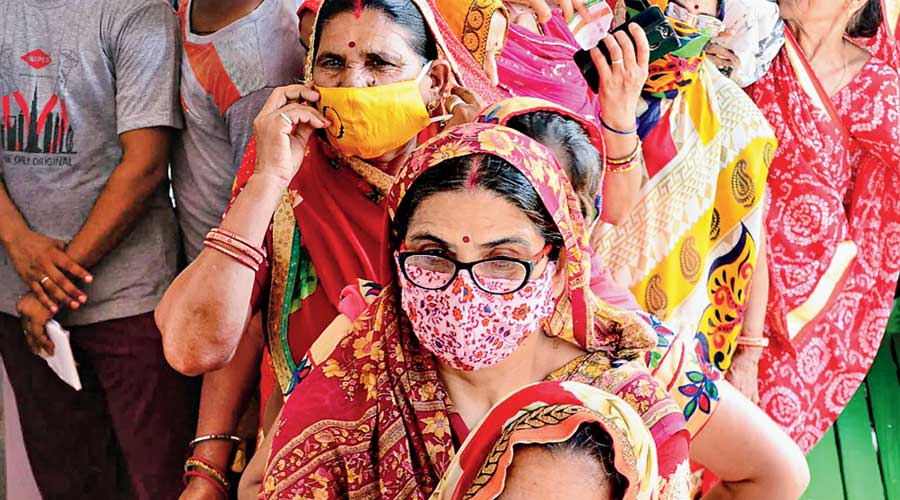 ---
Published 14.07.21, 02:11 AM
|
---
India's Covid-19 vaccination campaign is unlikely to administer its planned 516 million doses by July-end without a sharp increase in the doses procured and supplied by the Centre for daily inoculations, health experts have said.
The campaign had until Tuesday night administered nearly 384 million doses and will need a steady supply of around 7.3 million doses daily for the rest of the month to achieve the planned 516 million doses by July 31.
But the weekly average of daily doses administered has declined for a second consecutive week after the week starting June 21 during which India achieved an average of 6.1 million doses daily. It fell to 4.18 million between June 28 and July 4 and to 3.44 million between July 5 and 12.
"At this pace, we're certain to miss the July 31 target," said Rijo John, a health economist and faculty member at the Rajagiri Institute of Social Sciences, Kochi. "The daily average in July so far has been less than June's 4.1 million — at this rate, it's simply unachievable."
John and other experts tracking the campaign have said the average daily doses administered likely reflect the country's current vaccine production capacity, which they say does not appear in line with projections made by the Centre.
The Union health ministry had told the Supreme Court in a June 26 affidavit that it "will make available for administration" 516 million doses by July 31 that would leave a requirement of 1,350 million doses to fully vaccinate the eligible 940 million population.
But R. Ramakumar, a professor of developmental studies at the Tata Institute of Social Sciences, Mumbai, said the projection of 516 million appears "impossible" to achieve for now, given the average number of doses being rolled out this month so far.
Even if the average this month reaches 4 million per day, the total doses administered by the end of July would range between 450 million and 460 million.
Two medical experts who are advising the government on its Covid-19 vaccination policy had told this newspaper earlier this month that India has the capacity to administer 10 million doses per day if supplies become available.
Experts say the vaccination campaign will need to increase the daily administered doses even higher to over 8.8 million per day to use up the 1,350 million doses during the 153 days from August to December to vaccinate all adults by the year-end.
The campaign had until Tuesday fully vaccinated about 75 million people, or only about 8 per cent of the eligible population.
"How quickly India can vaccinate its people will depend entirely on supplies — and there is still some uncertainty about the new vaccines which the government has projected will be part of the 1,350 million doses," a senior public health expert said.
The health ministry has said it expects 500 million Covishield doses from the Serum Institute of India, 400 million Covaxin doses from Bharat Biotech, 300 million doses of a new vaccine from Biological E, 50 million doses of a new vaccine from Zydus Cadila and 100 million Sputnik V doses.
India's regulatory authority is yet to approve the Zydus Cadila and Biological E vaccines.
"There is opacity about the current monthly production capacity," said Ramakumar.
The Centre had said in May this year that Serum produces about 65 million doses per month and Bharat produces 20 million doses per month.
"Supplies from the ministry during June and July suggest that India has access to about 4 million doses day," he said. "This would need to more than double to complete vaccination by the end of the year."
A Serum spokesperson had said earlier this year the company would achieve 100 million doses per month production between March and June.
Both companies have said they are ramping up production and executives from both firms have said increasing production cannot be done very quickly. Spokespersons for both Serum and Bharat Biotech on Tuesday declined to comment on their current production capacities.