Coronavirus infects 2,000 healthcare workers
But over 1,000 are asymptomatic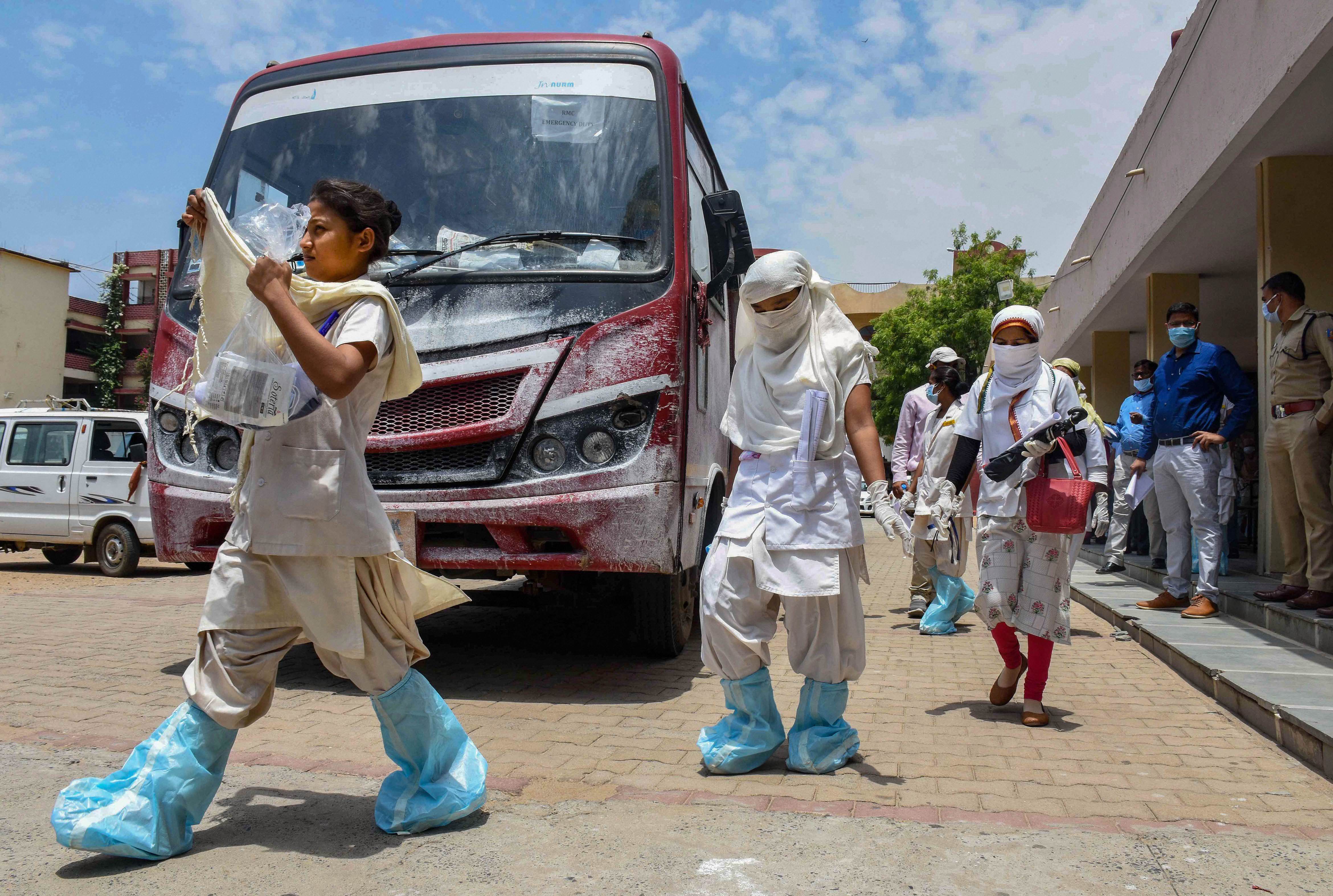 Health workers wearing PPE kits on their way to screen the residents of Hindpiri in Ranchi to detect Covid-19 cases
(PTI)
---
New Delhi
|
Published 29.05.20, 11:06 PM
|
---
More than 2,000 healthcare workers in India were infected by the new coronavirus over an eight-week period till April 30, the country's health research agency said on Friday, providing for the first time nationwide numbers for such service providers.
The Indian Council of Medical Research has found that 2,082 (5 per cent) among 40,186 persons found positive for the coronavirus infection among more than one million individuals tested up to April 30 were healthcare workers.
Among the healthcare workers found positive, 947 had symptoms and 1,135 did not have symptoms but had come into contact with positive cases without adequate personal protection, the ICMR said.
While multiple anecdotal accounts of doctors, nurses and paramedical staff detected positive have emerged from across the country over the past two months, the new nationwide figures are embedded in an ICMR study that analysed the profile of the 40,186 positive individuals.
The study, published in the Indian Journal of Medical Research, has found that 10,160 (25 per cent) of those found positive were asymptomatic family contacts of positive cases and 4,204 (10 per cent) were patients hospitalised for severe acute respiratory infection (SARI).
The study has also revealed a three-fold increase in the proportion of patients infected with Covid-19 among hospitalised SARI patients since the previous such assessment that had covered the period up to April 2 with fewer samples tested.
Among the 69,315 SARI patients, 4,204 (6.1 per cent) were Covid-19 positive. In the earlier assessment, among 5,911 SARI patients tested, 104 (1.8 per cent) were Covid-19 positive.
Public health experts say the rise in the proportion of Covid-19 infections among SARI patients is not surprising given the exponential rise of the epidemic across the country.
India's daily increase in new coronavirus infections exceeded 7,000 for the first time on Friday amid research analyses showing that the epidemic's natural averages mask significant and sharp deviations in cities or even states.
Health researchers said the deviations across cities or states in infection sizes, fatality rates or deaths-per-million figures underscore the limitations of national averages and the need for high-granularity data at least at the district level for policy planning.
The Union health ministry recorded 7,466 new coronavirus disease (Covid-19) infections on Friday, raising the total number of cases to 165,799, of which 89,987 are under medical supervision, 71,106 have recovered and 4,706 have died.
Public health researchers who analysed the distribution of Covid-19 infections and deaths nationwide have found that 50 per cent of cases are located in five cities — Mumbai, Delhi, Ahmedabad, Chennai and Thane — that make up around 5 per cent of India's population.
"The epidemic is largely concentrated in mega-urban centres with high population densities — such data point to the need for appropriate preparations and resource allocation," said Ashish Awasthi, assistant professor at the Public Health Foundation of India, New Delhi.
Awasthi and Dileep Malvankar, professor at the Indian Institute of Public Health, Ahmedabad, have in a report published in BMJ Global Health also shown differences in deaths per million between cities and large deviations from the national average of 3.4.
The Covid-19 deaths per million vary sharply across the 10 most affected cities — 87 in Ahmedabad, 85 in Mumbai, 43 in Calcutta.
The most important factor influencing the deaths per million is the large infection load in these sites, said K Srinath Reddy, the president of the Public Health Foundation of India, New Delhi. "Quality of healthcare can be another factor, particularly if there has been a delay in admissions," he said.