Centre's food & cash lockdown cushion
The package is being called the Prime Minister's Garib Kalyan Yojana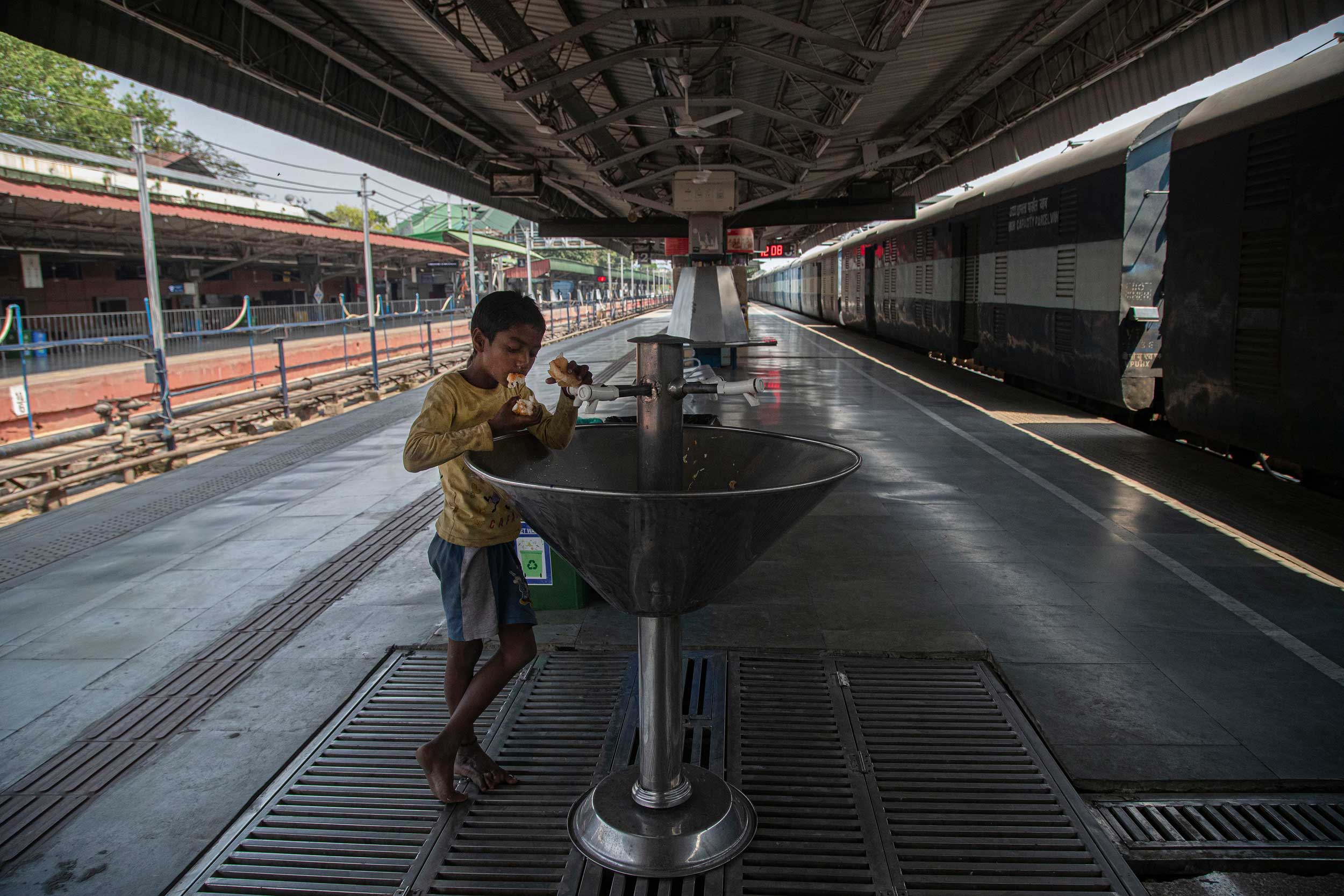 ---
---
The Centre on Thursday unveiled a Rs 1.70-lakh-crore welfare package that sought to shovel money in the form of direct cash transfers to the poor, women and senior citizens, a host of food security measures, benefits for low-wage workers in small factories and the construction sector.
The objective is to offer relief to people hit by the nationwide lockdown sparked by the coronavirus epidemic.
Union finance minister Nirmala Sitharaman, who announced the rescue package, did not provide any details on where the money was going to come from, triggering speculation that it would be substantially repackaging welfare schemes for which funds have already been provided in the recent budget.
The package — which is being called the Prime Minister's Garib Kalyan Yojana — was announced two days after Prime Minister Narendra Modi ordered the nationwide lockdown that disrupted earning activities.
Several economists said the plan fell way short of expectations and the 21-day lockdown would cause severe damage to an already slowing economy.
"The fresh announcements related to cash transfers appear to be relatively modest at this stage," said Aditi Nayar, an economist at Icra.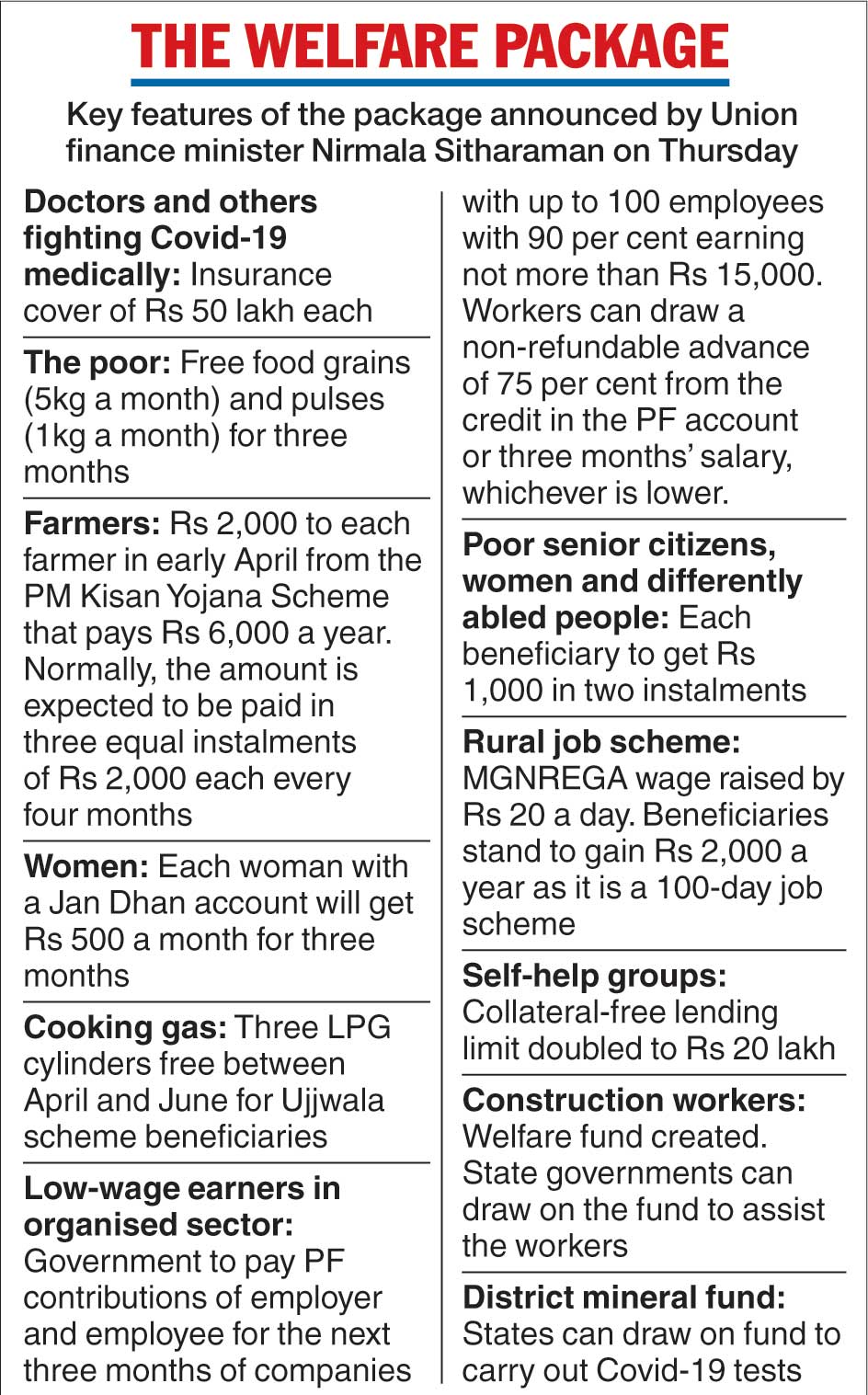 Under the welfare plan announced on Thursday, the government aims to distribute 5kg of wheat or rice free of cost to 80 crore individuals, roughly two-thirds of the population, through the public distribution system. (See chart)
It will help feed the poor and the needy over the next three months, Sitharaman said.
"We do not want anyone to remain hungry," the finance minister told reporters. Each individual will receive twice their current entitlements.
A family of five people living below the poverty line in Bengal receives 35kg of rice or wheat at a price of Rs 2 a kg. But their entitlement may be capped at 5kg an individual instead of their higher current entitlement of 7kg each.
Each family will also receive 1kg of lentils (dal) every month under the latest package.
The benefit under this scheme has been quantified at Rs 45,000 crore. But there will not be any cash outgo from the government's coffers under this account as the size of the grain buffer stock is estimated at 75.3 million tonnes as of February 1 this year — the largest-ever stockpile. The scheme will help clear space in the already full godowns before the next procurement season kicks in.
Soumya Kanti Ghosh, group chief economic adviser at State Bank of India, said only Rs 73,000 crore out of the Rs 1.7-lakh-crore package involved cash payments.
"We expect immediate monetary and fiscal measures for the economy. This package only provides food security and some financial security to poor households. This entire expenditure is not an additional outlay," Ghosh added.

Doctors and health workers — whom Sitharaman described as the warriors in the fight against the coronavirus — will get a special insurance cover of Rs 50 lakh each. About 22 lakh health workers in government-run health centres and hospitals will be covered by the scheme for which a provision of Rs 1,100 crore is being made.
Industry and market analysts had been expecting the government to announce a revival plan for the severely stressed civil aviation, tourism, hospitality and construction sectors. But Sitharaman did not give any assurance on another revival package to industry. "Today's measures are very clearly aimed at reaching out to the people with food and money…. We will obviously think about other things as well. I will address those issues if we need to," she said.
Home loan borrowers have also been worried about the payment of monthly EMIs and have been hoping for staggered payment dates.
Many analysts believe that the Modi government's second revival plan — the first one announced a few days ago provided for some tax deferrals — will not put a strain on the Centre's coffers, which is why Sitharaman did not talk about a supplementary grant of funds or indicate plans to raise government borrowings.
The recent budget has capped the Centre's gross borrowings at Rs 7.8 lakh crore.
"The government could have been more aggressive in its spending with an overall fiscal stimulus at 2.5-3 per cent of the GDP if the disruptions continue for the next three months," CII director-general Chandrajit Banerjee said.