What package-makers are refusing to see
On the road, workers have a dire need for cash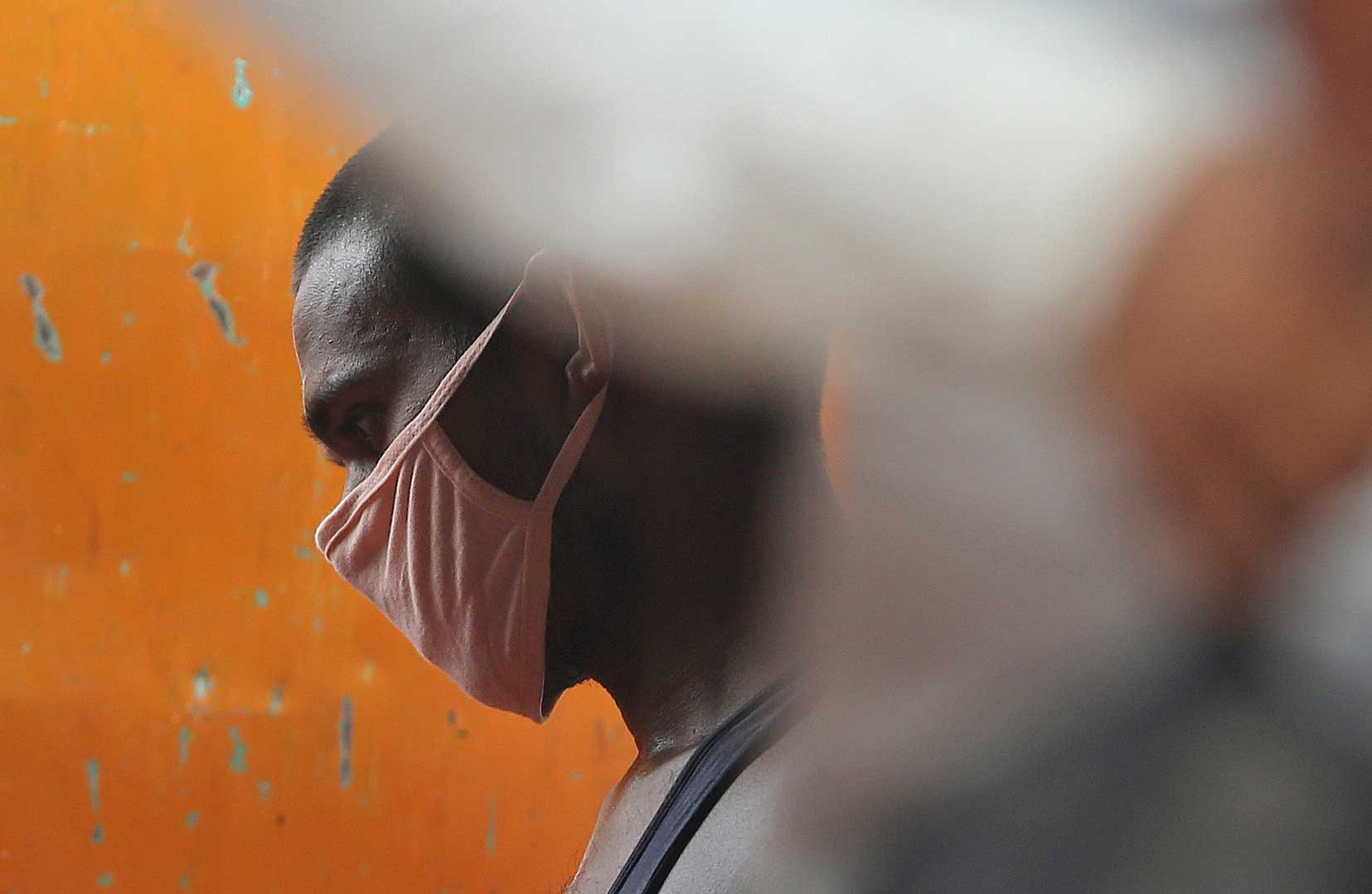 A migrant worker standing inside a truck during the lockdown in Hyderabad.
(AP)
---
Durgapur Expressway
|
Published 17.05.20, 08:34 PM
|
---
Sudarshan Murmu dug deep into his plastic sack and fished out three notes of Rs 100 each. "This is all we three have among us," said Murmu, pausing along National Highway 2 and pointing at Mohitosh Besra and Basanta Tudu, who were walking with him.
Oblivious to the debate on what the Narendra Modi government should do for migrant workers like them, the three youths had set off from Dumdum Cantonment on Saturday morning in a desperate attempt to reach their village in Goalagara in Purulia, around 300km from Calcutta. The three had been working for a contractor at a Metro railway site. Around the time Union finance minister Nirmala Sitharaman announced an additional allocation of Rs 40,000 crore for the Mahatma Gandhi National Rural Employment Guarantee Act (MGNREGA) budget estimate to ensure that migrants are not rendered jobless amid the nationwide lockdown, Murmu, Besra and Tudu, belonging to the Scheduled Tribe community, took a break from their long walk.
"The contractor used to give each of us Rs 350 a day. As there was no work for two months, we didn't earn anything. We are returning to our village as we can't survive in Calcutta any more," said Murmu, the most articulate among the trio.
Asked whether they would get any work back home — the conversation was taking place near the site of Tata Motors' aborted small car factory in Singur — Murmu, who is in his mid-20s, said he was not hopeful.
None of the three has a job card, which is necessary to apply for the 100-day work scheme, the scale and scope of which Sitharaman claimed to have expanded on Sunday.
According to government estimates, the top-up will help create 300 crore more work days and result in cash flows to the accounts of migrant workers.
Most of the migrants are among those 81 per cent of India's workers who earn less than Rs 15,000 a month. The three youths said they had no bank accounts, either.
Ishan Anand, who teaches economics at OP Jindal Global University in Sonepat and has researched migrant labourers extensively, told this newspaper: "The extra allocation for MGNREGA is a saving grace in the economic package as it is the only real expenditure by the government. The hike, however, should have been much more to include more people…. Besides, the challenge is to ensure that people get work so that they receive cash, which they need desperately."
The states could explore a model of giving cash to the workers to address their immediate requirement, he added.
The migrant workers' dire need for cash stood out in all the conversations this correspondent had with people walking along the national highway or the parallel roads through the villages, heading to their homes in faraway places.
Over a dozen migrant workers from Howrah, on their way to Jharkhand, were resting in the shade at a burning ghat on the Damodar's banks in Barsul, Burdwan.
After covering around 100km in 36 hours, the group was walking along the riverbanks to escape the eyes of the highway police when some residents offered them food and shelter for a night.
Sandip Santra, a local youth and a leader of CPM youth wing DYFI, said: "The farm labourers in the village were moved by the migrant workers' plight and started this initiative on their own to feed and help those passing by our village."
One of the migrants, Radhey Das, a rickshaw-puller, said: "I had savings of around Rs 3,000, which got wiped out in 45 days…. I'm left with only Rs 500 and so I'm going back to my village near Deoghar. I couldn't have survived in Howrah with just Rs 500."
Das has been earning a living in Ramrajatala, Howrah, for over 15 years.
Amid the uncertainty of the lockdown, returning to his village on foot was the only option, said Das, who appeared to be in his early fifties. "This long walk is difficult, and I had enquired whether there was any other way…. Some bus and truck drivers were offering rides for around Rs 3,000, which was beyond my means," Das said.
The other members of the group, which included rickshaw-pullers, construction labourers and eatery workers, echoed him, saying their earnings had dipped to near zero in the past two months and they were running short of cash.
Anand, the economist, said the cash crunch faced by the workers was not surprising as most Indian workers in the informal sector, whether self-employed or casual labourers, are unregistered and lack job security.
Referring to the Periodic Labour Force Survey (PLFS) conducted in 2017-18, he said that about 77 per cent of India's workforce is made up of the self-employed and the casual worker. They are the worst sufferers of the lockdown, denied the opportunity to work and earn.
Over the past few weeks, several economists have advised the government that the problem can be addressed by transferring around Rs 7,000 to each household for two months, which would have cost around Rs 3.75 lakh crore.
When Prime Minister Modi announced the government's plans for a Rs 20-lakh-crore package, expectations had risen that direct cash transfers would be made to the poor and generate demand in the economy.
On Sunday, when Sitharaman ended her elaboration of Modi's new deal for India, it became clear that cash would elude the poor.
Opposition parties and economists have criticised the government for inflicting liquidity at a time when the need was for direct benefits for the poor.
The fatigued migrant workers, however, have another pressing need. "If Modiji can help us reach our home…," said Das, his comment capturing how little he expected from the government.
Murmu, Besra and Tudu said they wished the lockdown would end soon, allowing them to resume working and earning.
Modi and Sitharaman should consider themselves lucky that India's poor have learnt to expect so little from those in power.