Hunger devours shame in food queues
'I've never stood in line for meal, used to earn Rs 500 daily'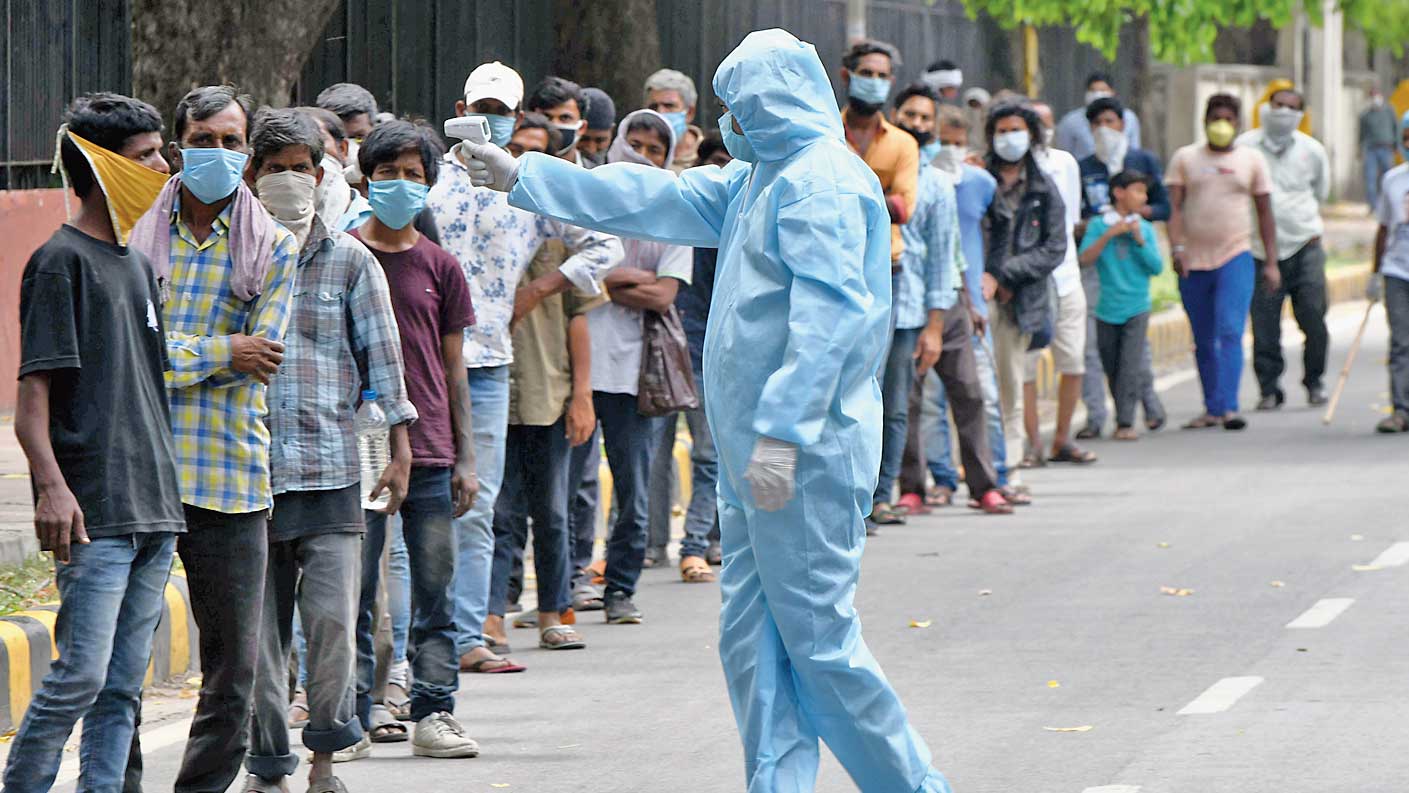 ---
---
Mohammed Guddu, who stitches car seats for a living, has twice dropped out of a queue at a hunger relief centre in the capital's Inderlok area.
"Every time I see people there are more desperate than I am. I can manage with the rations we have left, or go hungry. But slum dwellers have nothing left. So, I leave the queue. Sooner or later I will have to stand with the others for four hours a day waiting for food," he told The Telegraph.
Guddu is one of those who have newly joined the growing number of people thronging the food distribution centres of the Delhi government since the lockdown started. The Delhi government began distributing cooked food on March 21, a day before the Janata Curfew that preceded the lockdown.
With restrictions on commercial activities already in force then in Delhi, the tide of hunger had begun to rise. The numbers have now swelled to more than nine lakh from 10,000 a day. These people are served meals in more than 1,500 hunger relief centres in the capital. Additionally, police and others have been distributing food packets among the poor.
Guddu, who lives with 10 other daily wage-earners from Bihar's Darbhanga district, says he has almost spent the Rs 7,000 he had when Delhi shut down on March 22. These Darbhanga boys were last in the news in 2014 when they pulled out several bodies from the rubble of a building that had collapsed in the area, before the fire brigade arrived. However, none of the victims could survive.
"Where is the justice in BJP MLA Anant Singh being given a pass to bring his son back from (education hub) Kota while we are left stranded here by the Bihar government? One of us applied for the Rs 1,000 relief promised by the Bihar government but did not get it. I used to look up to Nitish but look where he has left us. If we could go home, at least we wouldn't starve," Guddu said, referring to Bihar chief minister Nitish Kumar.
"I have rice and wheat flour that can last me up to three days. After that I don't know what to do. In the initial days of the lockdown, a local NGO had distributed meals for a week, which we got. Once that stopped, we managed with the groceries we had bought with our savings," he said.
"Our contractor, also from Bihar, paid us only for work done until the lockdown. I feel bad as I have never stood in a queue for food. I used to earn at least Rs 500 a day."
Urban poor like Guddu, who were not destitute before the lockdown, are now part of the food queues along with the abjectly poor.
Dipa Sinha, who teaches economics at Ambedkar University in Delhi, said that if the lockdown continued, 60 to 70 per cent of the capital's population could be in a precarious condition by mid-May.
"What we are seeing now is those who had savings or rations for a month have now exhausted what they have. Without income, they are also in the need for food and other help from the government," she said.
Economists Jean Dreze, Reetika Khera and Meghana Mungikar have estimated that there are 10 crore Indians who qualify for subsidised rations but are not part of the public distribution system. The figure takes into account the 2011 census, and not the current population.
In Delhi, more than 71 lakh people get rations under the PDS, and the territorial government has expanded the scheme to 3.5 lakh more people who don't have ration cards, so far, during the lockdown.
On Tuesday, chief minister Arvind Kejriwal announced that 30 lakh more people who don't have ration cards will be given rations.All seven MPs and 70 MLAs in Delhi will additionally distribute food coupons among 2,000 people each. These one crore people will also be given kits, along with rations, at the end of this month. The kits will have cooking oil, chickpeas, sugar, salt, spices and soap.
The state government plans to expand the number of beneficiaries but have been hindered as the government website to register for rations has hung because of the deluge of applicants.
In Delhi, the economists estimate that 81 lakh people, among the current population of approximately 1.86 crore, will need rations. With the freeze on economic activities driving many to penury, this number could even be more than 1.2 crore, Sinha estimates.
Maganpal Yadav of east Delhi's New Ashok Nagar is one such applicant. "We had around six days' ration on April 22. I lost my daily wage job at a pan masala unit in Noida as soon as the lockdown began. Since then I have borrowed from neighbours to feed my two infants," he said.
"Even their medicines have been bought on credit. Yesterday (Sunday), when there was no food at home, I set aside all shame and went and stood in the queue. Some ruckus happened and the police caned me. I came back as it was humiliating, but I have to do something for food," Yadav said.
Yadav's name is on the PDS list in Uttar Pradesh's Kasganj. "I applied on the Delhi government website but did not get the text message that I am supposed to," he said.
Queues at some of the food centres in the capital are a couple of kilometres long. Last week, the news portal Scroll.in reported that several people at one such queue in east Delhi's Bhalaswa had to return empty handed despite having food coupons generated through the government website.
In Jahangirpuri, a minor stampede broke out as crowds rushed into a school where food was being served. Clashes over food in Yamuna Pushta led to arson earlier this month. One person died.
Priyanka Kotamraju, who along with four friends in Defence Colony cooks food for around 50 people every day, explained that a lot of people who depended on street food are now flocking to the food centres or anyone willing to give them a meal.
"Several security guards in the area used to eat at eateries in the market. Many of them don't have permanent homes and sleep in parks. Even they come to us asking for food as their employers don't feed them," she said.
Sher Ali, a daily wager in south Delhi's Hauz Rani, has finally joined the queue. Hailing from Murshidabad in Bengal, Ali was initially helped by CPM labour arm Citu with dry rations for a few days. With his savings he bought soaps and sanitisers, and saved some for vegetables.
"Comrades have asked me to wait for a few days for more rations as they have also run out of supplies. I stand in the queue now twice a day for rajma-chawal at a school nearby. The police are strict, and those without masks get hit. I felt ashamed to go in the beginning, but now there is no choice. My family is also struggling in our village as there is no way to earn but you don't starve in a village," he told this newspaper.