Economic crisis tells on universities
Citing fiscal situation, Centre bans new posts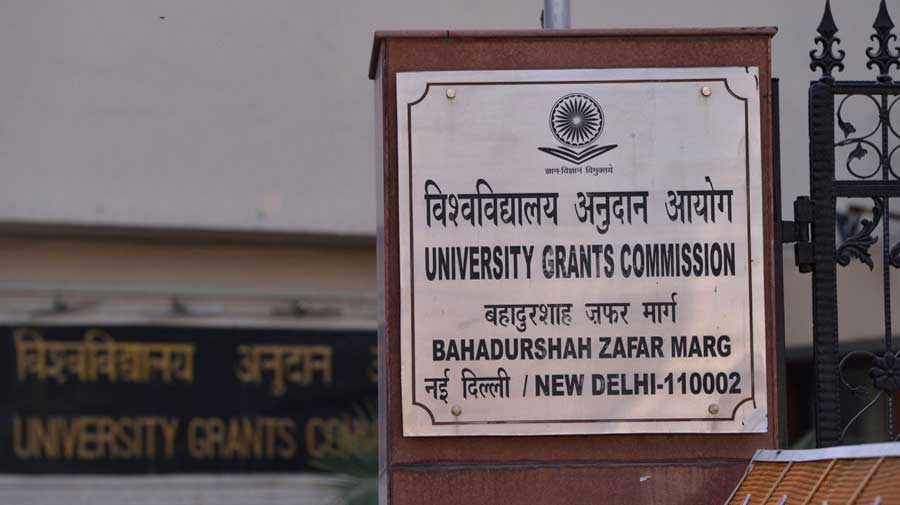 ---
---
The economic crisis has compelled the government to ask central universities and IITs to refrain from creating teaching posts and filling posts put in place after July this year.
The directive is expected to deepen the problems plaguing higher education and research after institutions were asked to enrol more students to implement the 10 per cent quota for the economically weaker sections. Such institutions were already struggling to cope with 30 to 40 per cent vacancies.
Last week, following instructions from the finance ministry and the higher education department under the education ministry earlier this month, the University Grants Commission (UGC) issued the advisory to all central universities.
The UGC has attached the copy of a letter issued by T.V. Somanathan, secretary of the expenditure department under the finance ministry. In the letter, Somanathan has prescribed a set of guidelines to be followed.
"There will be a ban on creation of new posts, except with approval of the department of expenditure, in ministries/departments, attached offices, subordinate offices, statutory bodies and autonomous bodies," said the letter from Somanathan.
If any organisation feels filling a newly created post is absolutely essential, they will have to seek the advice of the expenditure department.
"In the context of the present fiscal situation, and the consequent pressure on government resources, there is a need for further economy and rationalisation of non-priority expenditure while protecting and preserving the priority expenditure," the letter added.
Sources said the IITs had also been sent similar letters by the respective authorities.
In January 2019, the education ministry had directed higher education institutions to increase their intake capacity by 25 per cent, staggered over 2019-20 and 2020-21. The order followed the passage of a constitutional amendment providing for 10 per cent economic quotas. However, no new posts have been sanctioned in spite of universities placing such a demand.
Delhi University executive council member Rajesh Jha cited the example of DU, which has increased its intake capacity at the undergraduate level from 54,000 in 2018 to around 66,000 this year because of the economic quota. But there has been no commensurate enhancement in the sanctioned strength of teachers.
"The government is increasing the number of students without commensurate teaching posts. This is already affecting the quality of teaching. In my class of undergraduate students, there are 80 students. It is difficult to conduct academic activities," Jha, who teaches at Rajdhani College, said.
The finance ministry has also asked the institutions not to print any document or books on imported paper. Expenditure on events such as foundation day should be discouraged or curtailed. Travel for such functions, and provision of bags and mementos should be avoided, the letter by Somanathan said.