Congress to PM: Let's compare work
Retort by Mallikarjun Kharge on Modi's claim about previous governments achieving nothing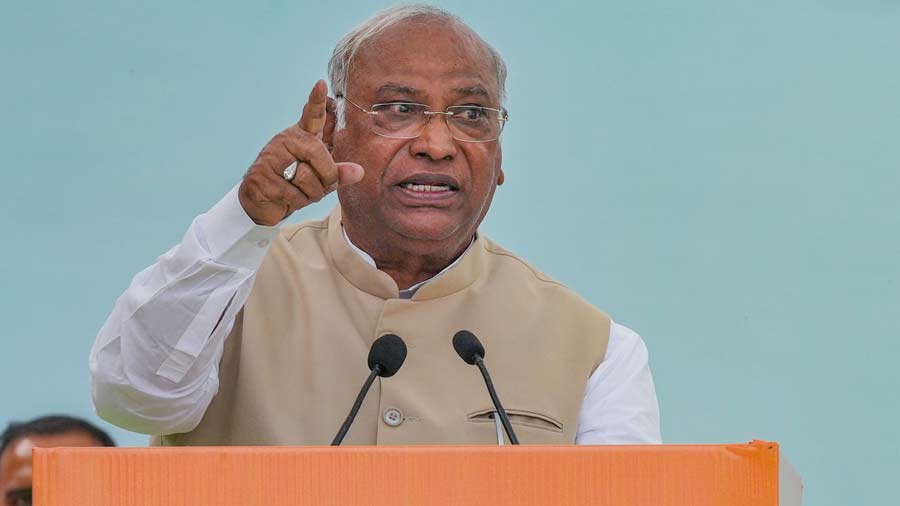 Mallikarjun Kharge
File picture
---
New Delhi
|
Published 03.12.22, 03:57 AM
|
---
Congress president Mallikarjun Kharge on Friday challenged Prime Minister Narendra Modi to give a comparative account of the work done by him and the previous governments he often accuses of achieving nothing.
Addressing a public meeting at Gandhinagar in Gujarat, the Congress leader said: "Your pet dialogue is, 'what happened in 70 years?' We won freedom, gave the Constitution and sustained democracy. We made countless public sector units, great institutions, infrastructure, education and healthcare systems and executed many development and welfare projects. We gave MGNREGA and Food Security Act.
"What have you done? How many public sector units have you made?  You are selling them one by one. You are handing over national assets to your friends. You closed government schools in Gujarat. You are not filling the existing 30 lakh vacancies. There have been 22 paper leaks. A bridge you repaired collapsed in five days. You harass political rivals using the SBI and ED, you instigate conflicts in society, you create imaginary rifts between the Congress stalwarts, you buy MLAs, you write off Rs 10 lakh crore loan of the super-rich…" Kharge added. 
Kharge, who along with Rajasthan chief minister Ashok Gehlot has been leading the election campaign in Gujarat as Rahul Gandhi is busy with the Bharat Jodo Yatra, has boldly confronted Modi for trying to exploit emotions instead of presenting his government's report card.
"If the Opposition criticises you for failures, you say they are abusing you, that Gujarat's son is insulted. Gujarat's son, Mahatma Gandhi, is our supreme idol. You say you have to digest 4kg abuses daily. You give 4 quintal abuses to the Congress daily," the Congress president said.
Exhorting people to vote out a party that is seeking more time to solve basic problems after 27 years in power, Kharge said: "They boast of a double engine. Gujarat has seen three chief ministers in six years. Engines obviously crashed as they had to be changed. Throw out the government that didn't perform in 27 years. They have no moral right to seek your vote. You know how tormenting the prices and unemployment have become."
Earlier, at another meeting at Bhiloda, he said: "Don't allow business as usual. This election is about your future. This is about the lives of Dalits, Advisasis, minorities and farmers. You gave enough chances to the BJP. It is irrational of Modi to say the Congress ruined Gujarat. After 27 years of continuous power, blaming the Congress is meaningless. The Congress left a debt of Rs 10,000 crore, which is Rs 4.5 lakh crore now. Drugs and hooch mafia are flourishing in your regime."