Cong prez poll: Ashok Gehlot toes the line, set for contest
Sonia and Rahul have given a firm message that they have nothing to do with organisational election and anybody is free to contest and lead the party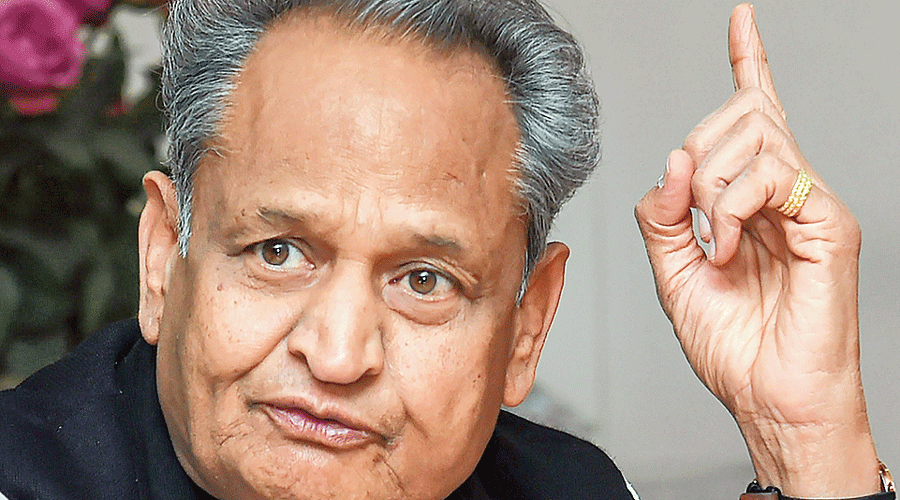 Ashok Gehlot.
PTI file picture
---
New Delhi
|
Published 23.09.22, 01:25 AM
|
---
Rahul Gandhi's unambiguous advocacy of "one-man-one-post" appears to have convinced Ashok Gehlot that retaining the chief minister's chair in Rajasthan should he become Congress president is impossible, smoothening the path from Jaipur to Delhi even as new contenders itch to join the fray.
Responding to a question about the "one-man-one-post" principle at a media conference in Kerala's Ernakulam during the Bharat Jodo Yatra, Rahul said: "What we have decided at Udaipur is a commitment of the Congress party. I expect that commitment will be maintained." It had been decided at the Udaipur Chintan Shivir in May this year that one person will hold only one post in the party.
Gehlot met Rahul at Ernakulam on Thursday and also walked in the Yatra.
A seasoned politician like Gehlot could have avoided this embarrassment by anticipating the mind of the high command but his dislike for Sachin Pilot, who could replace him as chief minister, forced him to take a position many think was unreasonable. Gehlot will now vacate the chief minister's chair but insist a new leader should be chosen by the MLAs instead of thrusting a decision from the top.
Gehlot will have a say in the choice of his successor if he takes over the reins of the party, so it is difficult to predict the developments in Rajasthan.
Rahul has outlined a path for the next Congress president, saying the post carries greater responsibilities than those of an organisational head.
Asked about his advice to the new Congress president, Rahul said: "You are taking up a position, a historic position, that defines and has defined a particular view of India. The Congress president is not just an organisational post. The Congress president is an ideological post. It is a belief system. Whoever becomes the new president should remember he represents a set of ideas, he represents a belief system, a (particular) vision of India."
Rahul got irritated by the intense grilling on the possibility of his contesting the election, arguing that he had made his position clear at the last media conference. He had only said at that media conference that the real picture would emerge on September 30, the last date for filing of nominations. After that, there have been enough indications of his determination to keep away from the organisational election and focus on the Bharat Jodo Yatra.
Both Sonia Gandhi and Rahul have given a firm message that they have nothing to do with the organisational election and anybody is free to contest and lead the party. This may be intended to demolish the allegation of dynastic control and hence there has been no apparent concern about several leaders preparing to file nominations. While Gehlot and Shashi Tharoor have demonstrated clear intent to join the fray, there is speculation about Digvijaya Singh, Prithiviraj Chavan and Manish Tewari as well.
Congress leaders, however, have presumed that it is going to be Gehlot versus Tharoor. The first indication of this came from party spokesperson Gourav Vallabh who openly came out in support of Gehlot while criticising Tharoor.
Vallabh said: "These tweets are not in the capacity of Congress spokesperson but as a party worker."
In a series of tweets, Vallabh said: "Like crores of Congress workers, my wish is also to see Rahul Gandhi as Congress president…. On one hand, there is Ashok Gehlot, a grassroots worker who rose to become central minister three times, chief minister thrice, MP five terms, MLA five terms and has a spotless political career. He has defeated Modi-Shah in direct contest in Rajasthan."
Vallabh added: "On the other hand, there is Shashi Tharoor whose sole contribution in the last eight years is to write letters to Sonia Gandhi when she was in hospital. This act pained crores of party workers like me. The choice is very simple and obvious."
Asked how could he differentiate between his roles as party worker and spokesperson, Vallabh told The Telegraph: "Twitter is my personal space. I am a party worker who has views, and a human being. Our party is democratic and allows freedom to everybody unlike the BJP where one-and-a-half persons decide everything. I am entitled to my views. If I say I like a particular actor or a player, that doesn't mean the Congress too likes them. I stand by my views on Tharoor as the G-23 act of sending the letter to Soniaji (about a perceived drift in the party) when she was in hospital left the entire Congress anguished."