Congress hits streets against oil price hike
Looting the common citizens in the time of Covid-19 exposes the insensitive character of govt: Party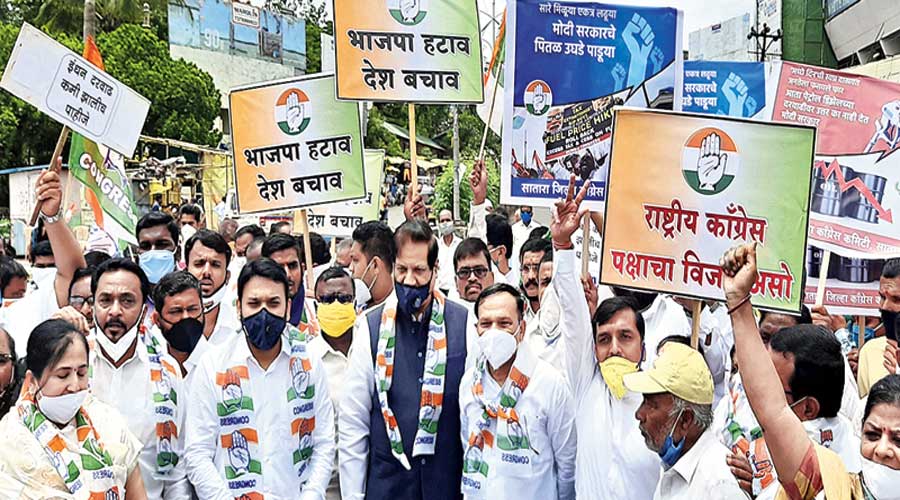 ---
---
The Congress on Monday held protests across the country against the Narendra Modi government, accusing it of turning petroleum pricing into an extortion tool.
Pointing out that the excise duty on diesel was hiked by 820 per cent and on petrol by 258 per cent since the BJP came to power in 2014, the Congress said petrol purchased from the international market for Rs 20 a litre was today sold at Rs 80 a litre.
The party said looting the common citizens in the time of Covid-19 and an extraordinary economic crisis exposed the "insensitive" character of the government.
The protests, from cycle rallies to dharnas in different states, were the party's first outdoor political activity since the lockdown was imposed in March. This was coupled with a social media campaign #SpeakUpAgainstFuelHike which trended worldwide during the day.
Hundreds of small video clips showing views of different sections of society, from transporters to farmers to ordinary consumers, troubled by the ceaseless increase in petrol and diesel prices, were posted by the party on social media platforms.
Party president Sonia Gandhi too joined the virtual campaign, lamenting that the "insensitive" government had made the lives of common people miserable while collecting an additional Rs 18 lakh crore by taxing petroleum products.
Sonia asked the government to refrain from the unjust profiteering off the people's miseries in the time of Covid-19 and corresponding economic distress. She asked the government to pass on the benefits of low crude oil process to the consumers.
Rahul Gandhi also released a video message, saying: "The farmers, the salaried middle class and the poor are the worst hit in this corona-induced crisis. We wanted a Nyay-like scheme (minimum income guarantee) for at least three months to help these people and a financial package to help the medium and small businesses.
"But the government committed the biggest wrong by burdening the people through petrol and diesel prices even as the international rates are abnormally low. While the rise in petrol and diesel prices directly takes cash from the pockets, the indirect burden is the increased prices of essential commodities due to higher transportation costs. The government should stop this loot."
Several videos of transporters, auto-drivers, farmers and middle class professionals uploaded by the party showed how the lockdown hurt their incomes and now the petrol-diesel prices were fleecing them.
In one of the videos, an apple grower is seen explaining how the transportation cost had made farming unviable. In another video, a farmer rued how the rising input cost sliced away their incomes.
Recalling that petrol and diesel rates were increased 22 times during the lockdown, the party said the taxation was the highest in India at 69 per cent while it was only 19 per cent in the US.
In a statement, the Congress said: "Today, the crude oil price is 41.70 dollar (Rs 3,147.23) per barrel. One barrel has 159 litres. Hence, the per litre crude oil price as on June 29 would be Rs 19.80 per litre. As against this, the price of petrol-diesel has crossed Rs 80 per litre establishing sheer profiteering and fleecing of people of India by the Modi Government."
The statement added: "The crude prices are at the August 2004 level of 40-42 dollar per barrel. In August 2004, petrol was Rs 36.81 per litre, diesel Rs 24.16 and LPG Rs 261.60 per cylinder in Delhi. When the Congress-UPA Government was in power, the price of crude oil was 108 dollar per barrel, but petrol and diesel prices were Rs 71.41 and Rs 55.49 per litre. Despite the decline of 60% in crude price, petrol-diesel are selling at over Rs 80."