Congress flags SPG alert to Rahul in August
Personal vendetta, rather than objective threat perception claims Congress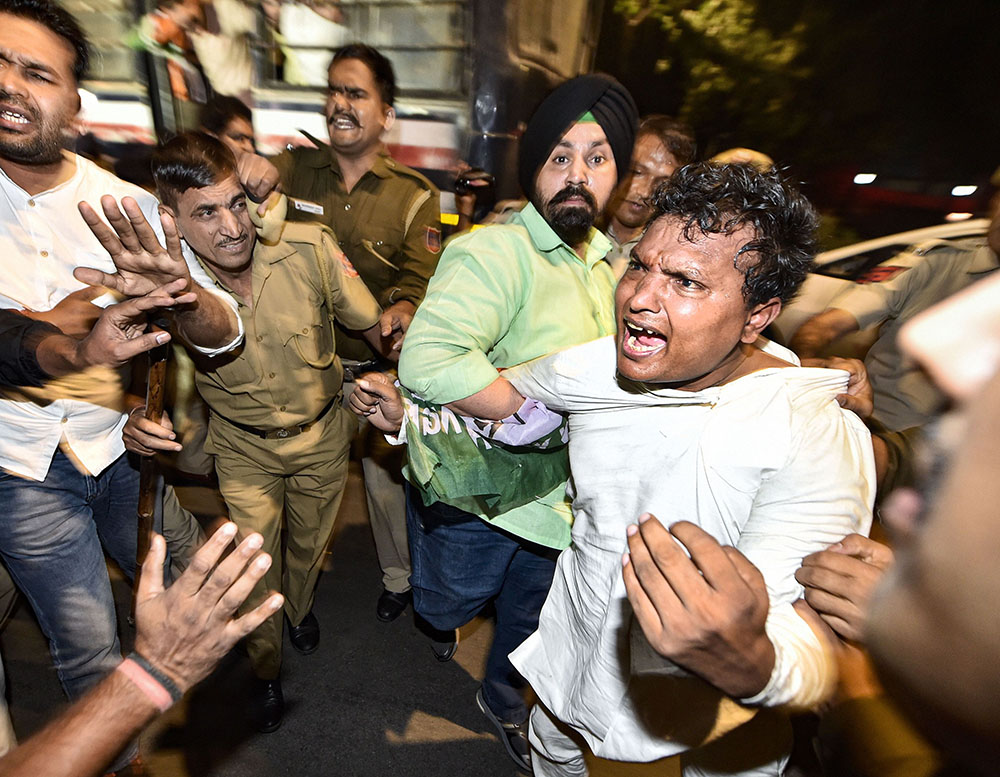 Indian Youth Congress members stage a protest outside Home Minister Amit Shah's residence against removal of SPG security from members of Gandhi family, in New Delhi, Friday, November 8, 2019.
(PTI)
---
New Delhi
|
Published 09.11.19, 01:04 AM
|
---
The Congress has accused Prime Minister Narendra Modi and Union home minister Amit Shah of acting out of personal vendetta, rather than objective threat perception, in withdrawing the SPG cover of the Gandhi family.
The party said that the SPG had written to Rahul Gandhi on August 29 and June 6 this year and November 6 and August 6 last year to alert him to a threat to his life from Islamic militants, Naxalites, Khalistani militants, Northeast militants and other underground groups. What had changed in two months, it asked.
At a news conference, the party also revealed that former Prime Minister Manmohan Singh had written to the Union cabinet secretary on November 5 to express concern about the "consistent pattern of leakage of sensitive security-related information" about the Gandhi family to the media, calling it a breach of security from within the government that required a probe. Singh had underlined that two members of the family — a serving Prime Minister and a former Prime Minister — were assassinated. The cabinet secretary had not replied to the letter, the party said. Senior Congress leader Ahmed Patel tweeted: "The BJP has descended to the ultimate personal vendetta mechanism, compromising the lives of family members of former Prime Ministers to acts of terror and violence."
The party held the news conference later, where it recalled that the V.P. Singh government had committed the same mistake by withdrawing the security of former Prime Minister Rajiv Gandhi, who was ultimately assassinated by a suicide bomber.
Youth Congress workers assembled outside Shah's residence to protest, which continued for hours.
"Knowing that Indira Gandhi and Rajiv Gandhi were assassinated, this government is so blinded by the passion for vendetta that it withdrew the SPG cover," Congress spokesperson Randeep Surjewala said at the news conference.
The party's general secretary in charge of organisation, K.C. Venugopal, said: "The people of the country will realise what kind of criminal minds these people have, their actions suggest that."
Surjewala asked: "Under what circumstances did the home ministry decide this? Usually SPG security is under the cabinet secretary, but here the home ministry issued the withdrawal notice. They're playing with the lives of Sonia Gandhi, Rahul Gandhi and Priyanka Gandhi."