Congress contests PM Modi's claim on Indian economy
Gourav Vallabh suggests that Prime Minister's overemphasis on India having become the world's fifth-largest economy should be viewed in perspective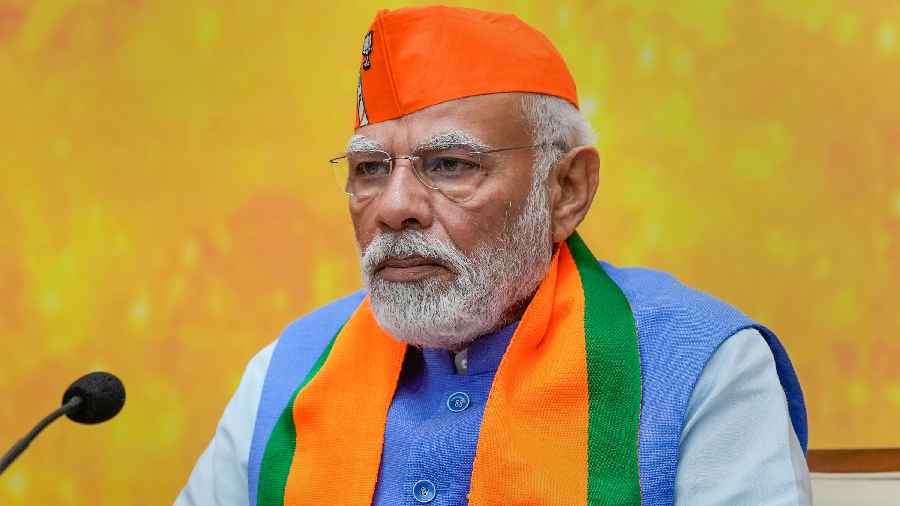 Narendra Modi
File Photo.
---
New Delhi
|
Published 28.12.22, 03:27 AM
|
---
The Congress on Tuesday contested Prime Minister Narendra Modi's claim that 2022 had been a wonderful year for the Indian economy, contending that statistics indicated a woeful year marked by joblessness and high inflation.
The Prime Minister had said in his latest Mann Ki Baat radio broadcast on Sunday that 2022 had been a wonderful year in terms of the economy.
"Modiji is the most knowledgeable person after Lord Brahma in the world, his expertise ranging from the economy to philosophy, from the robotic sciences to Sanskrit," Congress spokesperson Gourav Vallabh said.
"If the year was indeed wonderful, tell us Modiji, where should we go and do taali-thali, the balcony or the rooftop?"
The allusion was to Modi's exhortation to Indians at the start of the pandemic in March 2020 to bang on pots and pans from their balconies in honour of the health workers battling the coronavirus.
Vallabh suggested that Modi's overemphasis on India having become the world's fifth-largest economy should be viewed in perspective.
"While the US economy is worth $23 trillion and China's $17.7 trillion, India's economy is one of $3.2 trillion. If we calculate in terms of per capita GDP, we are barely at $2,277 a year in comparison to the US figure of $70,000. Don't fool usby giving absolute numbers," Vallabh said.
"In terms of per capita income, India is placed 142among 197 countries. On the hunger index, we are placed107 out of 121 countries, behind even Pakistan and Bangladesh. In terms of child wasting rate, we are the worst in the world. The rupee is the worst-performing currency in the Asian basket."
He added: "All rating agencies have downgraded our growth projections. Inflation has been higher than the tolerable limit fixed by the RBI. Urban unemployment is at 10per cent. Petrol prices have not been reduced despite a reduction in international crude prices. The trade deficit has worsened; exports are declining."
The Bharat Jodo Yatra, apart from its principal goal of uniting India, has raised economic issues such as the high prices of essential commodities and the growing inequalities. 
Vallabh asked Modi to take part in the Bharat Jodo Yatra. "Walk for three hours only — all the negative feelings, destructive thoughts will be purged. People's chants about unity and compassion will purify you," Vallabh said.
"Bring Amit Shah too,for 15 minutes..., and Smriti Irani for 5 minutes. They all will benefit and start thinking about uniting the country and real issues like jobs and high prices. Please join. "The only precondition is that you will have to hold the Tricolour; you can't bring any other flag," the Congress spokesperson added.