Congress calls out hype on G20 presidency
Presidency rotational, party points out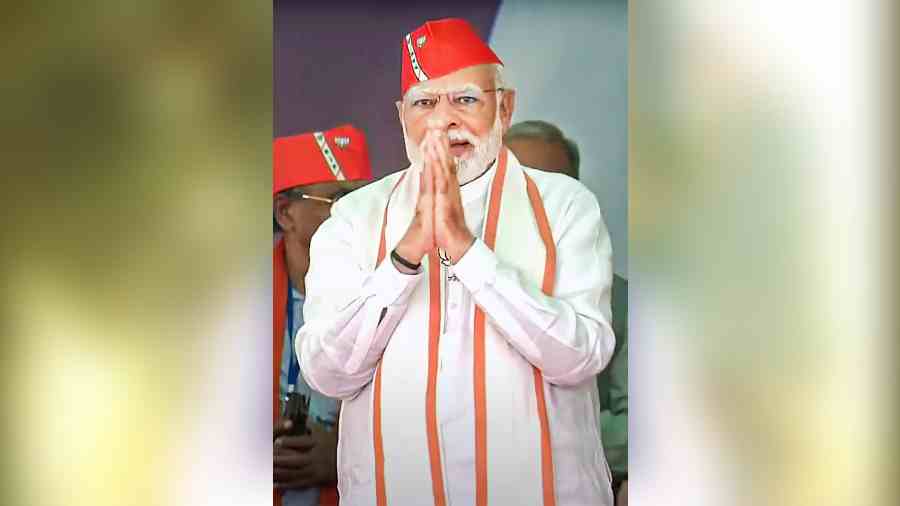 Prime Minister Narendra Modi campaigns for the BJP at Sojitra in Anand, Gujarat, on Friday. Modi has addressed over 30 rallies and led three roadshows in Gujarat.
PTI
---
New Delhi
|
Published 03.12.22, 03:45 AM
|
---
The Congress on Friday mocked the government for hyping up India's presidency of G20 as a personal achievement of Prime Minister Narendra Modi, pointing out that the responsibility was rotational and every member country got a chance.
Congress communications chief Jairam Ramesh tweeted: "The presidency of G20 is rotational and India's presidency was inevitable. Previous presidents of G20 have been USA, UK, Canada, South Korea, France, Mexico, Russia, Australia, Turkey, China, Germany, Argentina, Japan, Saudi Arabia, Italy & Indonesia. None of these countries staged a high voltage drama as is being done around India becoming president of G20 for a year."
Ramesh added: "I'm reminded of what L.K. Advani said on 5.4.2014 in Gandhinagar — he called Mr Modi a brilliant event manager. That's all there is to all the spin around."
An article authored by Modi explaining the significance of India's presidency has appeared in several newspapers, most ministers and BJP leaders have tweeted about the G20 presidency and reports suggest that the BJP national executive will discuss the issue.  
The G20 presidency does not come with any special powers but India will host the next summit in September and can influence the agenda. Modi has not unveiled any new vision for the summit and has relied on India's traditional "Vasudhaiv Kutumbakam (The world is a family)" slogan, with the tagline "One Earth, One Family, One Future".
India is witnessing an exceptional Kanyakumari-to-Kashmir march — the Bharat Jodo Yatra led by Rahul Gandhi — to unify the country against rising hate and Modi will come under pressure on this front because of his stress on global fraternity.
As the host country of G20, India will be watched carefully by the world on financial and social inclusion. The first controversy around G20 erupted when the Prime Minister unveiled the logo for India's presidency — a lotus resembling the BJP's election symbol.
Full-page advertisements followed in most newspapers on December 1 when India formally took over, screaming: "Big responsibility, Bigger Ambitions."
The advertisement declared: "India's G20 presidency to accelerate new ideas and collective action."
The ad put out by the government also proclaimed: "India, the Mother of Democracy, is ready to take on a global leadership role and pave the way for an inclusive tomorrow with its decisive and action-oriented approach at G20 India. Our G20 meetings are planned in different cities and states of our country to provide an enriching experience of India's amazing diversity, inclusive traditions and cultural richness to our guests from across the world."
The Bharat Jodo Yatra has highlighted the threats to the democracy, diversity and inclusive traditions being projected as India's defining feature.
While the Yatra will end in January — months before the G20 summit is held in September — the Congress is planning to start another, from west to east, on the same issues. Ramesh had predicted on November 16 that Modi would exploit the G20 presidency for political gain ahead of the 2024 general election.
He had tweeted: "Since 2008 an annual summit is held in each member country in turn. Each country gets a chance & India will host the summit in 2023. It's certainly to be welcomed like similar summits held earlier. The Non Aligned Summit of over 100 countries took place in New Delhi in 1983 followed by the Commonwealth Summit. The 2023 Summit will of course be milked by the world's greatest event manager for the Lok Sabha elections a year later to distract from real issues of the people."
The G20, a grouping of 19 major economies and the European Union, was formed in 1999.