Congress attacks BJP 'culture of defections'
Randeep Surjewala claimed that the defections were 'founded upon threats, coercion, money power, muscle power and enticements'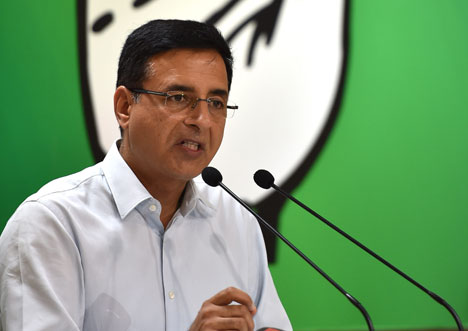 ---
---
The Congress on Friday said the BJP had been blatantly violating the constitutional scheme by breaking rival political parties using money power and coercion and legitimising the culture of defections.
Congress communications chief Randeep Surjewala said in a statement: "Post the 2019 mandate, the BJP must realise that people of India have given them more responsibility than ever to uphold constitutional norms and ethos. Its conduct in the past five years and now has been just the opposite. Latest instance is the illegal and unconstitutional manner in which it engineered defections among the Rajya Sabha members belonging to the TDP in an attempt to manufacture majority in the House."
Four of the six Telugu Desam Party (TDP) parliamentarians joined the BJP on Thursday.
Surjewala condemned the "culture of defection", reflected in systematic switchovers engineered from different parties. The Congress leader claimed that the defections were "founded upon threats, coercion, money power, muscle power and enticements".
"Horse trading is now the bedrock of the BJP's so-called expansion. This reprehensible phenomenon, sans any ideological moorings, is murder of the Constitution and democracy. Such sinister attempts virtually abrogate the 10th Schedule of the Constitution and the Anti-Defection Law."
The Congress listed some of the major defections induced by the BJP in Bengal, Arunachal Pradesh, Goa, Uttarakhand, Manipur, Karnataka, Gujarat, Jammu and Kashmir, Maharashtra and Telangana. While the Trinamul Congress and the TDP have been the latest targets of the BJP, the Congress has been the worst sufferers in the past five years as its entire government was stolen in Arunachal Pradesh and half of the leadership was taken away in Uttarakhand.
In Maharashtra, the Congress's leader of the Opposition joined the BJP, while 12 of its MLAs defected to the ruling TRS in Telangana.