Congress accuses Modi and BJP of standing with a criminal
The party ran a social media campaign to highlight the Prime Minister's silence and inaction on the Lakhimpur Kheri massacre that has shaken the nation's conscience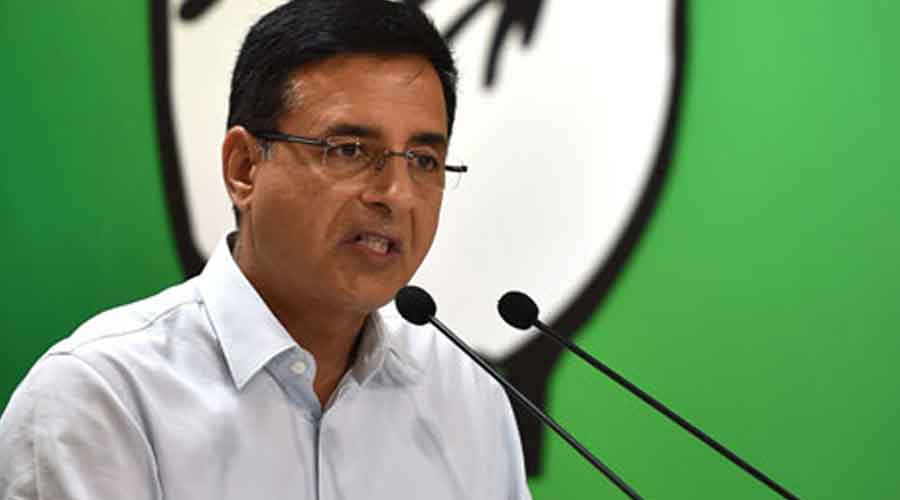 Randeep Surjewala
File picture
---
New Delhi
|
Published 09.10.21, 01:08 AM
|
---
The Congress on Friday said Prime Minister Narendra Modi and the entire BJP were standing with a criminal to deny justice to the farmers murdered in a horrific incident never witnessed before in the country.
Expressing shock at the continuance of Union minister of state for home Ajay Mishra Teni, who is also a murder accused in another case, Congress communications chief Randeep Surjewala said: "India's Constitution has become captive of criminals; the rule of law is being mowed down by jeeps and the sentiment of the judiciary is being deliberately ignored."
The party ran a social media campaign throughout the day to highlight the Prime Minister's silence and inaction on the Lakhimpur Kheri massacre that has shaken the nation's conscience.
On October 10, Priyanka Gandhi will address a Kisan Nyay rally in Varanasi to press for justice for the victims.
Surjewala asked since when police had started pleading with criminals to appear in a murder case, referring to the summons sent to Mishra's son Ashis on two successive days. Ashis is accused of mowing down the farmers.
"Uttar Pradesh police is treating the minister's son like son-in-law. They are issuing summons to the murder accused. The government goes to the court to say firing might have happened but it missed the target. The court had to say it expects a responsible government. Both the Modi and Yogi (Adityanath) governments as well as the BJP appear to be standing with the criminals," he said.
Pointing to the irony of the minister himself being a murder accused, Surjewala said: "A murder case was filed against Ajay Mishra (Teni) and others in 2004. How will justice be delivered if the case is not decided in 17 years? On March 12, 2018, Allahabad High Court reserved an order on whether a murder trial will continue against Mishra or not. For three years, the order was not passed and Mishra became a central minister. The Supreme Court should take note of this case. We demand a special bench to complete the process in this case in two days and report to the Supreme Court in the next hearing what has to be done."
A delegation of Punjab leaders headed by Navjot Singh Sidhu met the families of the victims in Lakhimpur on Friday. Sidhu announced that he would sit on fast from Saturday till the minister's son is arrested.