Congress accuses Mamata of poaching MLAs in Meghalaya
The party leaders led by former chief minister Mukul Sangma were upset because Vincent Pala, a former Lok Sabha MP close to Rahul, was made the state unit chief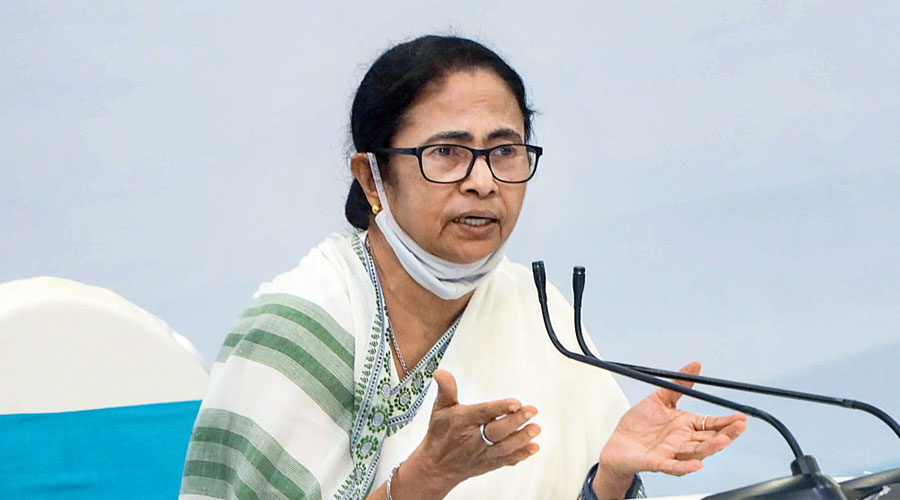 Mamata Banerjee.
File photo
---
New Delhi
|
Published 26.11.21, 12:51 AM
|
---
The Congress on Thursday accused Mamata Banerjee of poaching its MLAs in Meghalaya but it is not open to dispute that the leadership's neglect of the Northeast over the past decade has pushed the party into decline.
Trinamul was not in the picture when the Congress government shifted to the BJP lock stock and barrel in Arunachal Pradesh in 2016, a rare phenomenon in Indian politics when a party with barely a footprint in a state took power overnight. While Congress MLAs were pilfered one after another in Manipur, the party got decimated in Tripura and Nagaland. Its slide seems irreversible in Assam.
While the Congress has no strong leader in the entire Northeast after the death of veteran Tarun Gogoi, the general secretaries looking after the states had left the organisation to fend for themselves.
General secretaries such as C.P. Joshi, who minded the Northeast a few years ago, rarely visited the states under his charge, remaining a mute spectator when the brazen MLA heist took place in Arunachal.
The passing of Ahmed Patel a year ago and Rahul Gandhi's resignation as Congress president triggered a much deeper drift, but the party responded with apathy, assigning the northeastern states to greenhorns who are not even general secretaries.
While Manish Chatrath, who used to handle clerical work at the Delhi headquarters, is now in charge of the Meghalaya and Arunachal units of the Congress, former IPS officer Ajoy Kumar, who left the Congress to join AAP and then return, is looking after Nagaland, Tripura and Sikkim. Assam is under the charge of Jitendra Singh, another leader who lacks organisational experience. Luizinho Faleiro, who was in charge of the northeastern states for a long time, has joined Trinamul.
Congress leaders in Meghalaya led by former chief minister Mukul Sangma were upset because Vincent Pala, a former Lok Sabha MP close to Rahul, was made the state unit chief. Many leaders in Delhi knew Sangma was in a rebellious mood but the crisis was not defused in time.
The Congress on Thursday chose to hide behind anti-BJP rhetoric instead of dispassionately analysing the infirmities and disinterest that have almost killed political management in the party.
Spokesperson Gourav Vallabh said: "Anybody who is trying to weaken the Congress is strengthening the BJP. This conspiracy against the Congress is being done by BJP proxies. The TMC is doing this because that's their mandate. If you are ideologically committed, you don't stay here today and go elsewhere tomorrow…."
Sangma said on Thursday that his move to switch to Trinamul with 11 MLAs was a "conscious decision". He pointed to the MLAs' "inability to effectively play the role of the Opposition while in the Congress".
Additional reporting by Umanand Jaiswal in Guwahati