CJI Ramana: Make mediation mandatory before litigation
What the justice has suggested is a parliamentary enactment to have a mandatory pre-litigation process to prevent people from approaching the courts at the outset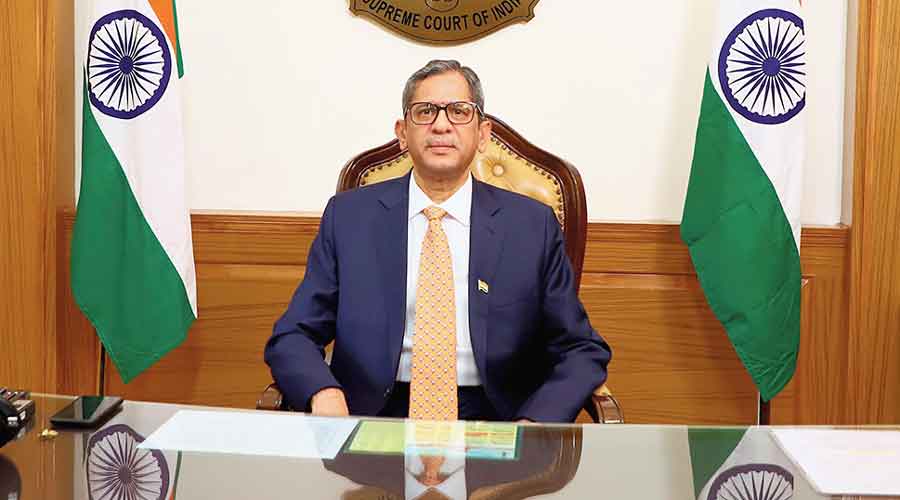 Justice Ramana addresses the India-Singapore mediation summit in New Delhi on Saturday.
PTI photo
---
New Delhi
|
Published 18.07.21, 01:33 AM
|
---
Chief Justice of India N.V. Ramana on Saturday sought a special "omnibus" enactment that would make mediation mandatory before litigation, citing the backlog of 3 crore cases in the country's courts and the rising costs of litigation.
During mediation, a neutral mediator tries to persuade the two warring parties to resolve their dispute through give and take instead of rushing to court and waiting endlessly for a verdict.
The Industrial Disputes Act, 1947, provides for mediation, as do the amended Companies Act of 2013 and the amended Consumer Protection Act of 2019. More recently, the Commercial Courts Act, 2015, and the Real Estate (Regulation and Development) Act, 2016, incorporated provisions relating to compulsory pre-litigation mediation.
Besides, Parliament in 1999 revived a provision (Section 89) in the Civil Procedure Code that empowers courts to refer parties to mediation.
However, barring these special laws, there is no provision for mandatory mediation or other alternative dispute resolution (ADR) processes such as conciliation and arbitration.
What Justice Ramana has suggested is a parliamentary enactment to have a mandatory pre-litigation process to prevent people from approaching the courts at the outset.
"Given the growing scope of mediation, it's time for India to enter mission mode. To
popularise mediation as a cheaper and faster dispute resolution mechanism, a movement needs to be launched," he said.
Justice Ramana added: "Prescribing mediation as a mandatory first step for resolution of every allowable dispute will go a long way in promoting mediation. Perhaps, an omnibus law in this regard is needed to fill the vacuum."
"The vast majority of litigants in India belong to the middle and poorer sections of society. They will find great solace if mediation gets established as a reliable means of redress.... It will lead to a remarkable reduction in the number of cases reaching the regular courts... (and) enhance the efficiency of the judicial system," Justice Ramana said.
His comments came at an "India-Singapore mediation summit" organised jointly by the Singapore International Mediation Centre and the CAMP Arbitration and Mediation Practice and Mediation Mantras.
Party-friendly
"Mediation, being the cheapest and simplest option available to the public at large, can be described as a tool of social justice in the Indian context," Justice Ramana said, emphasising the country's diversity.
"Such a party-friendly mechanism ultimately upholds the rule of law by providing an incentive for the parties to utilise their autonomy to the fullest to arrive at a just and equitable outcome."
He said several Indian states were building a robust ADR-friendly environment. He welcomed Telangana's establishment of an ADR facility and hoped that other states would follow the example.
"Cooperation between India and Singapore is going to be a significant factor in promoting alternate dispute redress mechanisms in both our countries as well as the entire subcontinent," Justice Ramana said.
Indian ethos
The Chief Justice of India said the Mahabharata provides an example of an attempt at mediation as a conflict resolution tool, with Krishna trying to mediate between the Pandavas and Kauravas.
He said mediation was, as a concept, deeply embedded in the Indian ethos, with various forms of it practised before the arrival of the British adversarial system of law.
Disputes were often resolved by the chieftains or elders of the community. Merchants resolved their business disputes through negotiation or through the mediation of merchant bodies.
"However, the establishment of the British courts system in 1775 marked the erosion of community-based, indigenous dispute resolution mechanisms in India," Justice Ramana said.
Lok Adalats
He said the Lok Adalats had settled more than 78.4 lakh cases in 2019 and 2020, lowering the burden on the regular courts. Another 39.4 lakh cases were settled at the pre-litigation stage through mediation during the same period.
This happened despite the pandemic and was made possible through an efficient online dispute resolution system in the country, Justice Ramana said. He added that India now had nearly 43,000 mediation centres.
(Lok Adalats are an ADR forum where cases pending in the courts or disputes at a pre-litigation stage are settled. These forums are usually made up of a serving or retired judicial officer, a lawyer and a social worker.)
Justice Ramana said that ADR mechanisms, particularly mediation and conciliation, do not only save the parties expenses and time, they give them a degree of control over the process and outcome.
Designed around a participatory model, mediation and conciliation enable parties to become insiders to a process that traditionally treated them as outsiders.
'Luxurious' litigation
Justice Ramana referred to "luxurious litigation", in which parties with sufficient resources "attempt to frustrate the judicial process and delay it by filing numerous proceedings across the judicial system".
He said that ADR mechanisms like mediation, arbitration and conciliation can go a long way in addressing the problem of vested interests frustrating the judicial process.
He added that special training programmes should be conducted periodically for the mediators on the lines done for commercial pilots.
The conference was attended by Sundaresh Menon, Chief Justice of Singapore; Edwin Tong, minister for culture, community and youth and second minister for law, Singapore; Justice A.K. Sikri, former Supreme Court judge; Amitabh Kant, chief executive officer of the Niti Aayog; and George Lim, chairperson of the Singapore International Mediation Centre.