Citizenship law brings Kerala rivals together
Vijayan noted that Kerala was sending a message of unity across the country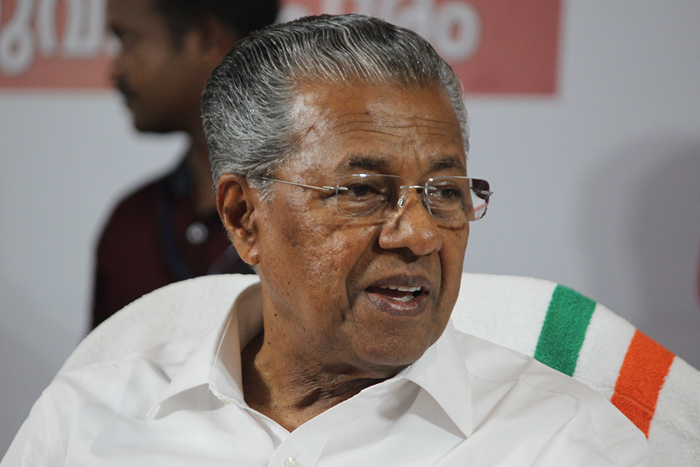 ---
---
Arch rivals CPM and Congress shared a public platform for the first time in Kerala in recent memory as all parties barring the BJP closed ranks against the Citizenship (Amendment) Act and the National Register of Citizens in the southern state on Monday.
Speakers such as chief minister and CPM leader Pinarayi Vijayan, Opposition leader and Congress veteran Ramesh Chennithala, leaders of the Indian Union Muslim League and clerics demanded the immediate withdrawal of the Citizenship (Amendment) Act and a guarantee that the NRC would not be implemented in the country.
Unanimity had been witnessed earlier too to decry demonetisation and condemn attacks in the name of beef but that had been confined to the floor of the Assembly.
Rarely has leaders cutting across so many party lines have come together on a public platform as they did on Monday for a sit-in at Raktasakshi Mandapam, or Martyr's Square, in the heart of Thiruvananthapuram. A temple, a mosque and a church exist within a 100-metre radius around the square. The event, scheduled to be held between 10am and 1pm, went on until 2pm to accommodate around 20 speakers from all participating parties and organisations.
Chief minister Vijayan said: "Our country is faced with a very serious crisis. This was deliberately created by the central government to implement the RSS agenda that says secularism is not needed in India."
"What is happening is an attempt to negate the hard-earned freedom by diverting the country to a certain direction," said the chief minister who had already declared the amended citizenship law would not be implemented in the state.
"The freedom struggle decided that India would be secular and not a theocratic republic. But the law that the Lok Sabha passed on December 9 and the Rajya Sabha passed on December 11 denies that very idea our founding fathers enshrined in our Constitution," he said.
Vijayan noted that Kerala was sending a message of unity across the country.
"Modern India evolved with the understanding that we (Indians) are united with all our religions and languages. This country can be kept totally united only by protecting secularism and federalism," he said, accusing the BJP government of undermining the basic structure of the Constitution.
He highlighted how such tendencies were stopped elsewhere with sustained agitation.
"Experience from around the world has shown that such divisive tendencies can be stopped with sustained agitation. The world teaches us that such forces have always buckled and knelt down before the power of democracy," he said, urging the people to use their democratic rights to force the government to withdraw the controversial law.
Congress leader Ramesh Chennithala said: "Our country is going through the worst phase after Independence. This union that rose above political differences is against this dangerous phenomenon that we are facing today."
"An atmosphere of fear is prevalent in our country today. The Centre is using force to silence rising voices against this discriminatory law," said Chennithala, who has filed a petition in the Supreme Court against the amendment on Monday.
"If we have to survive as a democratic nation, then secularism should blend with democracy. Otherwise, there is no future for any democracy," he said.
Indian Union Muslim League lawmaker M.K. Muneer said the Centre was creating a fear psychosis to silence democratic voices"You want to whip up a fear psychosis in the country hoping that everyone would buckle under spine-chilling fear….
"Even if you shut all doors and silence the media, there would still be several active media houses, political organisations and student movements. The best example is what you see in New Delhi today," he said..The general secretary of All India Sunni Jamiyyathul Ulema, Kanthapuram A.P. Aboobacker Musaliar, urged the protesters to shun violence and keep the movement completely peaceful.
"Otherwise, the people might doubt your intentions," he cautioned.
"I would like say one thing. India is not in the hands of any particular group. India does not belong only to Muslims, Christians, me or you. But India is for everyone. That needs to be understood," he added.