Christians up in arms as Lok Sabha MP ties cross to benefits
BJP leader Pratap Simha questioned the officials over "rampant religious conversions" in Karnataka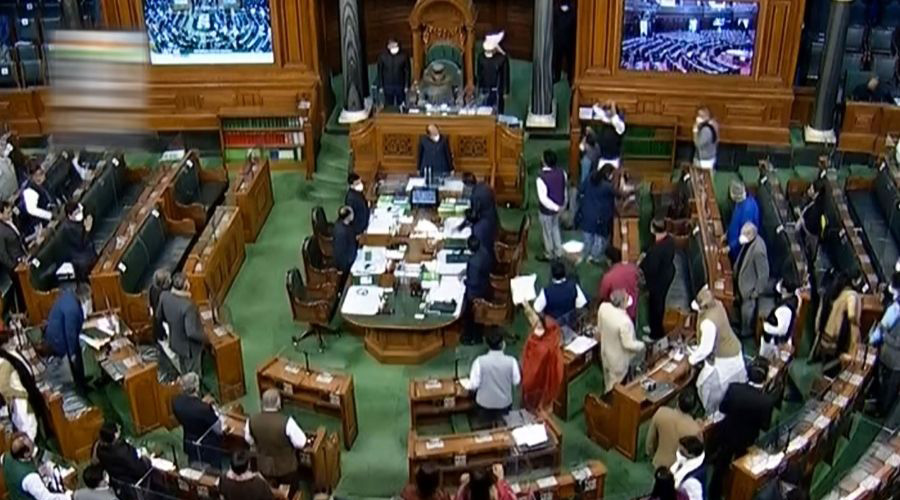 ---
Bangalore
|
Published 03.03.21, 01:49 AM
|
---
Christians are up in arms against a Karnataka BJP Lok Sabha member who had recently suggested that officials deny government benefits to tribal people who wear the cross.
After staging a protest on Monday against the comment made by Lok Sabha MP from Mysore-Kodagu Pratap Simha, Christians have decided to write to the Prime Minister and the chief minister against the remark that could end up denying much-needed government benefits to impoverished tribals.
Simha recently stoked controversy by directing tribal welfare officials that those who wear the Christian cross should be denied government benefits like rations. As reported by the media, his remarks came at a tri-monthly review meeting in Mysore a week ago.
The MP questioned the officials over "rampant religious conversions" in the area. "If you are distributing rations properly, why are conversions rampant in the area?" the New Indian Express newspaper had quoted him as saying.
Simha cited discussions in Parliament to tell the officials that such benefits must not be given to those who have converted to other religions. He was apparently alluding to the recent reply by law minister Ravi Shankar Prasad to a question in the Rajya Sabha that Dalit converts to Christianity and Islam would not be eligible to contest from reserved constituencies, while converts to Hindu, Sikh and Buddhist faiths would make the cut.
The Karnataka Christian Political Leaders Forum has raised strong objections to Simha's remark, citing the dangers involved in such a discriminatory stand.
"Our Prime Minister talks about 'sabka sath, sabka vikas' and yet here's a Parliament member from the same party who is urging officials to deny government benefits to poor tribal people who wear the cross," the convenor of the forum, Vikram Anthony, told The Telegraph on Tuesday.
The organisation that held a protest in Bangalore on Monday evening will write to Prime Minister Narendra Modi and Karnataka chief minister B.S. Yediyurappa on Wednesday.
"This is such a dangerous statement since one can only imagine the ramifications if the officials really take his (Simha's) words seriously and stop rations and other benefits to the poor tribal people who are already struggling to eke out a living," Anthony said. He noted that the discriminatory remarks of Simha were a violation of the fundamental rights of Christians.
"It is every Indian citizen's fundamental right to choose and profess his or her religion. So this is a brazen attack on our personal liberty enshrined in the Constitution," he said, adding that Christians were among those who had worked and voted for Simha.
"He should realise that Christians have also worked for and voted for him. So he represents everyone, irrespective of religion, caste or creed, in his constituency," Anthony said.
Tribal people in over 150 hamlets in Mysore district mostly work as labourers and gather forest produce like honey for their livelihood.
Among the BJP hardliners, Simha is not a stranger to controversies. He had to apologise to actor Prakash Raj over a defamatory tweet in 2019. Simha could not be reached for comments as calls to his mobile phone went unanswered.
Spokesperson of the Archdiocese of Bangalore J.A. Kanthraj demanded an apology from Simha. "The entire Christian community is deeply hurt by these disparaging comments and demands an unconditional apology and withdrawal of the statement," Kanthraj told this newspaper.
"It is sad that being a member of Parliament he is oblivious to the rights and the freedom accorded by the Constitution to practice one's religion without fear," Kanthraj said.