Cheek by jowl in Dongri's illegal haven
Illegal parking is another major concern in Dongri, which has a population of 1.28 lakh packed into just 2.84sqkm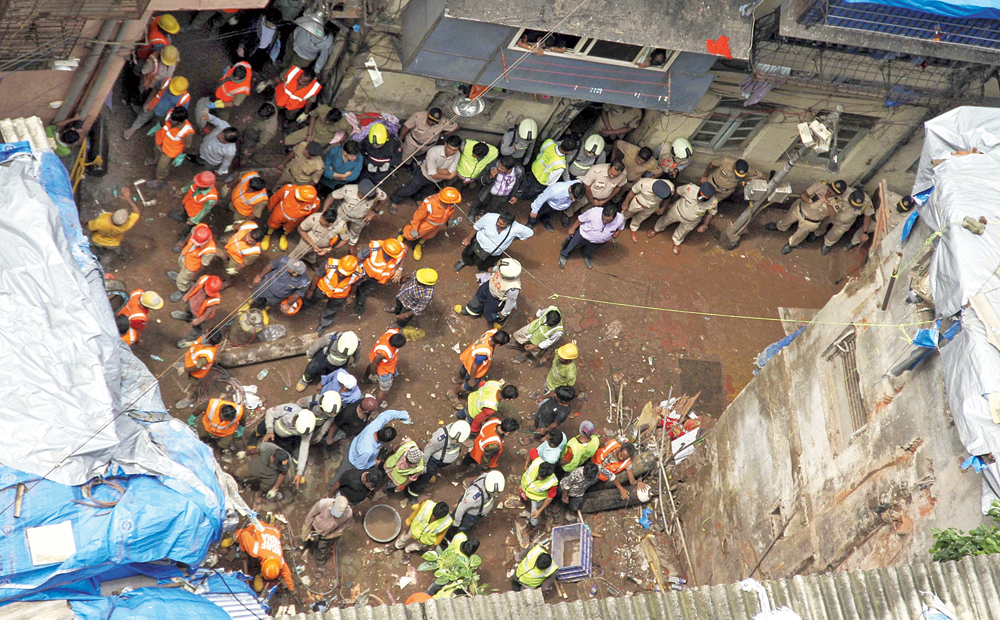 Rescuers conduct search operation at the site of the collapsed building at Dongri in Mumbai on Wednesday
(PTI)
---
Mumbai
|
Published 17.07.19, 08:31 PM
|
---
The Dongri enclave in south Mumbai, where a four-storey building caved in on Tuesday killing 14 people, is a hotbed of illegal constructions and is part of the municipal ward that has the highest population density.
Illegal parking is another major concern in Dongri, which has a population of 1.28 lakh packed into just 2.84sqkm.
The narrow bylanes and vehicles parked haphazardly on roads posed hurdles for rescue vans and ambulances in reaching the collapse site on Tuesday.
In September 2017, 33 people died when the seven-storey Husaini building collapsed in the Bhendi Bazar area, which is also part of the B ward of the Brihanmumbai Municipal Corporation (BMC). Don Dawood Ibrahim once owned properties in Bhendi Bazaar.
A senior police officer said on Wednesday that the inquiry would find out who was the actual owner of the building and whether the residents were paying property tax or cess.
A local resident said the entire B ward had become the hub of unauthorised constructions, and that illegal alterations could be found in almost every building.
"There are several buildings that have been built by violating the norms. Though the BMC is aware of these violations, they prefer not to act as some officials have taken money from builders to allow illegal constructions," claimed Rashid Pathan, an advocate who lives in Dongri.
BMC corporator Rais Sheikh, who once lived in the area, said illegal developments had taken place on the pretext of carrying out repairs and maintenance. "These buildings have been built without permission from the BMC under the guise of carrying out structural repairs, which has further increased the load on already weakened structures," he said.
The buildings are located close to each other with a little space separating them.
In many cases, illegal extensions of a building jut into adjacent structures.
A senior BMC official said the most challenging task in redeveloping old buildings was to persuade tenants to vacate them. The residents are reluctant to leave as property prices in south Mumbai are very high.
The deputy municipal commissioner of the area, Harshad Kale, said: "… Moreover, they also feel insecure about staying in transit camps till their original buildings are redeveloped."