Covid: Modi stresses on micro containment zones in meeting with CMs
Prime Minister calls for vaccine festival next week to inoculate more beneficiaries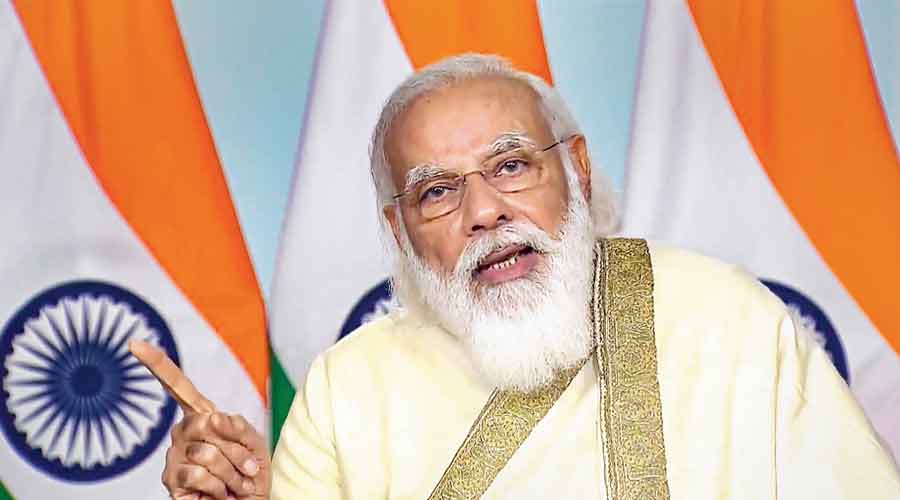 ---
---
Noting that administration was appearing lax in many states amid a rising number of Covid-19 cases, Prime Minister Narendra Modi on Thursday urged chief ministers to strengthen their efforts for the next 2-3 weeks to check the spread of the virus on a "war-footing".
He also called for observing a vaccine festival between April 11-14 to inoculate the maximum number of eligible beneficiaries.
"We have to stop vaccine wastage and prioritise the shots that we are giving out. Between April 11 to 14, we should organise a 'tika utsav' to inoculate maximum number of beneficiaries and ensure there is no wastage," he said.
In his interaction with chief ministers to discuss the Covid-19 situation and the ongoing vaccination drive, Modi asserted that the country had much more resources to deal with the virus than before and the focus should be on micro-containment zones.
"There is a need to improve the governance system. I understand that because of the one-year battle, the system can experience tiredness and there can be laxity, but we must tighten it for 2-3 weeks and strengthen the governance," he said.
Modi emphasised on 'Test, Track, Treat', Covid-appropriate behaviour and Covid management to contain the pandemic.
Along with public participation, our hard-working doctors and health-care staff have helped a lot in handling the situation and are still doing it, he said.
"With administration appearing lax in many states, rise in cases has increased problems. To stop the spread of the virus, there is a need to work on a war-footing," he said.
Modi set a target of conducting 70 per cent RT-PCR tests for the states and said that testing was the only way to curb the spread of the virus.
"Containing human hosts is a way to contain the virus, we need to widen testing since more cases are asymptomatic now. Comments
"Proactive testing is very important... Now more cases are asymptomatic. People feel that they have some mild pulmonary disease and then they infect the whole family," he said, adding that the positivity rate should be kept below five per cent.
Talking about the vaccine distribution scenario in the country, the prime minister said, "We need to prioritise (vaccine distribution) with what we have. We won't achieve anything by keeping vaccines in one state. It is not right to think in this way. We have to manage by thinking about the country."
The daily count of positive cases has reached a new record high of over 1.26 lakh, despite having dipped to about 20,000 a few weeks back.
At a high-level meeting with senior officials, Prime Minister Modi had on Sunday reviewed the Covid-19 situation and vaccination exercise in the country amid the "alarming rate of growth" in infections and deaths.
Modi had said the five-fold strategy of testing, tracing, treatment, Covid-appropriate behaviour and vaccination, if implemented with utmost seriousness and commitment, would be effective in curbing the spread of the pandemic, according to an official statement that was released after the meeting.
Call night curfew 'corona curfew': Modi
During the meeting, Modi also said night curfew has been an accepted experiment globally to contain the Covid-19 spread and called for popularising such restrictions, which have already been imposed in various parts of the country, as 'corona curfew' to spread awareness among people.
He also dismissed the "intellectual debate" about coronavirus only having an effect in the night and said such a curfew helps in spreading awareness about the deadly virus with minimal impact on daily lives of people.
Night curfew has been imposed by local administration in several places including Mumbai, Delhi, Noida, Lucknow and other parts of the country amid a spike in Covid-19 cases.
"Where ever night curfew is in place, there the phrase 'corona curfew' should be used so that awareness regarding coronavirus is maintained," Modi said during his interaction with chief ministers to discuss the COVID-19 situation and the ongoing vaccination drive.
"Some people have this intellectual debate that 'does corona only come in the night'. In reality, the world over night curfew has been an accepted experiment because every person during the curfew time is reminded that I am living in Corona-era and lifestyle is not affected to a large extent," he said.
The prime minister said, however, it would be better that the 'corona curfew' starts at 9 PM or 10 PM in the night and goes on till 5 AM or 6 AM in the morning so that other activities are not affected.
"It should be popularised as 'corona curfew'. Corona curfew is helping make people aware (about the virus)," he said.