Centre speaks in two voices on Pandits
Lieutenant governor's negative stance on relocation claim of the migrant Pandits contradicted by key Union minister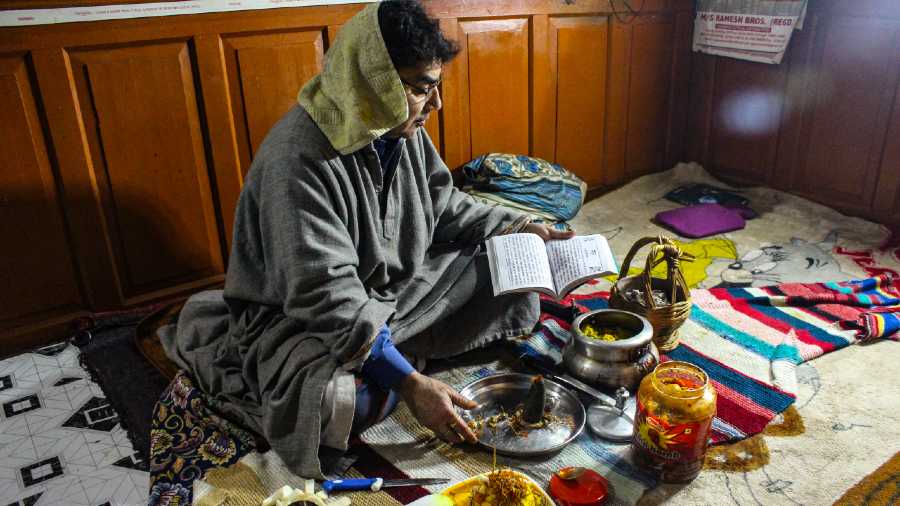 Lieutenant governor remained defiant on Sunday, sending a subtle message to the Pandits that they alone were not dying at the hands of militants
---
Srinagar
|
Published 27.12.22, 04:13 AM
|
---
Lieutenant governor Manoj Sinha's quest to preserve the government's muscular policy on Kashmiri Pandits faces a test with a key Union minister favouring acceptance of the agitating Pandit employees' demand for relocation to Jammu following a spate of targeted killings by militants.
Jitendra Singh, minister of state in the Prime Minister's Office, on Sunday suggested in Jammu that closing a dozen offices was better than losing a single life.
Sinha has repeatedly rebuffed the calls for relocating Pandit government employees to Jammu lest it be seen as a refutation of the Centre's "all is well" line in Kashmir and a setback to its efforts to bring migrant Pandits back to the Valley.
The lieutenant governor, who has for months enjoyed firm backing from the Centre, on Wednesday said that no salary would be paid to employees who refused to join work in Kashmir. But Jitendra has now joined a long list of local BJP leaders who have, somewhat belatedly perhaps, supported the Pandits' demand for relocation to Jammu.
"My personal view is that life is very precious. If there is a threat to even one life and to save one life, if about a dozen offices have to be closed, it should be done as saving a life is more important," he said.
It's not clear whether Jitendra enjoys the support of Prime Minister Narendra Modi. If he does, it would indicate some disagreement within the Centre on the subject. Pandit leaders have said in private that Union home minister Amit Shah is fiercely opposed to any relocation to Jammu.
Sinha remained defiant on Sunday, sending a subtle message to the Pandits that they alone were not dying at the hands of militants.
He advised the country to stop viewing the killings of Pandits through the "lens of religion", asserting that people from "other communities have also been killed in large numbers".
Around 6,000 Pandit employees have been boycotting their offices in Kashmir in protest against the targeted attacks on them. Most have fled to Jammu.
The BJP's Jammu and Kashmir chief, Ravinder Raina, had last month conceded that "an environment of fear" prevailed among Pandit government employees who had been brought to the Valley under a rehabilitation package.
He had added that "only when a man lives will he work". Local BJP leaders' rethink on the relocation of Pandits came after the employees' months-long protests began to influence public opinion in Jammu and outside.
The Pandit employees have been accusing the Centre of using them as human fodder to keep its "normalcy" narrative going.
Two BJP general secretaries, Tarun Chugh and Dilip Saikai, had arrived in Jammu on December 17 to meet the protesting employees.
Four days later, Sinha said the Pandits' salaries had been cleared till August, but he also sent a "loud and clear message" that they would not continue receiving their salary "while they are sitting at home".
"They should listen and understand it," he said. But Jitendra asked the government to address the Pandits' demand in a "sensitive manner". The leaderships of non-BJP Valley parties too have supported the Pandits' demand.
People's Democratic Party chief and former chief minister Mehbooba Mufti said the administration should accept the Pandits' demand "for the time being", adding that the employees could return when they were satisfied that the situation had improved.
Former chief minister Ghulam Nabi Azad on Monday said that Pandit employees should be transferred to Jammu keeping in mind their security apprehensions.