New rules centred on consumer complaint
Centre moves to establish oversight over TV content through aggrieved consumer route
It has created a statutory three-tier complaint redress mechanism in line with the one introduced in the new information technology rules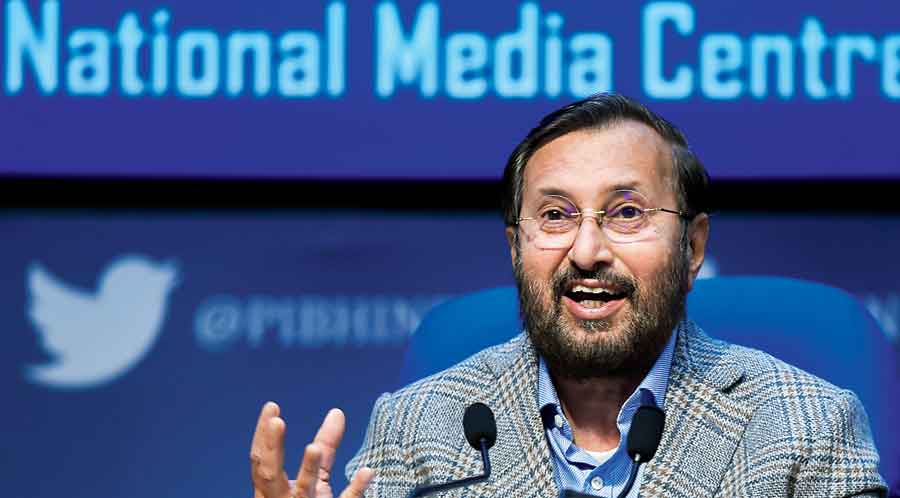 ---
New Delhi
|
Published 18.06.21, 02:43 AM
|
---
The Centre on Thursday moved to establish oversight over television content through the aggrieved consumer route by creating a statutory three-tier complaint redress mechanism in line with the one introduced in the new information technology rules.
The government was always equipped with the power to take action against programmes that did not conform to the Programme Code and the Advertising Code. But the new rules notified by the information and broadcasting ministry opens up a window for taking action against a network or programme on the basis of a consumer's complaint.
A significant addition appeared to be an oversight mechanism of the central government.
According to the changes notified in the Cable Television Network Rules, 1994, on Thursday, every broadcaster will need to have its own complaint redress mechanism.
If not satisfied with the action taken at this level, a complainant can approach the self-regulating mechanism of broadcasters like the News Broadcasters Standards Authority (NBSA), which has been functioning for a decade now.
In the eventuality of the complainant remaining dissatisfied with the action taken at this level also, there will be the oversight mechanism of the central government. This will be an inter-departmental committee headed by the additional secretary in the I&B ministry with representatives from the ministries of women and child development, home, electronics and information technology, external affairs and defence, besides experts.
Acknowledging the existence of an institutional mechanism by way of an inter-ministerial committee to address grievances and self-regulatory mechanisms of broadcasters/associations, the ministry said that still a need was felt to lay down a statutory mechanism for strengthening the grievance redress structure.
"Some broadcasters had also requested for giving legal recognition to their associations/bodies," the ministry said.
It added that in 2000, the Supreme Court, while expressing satisfaction over the existing mechanism of grievance redress set up by the central government, had "advised to frame appropriate rules to formalise the complaint redressal mechanism".
While some channels already have their own redress mechanisms, many are also members of one of the three main self-regulatory structures that both news and non-news networks have created after resisting efforts by successive governments in the past, including the Atal Bihari Vajpayee dispensation, to install a broadcast regulatory set-up for the industry.
Besides the NBSA, there is the Broadcasting Content Complaints Council for non-news channels and the National Broadcasters Federation, which is the second such collective for news channels.
There was no immediate response from the broadcasters on the new rules that were announced on Thursday evening by I&B minister Prakash Javadekar via Twitter, a social media platform the government is currently at loggerheads with over compliance with the new information technology guidelines.
"The @MIB_India has by amending the Cable Television Network Rules, 1994, developed a statutory mechanism to redress citizens' grievances & complaints against programmes of TV Channels. The @MIB_India has also decided to recognise Statutory Bodies of TV channels under CTN Rules," Javadekar tweeted.
The @MIB_India has by amending the Cable Television Network Rules, 1994, developed a statutory mechanism to redress citizens' grievances & complaints against programmes of TV Channels.

The @MIB_India has also decided to recognize Statutory Bodies of TV channels under CTN Rules. pic.twitter.com/3Uj1ryz8ob

— Prakash Javadekar (@PrakashJavdekar) June 17, 2021