Centre opposes SC suggestion of work from home in Delhi
Solicitor-general Tushar Mehta made the submission before a special bench headed by Chief Justice of India N.V. Ramana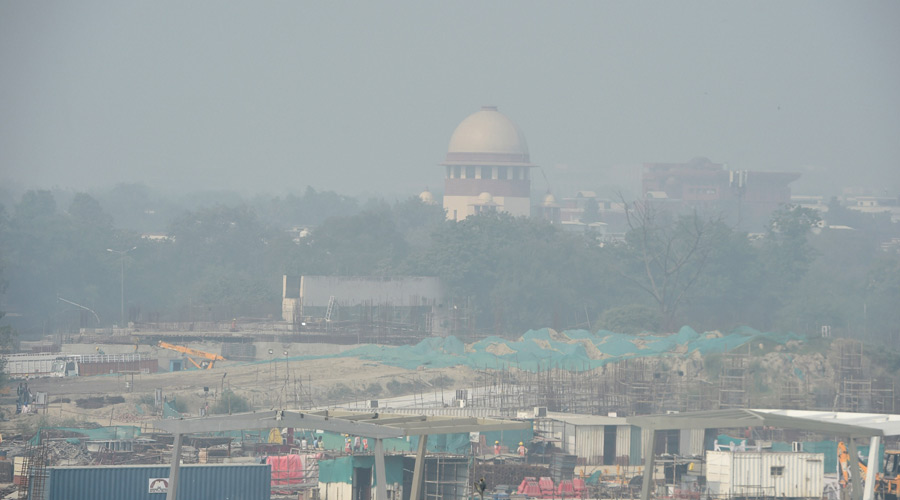 Smog in Delhi
File picture
---
New Delhi
|
Published 18.11.21, 02:24 AM
|
---
The Centre on Wednesday opposed the Supreme Court's suggestion that Union government employees work from home to combat the alarming pollution surge in Delhi and the National Capital Region.
The Narendra Modi government argued that in the aftermath of the Covid-19 pandemic, the advantages of not passing work-from-home directions would "outweigh" those that would be gained from such a directive.
Solicitor-general Tushar Mehta made the submission before a special bench headed by Chief Justice of India N.V. Ramana. The bench, however, suggested that central government employees travel to office in environment-friendly CNG buses instead of using their official or private vehicles.
Mehta told the bench, which also had Justices D.Y. Chandrachud and Surya Kant, that advisories had been issued to central government employees to opt for car-pooling over the next few days instead of travelling individually in vehicles in Delhi and the NCR regions of Punjab, Haryana, Uttar Pradesh and Rajasthan.
According to an affidavit filed by the Union ministry of environment and forests, an emergent meeting of the Commission for Air Quality Management in National Capital Region and Adjoining Areas on Tuesday considered the court's suggestion. It, however, concluded that in the recent past, several governmental programmes had suffered for prolonged periods because of the pandemic, which had pan-India ramifications.
"The Central Government thus considered the number of vehicles used for Central Government business in NCR and after finding that the said number is not very significant, the Central Government decided that in view of the recent normalisation of functioning of Central Government offices post Covid-19 pandemic, the advantage of not passing work from home directions would outweigh the advantages which would be gained from work from home directions which would be limited to only less number of Central Government vehicles on road," the affidavit said.
"Instead, DoPT (department of personnel and training), Government of India, has issued an advisory for Central Government officers and staff for pooling and sharing of vehicles to the maximum extent possible so that number of Central Government vehicles plying for commuting of officers and staff are reduced substantially," it added.
Justice Chandrachud said that instead of using private vehicles, government employees could be asked to travel in CNG buses.