Centre backs JNU's new 'jihadi terrorism' course
This comes amid education minister Dharmendra Pradhan's 'compliments' for the oft-criticised university vice-chancellor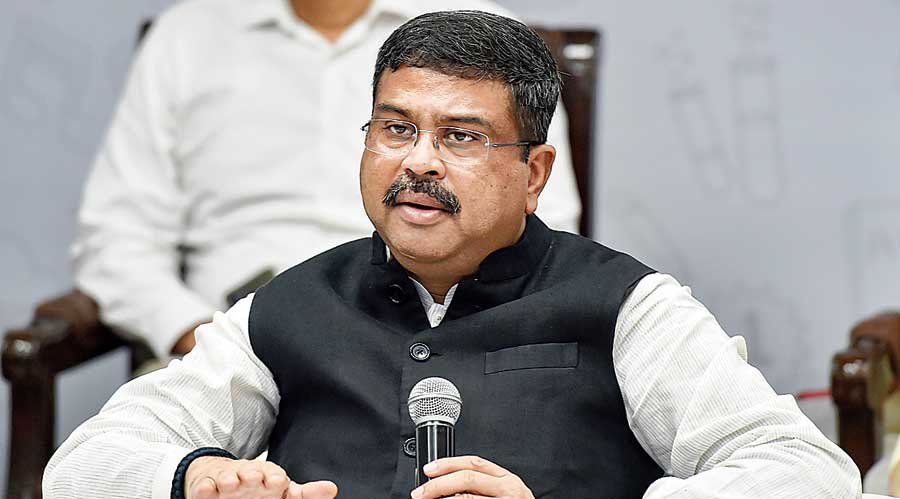 Pradhan in New Delhi on Wednesday
PTI
---
New Delhi
|
Published 04.09.21, 01:50 AM
|
---
The government has thrown its heft behind Jawaharlal Nehru University's new course that describes "jihadi terrorism" as the only form of "fundamentalist-religious inspired terrorism", with education minister Dharmendra Pradhan "complimenting" the JNU vice-chancellor.
"One MP wrote to me about the JNU course. I compliment Jagadeshji (vice-chancellor M. Jagadesh Kumar) for this course. The MIT (Massachusetts Institute of Technology) offers courses on terrorism. If the best universities debate on terrorism, why should our central universities not discuss it?" Pradhan said during a virtual interaction with vice-chancellors of central universities on Friday.
Kumar, who is on extension, is seen as close to the ruling establishment and has been accused of introducing courses and taking other key decisions without consulting JNU's academic bodies, besides taking harsh actions against dissenting teachers and students.
CPI parliamentarian Binoy Viswam had written to the education minister earlier this week criticising as "deeply prejudiced", "historically inaccurate", "politically motivated" and "malignant" the new course on counter-terrorism, which also links Islamist and communist terror.
The course — Counter-Terrorism, Asymmetric Conflicts and Strategies for Cooperation among Major Powers — that will be offered to Master of Science dual-degree students specialising in international relations at JNU's School of Engineering has been widely criticised by academics for taking a constricted view of the subject, besides pandering to the Right wing view on the matter.
The course also claims that the erstwhile "Soviet Union and China have been predominant state sponsors of terrorism", a model that has been "well adapted by several radical Islamic states" after the Cold War.
Although Pradhan drew a parallel between the JNU course and courses on terrorism at MIT, the course description of "Warlords, Terrorists, and Militias: Theorising on Violent Non-State Actors" on the American university's website suggests a broad perspective.
"This course is a general overview of the recent political science literature on violent non-state actors. Its aim is to examine why non-state actors (such as warlords, terrorists, militias, etc) resort to violence, what means and tactics they use, and what can be done to counter that violence…. Though thematically-driven, this course will also reference cases from the contemporary battlefields of insurgency and terrorism (be it Afghanistan, Iraq, Pakistan, the West Bank and Gaza, Colombia, etc) as they relate to the pertinent themes," the MIT course description says.
The description of another MIT course — Advanced Topics: Plotting Terror in European Culture — says: "This interdisciplinary course surveys modern European culture to disclose the alignment of literature, opposition, and revolution. Reaching back to the foundational representations of anarchism in nineteenth-century Europe… the curriculum extends through the literary and media representations of militant organisations in the 1970s and 80s (Italy's Red Brigade, Germany's Red Army Faction, and the Real Irish Republican Army)."
During Friday's interaction, the education minister also endorsed Delhi University's decision to introduce four-year undergraduate courses with multiple entry and exit options, a move criticised by some academics.