CCD founder VG Siddhartha's body found, tax terror cry
After post-mortem, his remains were cremated amid tearful scenes at the Chikmagalur family estate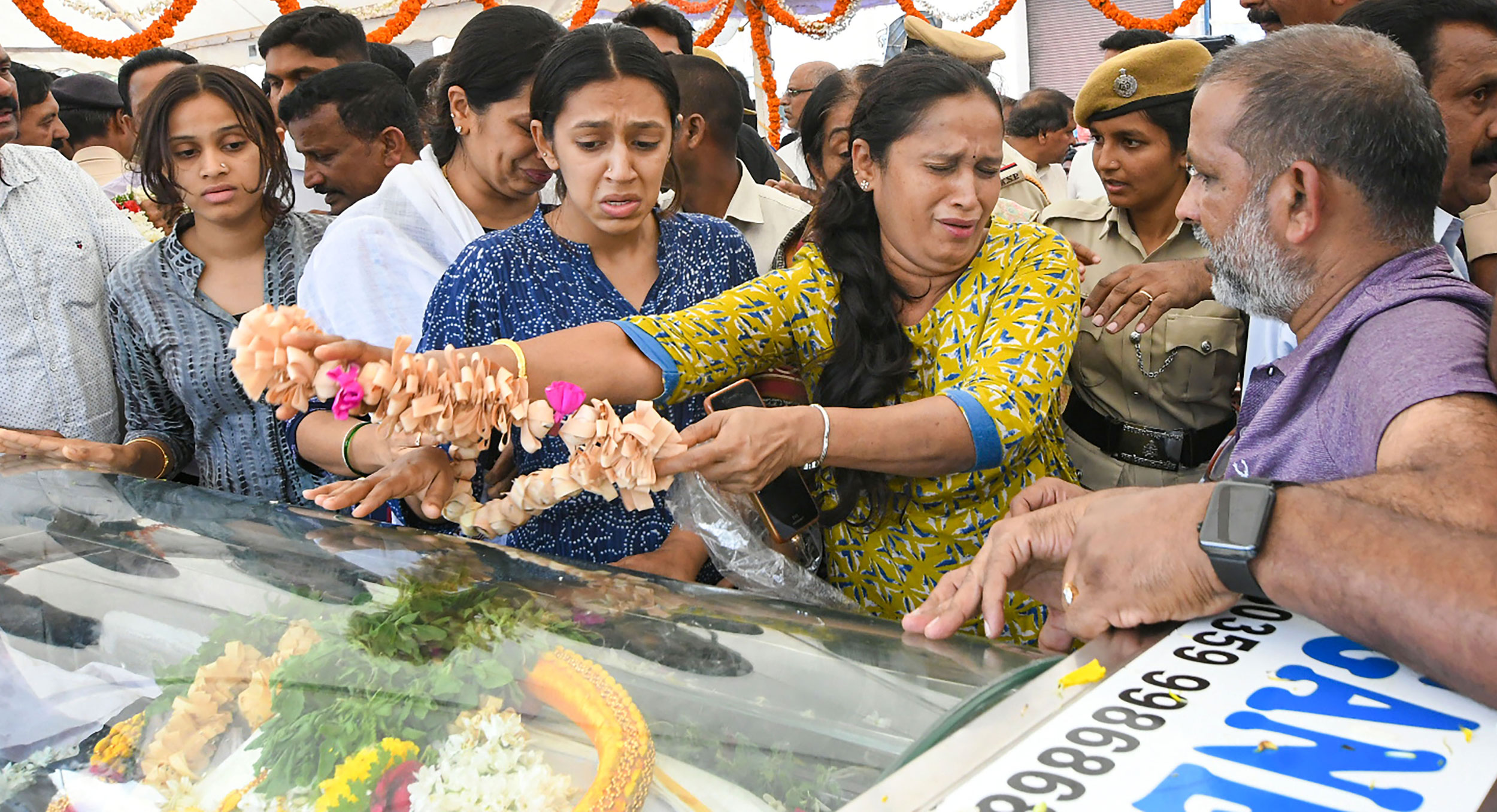 Relatives pay their last respects at VG Siddhartha's funeral in Chikmagalur on July 31, 2019.
(PTI)
---
Bangalore
|
Published 31.07.19, 08:45 PM
|
---
The body of Café Coffee Day founder V.G. Siddhartha was found at daybreak on Wednesday, confirming the worst and igniting an outcry on the political landscape as well as corporate boardrooms over a reign of "tax terrorism" that allegedly played a role in driving the 59-year-old businessman to death.
Fishermen who were preparing to set out to sea found Siddhartha's body about 5km from the Netravati Bridge from where he is believed to have leapt into the river.
After the post-mortem, the mortal remains were cremated amid tearful scenes at the family estate in Chikmagalur near Mangalore. 
The recovery of Siddhartha's remains capped over two days of intense speculation over the mysterious disappearance of the founder of India's biggest coffee chain, fanned by the businessman's accusations of torment by federal tax sleuths and relentless pressure from a private equity investor to buy back the shares it held in Coffee Day Enterprises, which owns and runs the Café Coffee Day chain.
In its defence, the income tax department had claimed it had attached shares in Coffee Day Enterprises to protect the interests of revenue.
Opposition leaders slammed the Narendra Modi government for terrorising businessmen who were anything less than effusive in their support of its policies.
Extending her condolences to Siddhartha's family, Bengal chief minister Mamata Banerjee said: "I hear from different sources that captains of industry in the country are under pressure. Some of them have left the country and others are planning to move out."
The chief minister added: "I am deeply shocked by the incident…. It is indeed very sad and very unfortunate. From what he has expressed, it appears that he was greatly depressed due to harassment and pressure from different agencies for which he could not run his business in a peaceful manner. This he could not resist…. I feel really sad to hear the news. I thought of sharing my feelings and thoughts with all of you."
The Bengal chief minister issued a broader message.
"All the Opposition political parties are afraid of horse-trading and harassment with political vendetta.… The economic growth of the country has nosedived to as low as 5.8 per cent in the fourth quarter of 2018/19, the lowest in the last 5 years, and unemployment has increased to the highest level in the last 45 years," she said.
"'Tax Terrorism' claims another life!" Congress chief spokesperson Randeep Surjewala said on Twitter.
The Congress gave notices for adjournment of scheduled proceedings in the Lok Sabha to discuss what led to the death of Siddhartha.
"There is an old notion that the government has no business in business, and Modi in his pre-2014 election campaign (had) made a big deal about it. Today, he has absolutely betrayed the people who voted for him to see a robust, independent, hassle free economy," Congress leader Abhishek Singhvi tweeted.
'"Ease of Doing Business' under BJP translates into 'Ease of Ending Business'. The #VGSiddhartha tragedy reflects the worst of a broader, deeply worrying trend," Congress leader Shashi Tharoor tweeted.
A tweet from the Karnataka Congress's Twitter handle squarely blamed the tragedy on the "harassment" by income tax officials.
Former Karnataka chief minister and senior Congress leader Siddaramaiah said
Siddhartha's death is both "disturbing and mysterious". "The reasons and the invisible hands that ended his life in this tragic way should be unearthed through impartial and fair investigation," Siddaramaiah said.
He said Siddhartha's letter — whose authenticity was questioned by the tax department yesterday — had discussed the issue of "tax terrorism", which is the "ugly face of politically motivated institutions".
Tech Mahindra MD and CEO C.P. Gurnani said it was a "very sad day… some of us were daydreaming that he may not have jumped off the bridge... wish he had stayed alive to fight. My heart goes out to his family".