Call to refrain from unbridled Covid test scale-up
3 public health bodies ask authorities to 'discontinue' lockdowns as a strategy to deal with the epidemic and show some empathy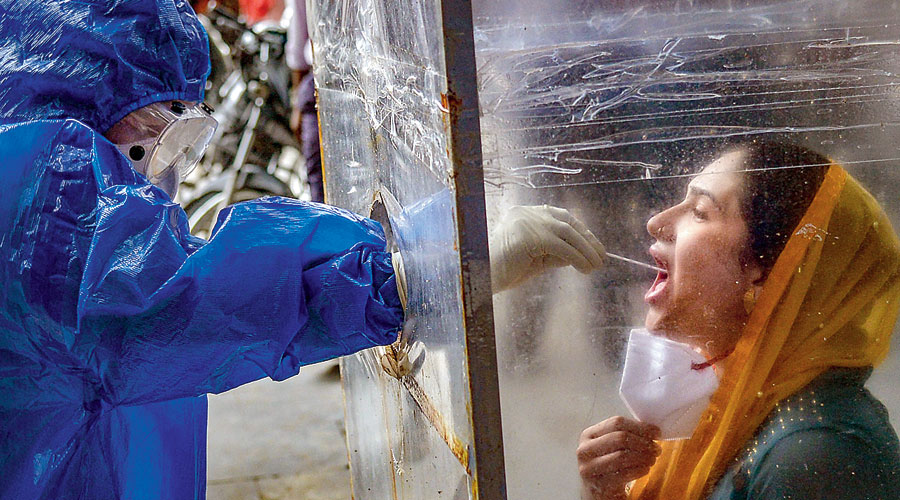 A health worker collects samples from a woman for Covid-19 testing in Ajmer on Monday.
PTI
---
New Delhi
|
Published 01.09.20, 02:59 AM
|
---
Three public health bodies on Monday called on government authorities to refrain from unbridled scaling up of tests for the new coronavirus and introduce pragmatic and targeted testing to conserve resources and save lives of coronavirus disease patients.
The three health bodies have also advocated a "public health approach" that seeks to achieve the maximum possible good for the largest possible numbers of people and recognises the epidemic as a public health challenge and not a law-and-order issue.
They have also said the vaccines against Covid-19 have no role in the current ongoing pandemic and "we must avoid the false sense of hope that this panacea is just around the corner."
"The ongoing pandemic is a public health problem that is fast worsening existing health inequities," the Indian Public Health Association, the Indian Association of Epidemiologists, and the Indian Association of Social and Preventive Medicine said in their statement. "It is not a law-and-order problem and should be dealt with empathy and meaningful community engagement," the three associations said.
They have asked authorities to "discontinue" lockdowns as a strategy to control the epidemic, saying geographically limited restrictions may be imposed for short periods within epidemiologically defined clusters and only where there is no widespread or community transmission.
The associations have also advocated the opening of schools and educational institutions in a "graded and pragmatic manner" in areas where the substantial proportions of the population are infected with SARS-CoV-2, the virus that causes Covid-19.
The statement comes amid surveys in cities such as Ahmedabad, Delhi, Mumbai, and Pune that have found from 17 to 51 per cent of sampled populations exposed to the infection. In Delhi, this infection prevalence rate has increased from 23 per cent in June to 29 per cent in July.
The associations have said scaling up testing amid such widespread transmission would only "divert attention and resources from control measures". Testing should focus on high-risk individuals such as persons with underlying health disorders, healthcare workers, or the elderly.
All patients showing symptoms of Covid-19 should be treated either at home or in hospital depending on their clinical needs, the association said, even without testing. All such patients should be monitored whether at home or in hospitals and provided all required care if they develop severe disease.
The associations have called for prioritising resources to monitor patients and shifting them to hospitals, if needed, to reduce mortality. They have also asked authorities to establish a "reliable and accountable" dashboard to provide information about vacancies in hospitals and ambulance services.
"The time has come to change our testing strategy," Sanjay Rai, professor of community medicine at the All India Institute of Medical Sciences, New Delhi, who is also the president of the Indian Public Health Association. "The surveys show that tests are detecting only a fraction of the infected people."
India has dramatically scaled up testing from a few thousand samples tested daily in March to over 900,000 daily tests in August. As tests have increased, so has the number of lab-confirmed infections.
In Delhi, for instance, with an estimated population of 20 million, the 6 per cent rise over a period of a month, Rai said, would mean about 1.2 million new infections over 30 days. "This means, 40,000 people became infected every day – but testing detected 2,000 to 4,000 every day."
Rai said the associations' recommendation to open schools, albeit in a graded manner, takes into account the developmental and mental health needs of children.
The associations said while awaiting for vaccines with optimism, the response to the pandemic must assume that an effective vaccine would not be available in the near future.