Origin of toys, phones tough to trace; but sales soar
Business of boycott: Not a child's play
Sales of Chinese brands have continued to soar in the country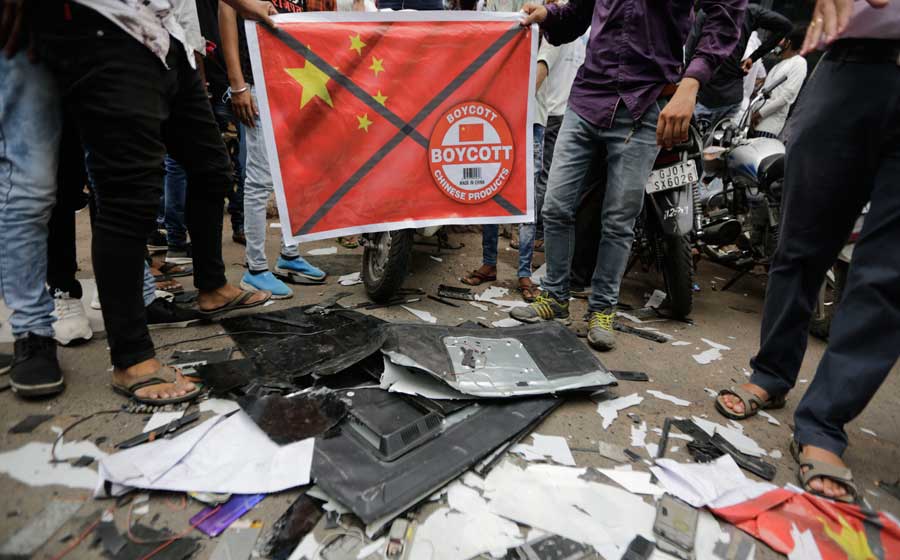 Call to boycott Chinese goods had led to public demonstrations of TV sets being broken in Gujarat.
AP
---
New Delhi
|
Published 30.06.20, 03:41 AM
|
---
Five-year-old Ronon plays with his miniature toy cars and bikes at his home in Assam, a nine-hour drive from Walong, the battleground of the only Indian counter-attack in the 1962 war near the tri-junction with Myanmar and China.
His mother Barsha Sharma, an online entrepreneur in apparel and accessories based in Tinsukia, eastern Assam, says she can't figure out where exactly Ronon's cool cars were made.
In Mumbai, Ritesh Ghosal, chief marketing officer of electronics retail major Croma, is offering online buyers filters to segregate products based on their place of manufacture and the nationality of their ownership, trying to respond to the call to boycott Chinese goods. He faces the same challenge as Sharma.
"If you ask me whether a product has been fully made in India or in Korea, I may not have the answer," he confessed.
"A batch of the same mobile phone model that came from an Indian factory yesterday may come from a Chinese factory tomorrow. We are trying to feed data of each product into our inventory, to be transparent to the customers."
Ghosal said that except for some customers making a few discreet enquiries about the origins of products, there hadn't been any significant shunning of Chinese goods over the past week.
"The mentions of 'Boycott China' on social media have dropped to almost negligible levels…. It's all fizzled out," he said.
"Frankly, even during the four-five days when it peaked, it's not as though people said they didn't want Chinese products. There isn't too much of a supply of non-Chinese goods: virtually all manufacturing is in China. If you break it down to components, I'm sure even a (popular foreign-made) device may have something made in China."
In the immediate aftermath of 20 Indian soldiers being killed in the June 15 clash in the Galwan Valley, the call to boycott Chinese goods had led to public demonstrations of TV sets being broken in Gujarat and plastic tricycles being melted in Delhi.
An electronics showroom in Guwahati announced the return of all Chinese goods on its shelves. The main association of Delhi's budget hotels, responding to a call from the RSS-backed Confederation of All India Traders, announced its members wouldn't host Chinese nationals any more. A "Hindutva" group in Greater Noida tried to lock a factory manufacturing the Chinese mobile brand Oppo last week.
However, the sales of Chinese brands have continued to soar in the country.
Xiaomi's global vice-president Manu Kumar Jain, who heads its Indian subsidiary, said the company's RedmiNote9ProMax mobile phone sold out in 50 seconds online on June 24.
On June 17, a day after the Galwan Valley clash came to light, Xiaomi's newly launched Mi Notebook 14 laptop too sold out online. The company has not revealed the number of units sold.
Several chains that are household names and rely heavily on supply chains from China did not respond to queries from this newspaper.
Arvinder Khurana, president of the All India Mobile Retailers Association, told The Telegraph that only about one in 20 customers has been asking for phones that are not Chinese.
"(An Asian brand) is the only viable option for people who don't want Chinese phones, which are cheaper. The customers are facing a cash crunch because of the lockdown but need gadgets because everything is happening online now," he said.
"Chinese phones are selling well as they come from factories here in India, and have the 'Make in India' logo. As EMI collections were suspended during the lockdown, banks are not approving financing for buyers easily and are insisting on down payment, which wasn't there earlier."
More than four in five smart phones sold in India are Chinese brands.
"Labelling a product in the era of globalisation is difficult as a product is made of components sourced (from) different regions," Tarun Pathak of Counterpoint Research told this newspaper.
"However, for consumers, it will be a decision made more (on the basis) of brand perception, and the brands will be very careful to distance themselves from these sentiments. That is why in India, almost all the leading players are getting quite vocal about their 'India operations' and are likely to go aggressive by announcing their contributions (to the economy) and new incentives, providing jobs in manufacturing and scaling up local R&D to focus on the importance of India as a market to them."
Anger at China is easier satiated, he explained, by deleting Chinese apps that are identifiable.
It isn't just electronics. Bharat Ahuja, president of the Delhi Electrical Traders Association, said that even two decades ago Indian lights and lamps dominated Bhagirath Place, one of the world's largest hubs of electrical and pharmaceutical dealers.
"After this clash with China, some customers have asked for Indian lights. I tell them I have none. Chinese products have a good finish --- although many are not of great quality --- yet no one can match their price," Ahuja said.
"We had a thriving glass industry in Firozabad, which supplied lamps. The government let our industries die and it's only Chinese lamps that dominate now. We have to make a beginning somewhere to revive our industries."
The Chinese have an even greater share in the toy market than they have in smart phones. Almost every electronic toy is made in China. The effective duty on Chinese toys rose from 20 per cent to 34.2 per cent in the previous budget.
Toy Association of India president Ajay Aggarwal wants the 18 per cent GST on Indian electronic toys to be brought on a par with that on non-electronic toys, which is 12 per cent.
"Since the last two years, many customers have been asking for Indian toys. India dominates in board games but when it comes to electronic toys, there should be incentives for an investor to enter the market, which is totally taken over by the Chinese," Aggarwal said.
The favourite toy car of Ronon, the child in Assam,  is made by a foreign company that shut its plants in multiple countries, including China, over the past six months, and is expected to outsource more. The company's website gives no information on where Ronon's cool cars are made now.
It's unclear where Ronon's next set of wheels will come from. Indian and Chinese consignments are stranded at each other's ports as customs authorities in both countries play hardball by going slow on clearance-thereby escalating the costs for the importers.
Sharma is yet to find toy cars made in India that Ronon likes. She said: "Wherever a car has been made, we can buy it only if my son likes it and wants to play with it."