Budget squeeze on poor students
Higher education not a priority for govt: Academics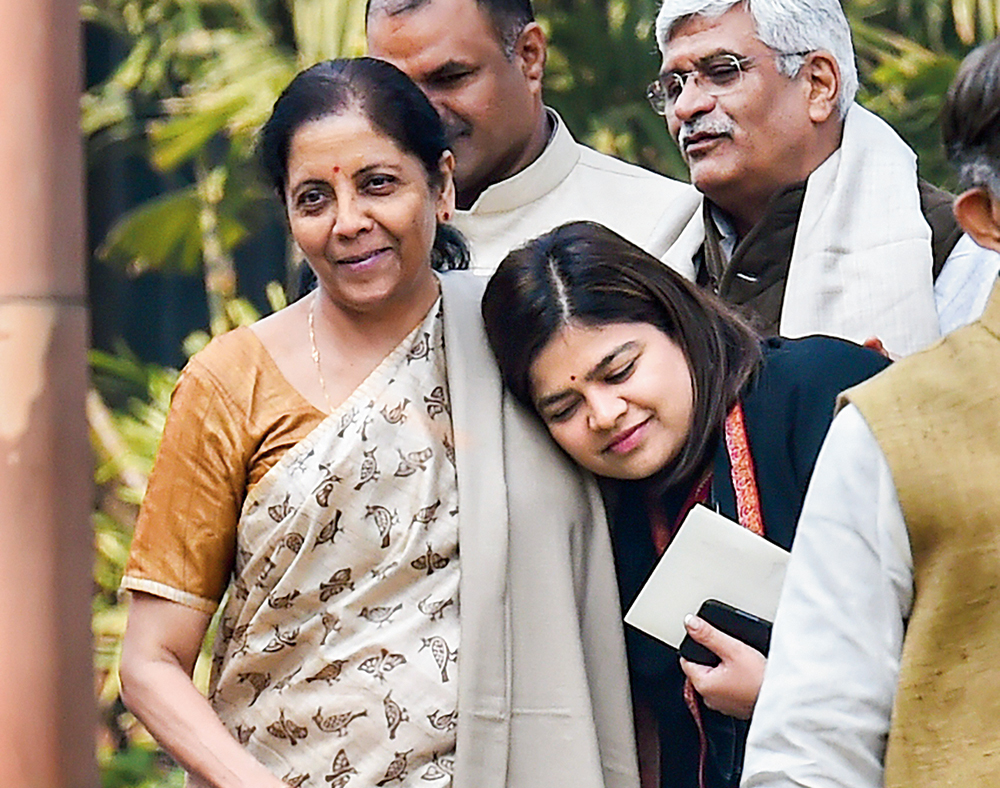 Nirmala Sitharaman and BJP MP Poonam Mahajan leave after the BJP parliamentary party meeting in New Delhi on Tuesday
(PTI photo)
---
New Delhi
|
Published 04.02.20, 08:40 PM
|
---
Many academics fear an increased burden on students, the marginalisation of the poor through the gradual squeezing of education opportunities, and promotion of commercial activities on campuses as public funding for higher education has stagnated in recent years.
The budget tabled this Saturday has proposed a meagre increase of 3 per cent for education, which is less than the rate of inflation. Also in the budget speech, finance minister Nirmala Sitharaman said steps would be taken to allow 100 per cent foreign direct investment to ensure higher quality education.
The budget has allocated Rs 39,466 crore for higher education in 2020-21, against Rs 38,317 crore in 2019-20. However, this paltry increase is likely to be offset by the rate of retail inflation, which rose to a five-and-a-half-year high of 7.35 per cent in December.
The allocation for scholarships for university and college students declined from Rs 356 crore in the current fiscal to Rs 141 crore in 2020-21.
Delhi University executive council member Rajesh Jha said the budget allocation for higher education would actually be a decline when adjusted to inflation.
Educationist Prof. Andre Beteille said higher education was not getting priority under the NDA government.
"Higher education is not getting priority from the government. The government is hostile to secular higher education," he said.
Beteille said stagnation in funding meant denial of education to the people who deserve it the most.
"The government must give full funds as required by higher educational institutions with mechanism to monitor spending," he said.
Former vice-chancellor of Ambedkar University, Prof. Shyam Menon, said that without subsidised higher education of acceptable quality, the poor and marginalised would have no way to transcend their social and economic obstacles and aspire to claim their legitimate share of India's economic growth.
"They will be the first ones to be affected by any kind of reduction in subsidy. It is so unfair that the state is rolling back its commitment to support public higher education just when the first-generation school graduates from the margins attempt to access it. This is their only chance for any kind of social mobility," Menon said.
The Kothari Commission had in 1966 recommended increasing the expenditure on education to 6 per cent of the GDP. The Economic Survey for 2017-18 had stated that the spending on education by central and state governments together as a percentage of the GDP was consistently 3.1 per cent for 2012-13 and 2013-14.
According to the Economic Survey for 2019-20, tabled in Parliament last week, the spending ratio remained below 3 per cent for the next four years till 2017-18.
Menon said the governments of the past two decades had been influenced by the Ambani-Birla report of 2000 that wanted a shift in the thrust in higher education from liberal to technical and professional streams, and from public to private institutions.
"This meant deregulation as regards private initiatives in higher education, and rolling back from the earlier levels of financial support for non-technical sectors in public higher education. This may have become more exacerbated in recent years," Menon said.
He said liberal studies in the public sector would need to receive continued subsidy. There is no way student fees in these sectors can compensate for deficit State funding and it will be "suicidal for a society like ours to stop supporting good liberal studies programmes that create such people", Menon said.
Prof. Amitabh Kundu, a distinguished fellow at the government think tank Research and Information System, also disapproved of the recent practice of the government to ask institutions to raise funds internally to manage their expenditure.
"To expect institutions of higher learning to generate resources internally to run their affairs is problematic. Besides encouraging the institutions to earn money by permitting space for luxury shops, beauty parlours, fashion stores and the like and display commercial advertisements that spoil the academic environment, it would prompt them to design self-financing courses and cater to the need of the corporate world," he said.
"Education should be a part of the superstructure which should guide the creation of the economic and social structure rather than being subservient to the latter. The institutions thereby will fail to build an environment and culture of independent thinking on larger issues of societal change and inclusive development," Kundu added.
A commercialised and mechanised laundry service is being developed by a private firm at JNU. The All India Students Association on Tuesday protested the decision of the administration to set up the mechanised laundry outlet, replacing kiosks run by locals.
BJD parliamentarian Sasmit Patra on Tuesday expressed concern over the move to encourage FDI in education.
"Education is a basic essential service. Having said that, now that the government proposes to provide 100 per cent FDI in education and with large educational institutions from abroad with deep pockets (preparing to) walk into India, has the (finance) ministry or the government made any specific studies to identify what impact it could have on the educational system per se, especially because we have indigenous and home-grown smaller educational institutions?" Patra asked in Parliament.