Box Office Hit
Actor Priyanka Chopra is an international star today. At last week's Windsor wedding she was among the select invitees. US audiences know her as Quantico 's Alex Parrish. In her new book, Bharathi S. Pradhan reveals how the former Miss World learnt to pack a punch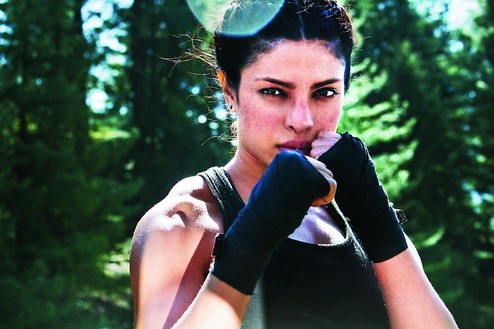 ---
Published 27.05.18, 12:00 AM
|
---
Mary Kom. How Mary Kom, Hindi cinema's first female-oriented biopic, was conceived is a story that must be told. "Nothing worth having comes easy" was painted on a beam on the roof of the artistically-overloaded office of Omung Kumar, director of Mary Kom. An actor by intention, an artist by natural inclination, a television show host by profession and one of the most successful art directors of the film, television and theatre industries, Omung found his ultimate calling in filmmaking a few years ago...
After considering and rejecting the stories of many women, including Princess Diana, Jhansi Ki Rani and Durga, Omung was at his wits' end when Saiwyn (Quadras, writer) suggested, "How about Mary Kom?"
"I said, ' Suna toh hai (I've heard of her), but why would I want to make a film on boxing?'" he smiled at his naïveté. It was Saiwyn who urged him to at least read her story and when he did, Omung was bowled over...
The first step was to sign her. "My wife, Saiwyn and I took a flight to Manipur, met Mary Kom, sat with her for fifteen minutes, and when I said, 'We want to make a film on you,' she laughed, 'Why would you want to make a film on me? Are you mad or something?' We signed her, we paid her and we had two years to make it.
"We came back and started writing it. Just when the script was ready, the Olympics happened (apart from being an Olympics boxer, Mary Kom also won a bronze at the Summer Olympics). Suddenly everybody woke up to Mary Kom and started asking, who's got the film rights to her story? Many producers started showing an interest in it. At that time, I was making the sets for Shireen Farhad Ki Toh Nikal Padi for Sanjay Leela Bhansali's sister Bela. I was in his office when he asked me what I was doing and I told him I was making a film but it wasn't his kind of film. At that time, his Rowdy Rathore (a commercial potboiler with a macho hero that did extremely well) had just been released. But when he came to the lift to see me off, Sanjay asked me again, 'Tell me, what is it?' I told him that it was on Mary Kom and he said, 'Send it to me, let me read it.' I sent it and he said, 'I'll take ten days to read it.' But much after ten days, there was no word from him. Other producers were making enquiries about it, so I told Sanjay that and he said, 'How can you give it to anyone else? I'm producing it.'"... The next call to make was, who would play Mary Kom?
"First, it was about building muscles which was very difficult for a female," Omung enumerated. "Second, it was about learning to box. Competence in acting was a far thought at that time. To play Mary Kom, the actress had to be fit, learn boxing and build muscle. Paan Singh Tomar had to only run, Milkha had to only run. Chalo, you had to be fit and build your body to play Milkha or Paan Singh. But as Mary Kom, maar khaana hai (you have to take blows), you have to take hard punches. You have to think of a technique you've never done before.
"Priyanka was on the shortlist," he said, "and I told Sanjay that I wanted her for it. Priyanka was the one actress whose dedication would be unrivalled. So a meeting was fixed by Sandeep Singh (former CEO, Bhansali Productions, now Omung's partner in film production)."
But there was a twist in the tale and a serious one at that. Something had happened and Priyanka and Sanjay Leela Bhansali were not on talking terms.
Before Mary Kom took off, Bhansali had begun filming the large and lavish Goliyon Ki Rasleela Ram-Leela (2013), a film that had originally been planned with Ranveer Singh and Kareena Kapoor in the lead. But at the last minute, Kareena had walked out of it, leaving Bhansali in a dilemma. With his set erected and a shooting schedule all planned and ready, who could he get to step in and play the lead opposite Ranveer? He had to finalise an alternate heroine double quick. He turned to Priyanka Chopra and even though she knew she was a replace-ment, she agreed to do Ram-Leela. However, just before filming started, Bhansali did an unbelievable switch and brought Deepika in as the heroine.
His CEO, Sandeep Singh, talked about it... "It was her desire to work with Bhansali and I believe that to this day, no film has fully tapped her talent. Anyway, shooting started with Deepika. PC was understandably no longer on talking terms with us."
And Omung wanted Priyanka as Mary Kom. "To her credit, she called me over," Sandeep breathed with relief. "To her credit again, she gave importance to the subject and not to what had happened in the past."...
Bhansali had a more elaborate way of describing how Priyanka agreed to come into Mary Kom the film, after the unpleasantness of Ram-Leela, and topped it with Ram Chahe Leela, the item song into which she infused rustic sensuality.
"When creative people get together, it's important they realise that what they're creating is more important than you or me," Sanjay wove his words intricately...
"Then came Mary Kom and I realised that this was a film she should do and must do but (given the strained circumstances) whether she would or not..." he shrugged. "But she also understood that this was a separate film, an independent idea, not linked with the other film."...
If she transcended the common human reaction to a hurt which would have been to switch off and not entertain Bhansali's new offer, it was because, "She doesn't let go of opportunities," remarked Bhansali...
With Bhansali as producer and Priyanka Chopra in the lead, Omung couldn't have asked for a better debut. But when Priyanka was announced as Mary Kom, there was censure from some quarters.
"I got a lot of flak for not casting someone from the North East as Mary Kom," Omung nodded. "But I wanted the movie to have legs; I wanted the movie to go everywhere. That's why I wanted a star. Sanjay Leela Bhansali is a big producer but I was new, I needed a big actress to bank on."
The training and arrangements were detailed, complex and torturous at all times.
"Full vigorous training went on for three months," he filed the details. "Dedicated gymming, body building, eating bhar bhar ke (heartily). Priyanka was doing other films also, so it was difficult for her to build muscle and hide it while shooting for the others. We went to Goa and did a workshop and narrations. She took the trainer with her. Finally, we began to see the build, the forearms, the muscles emerging. She would post videos and tell me, see my wings."
In the midst of all this, tragedy struck. Mary Kom was on the verge of starting when Dr Ashok Chopra fell seriously ill. A week before they began shooting, he passed away.
"We had to stall the film just a bit," remembered Omung, her director. "But in about a week's time, she was ready to get back to work. She wanted to. Mary Kom was the film she started after her dad passed away."
But in the tragic loss of her father, in the final fifteen days when she had sat by his bedside, she'd lost the muscle she'd built with such tenacity. "She simply said, karenge, we'll do it, and she built it all over again," added Omung.
Apart from also ensuring that a double was available for Priyanka's practice shots, her back shots and so on, there was the additional tension of having real boxers in the film. They added authenticity to the shots but they also packed a real wallop and it was Priyanka who had to take their punches.
Those punches spelt trouble and it happened one day when Priyanka had a little boil on her forehead.
"I was at the monitor and I couldn't see her being hit," Omung detailed the incident. "Here I was saying, 'Hit her, I can't see the punch, it looks like you're ducking.' There she was saying, ' Yeh really maar rahen hain, they're really hitting me.' When I kept saying, 'I can't see the punch,' the boxer landed fatak, one solid punch on her forehead and the boil just burst open; it oozed, and we had to stop shooting. Her mother was around, so she put some patti (bandage) on her forehead and took care of it. But Priyanka kept shooting. It was hurting her but she kept shooting."
Two sticky problems when telling the story of a real flesh-and-blood person turned out to be Mary Kom's hair and her eyes.
"The film had a lot of changes in her hair," Omung laughed as he remembered. "At first her hair was haphazard like in her childhood. She was moody, so after she began training, one day Mary Kom just went and shaved her head. When her hair grew back, small bits sprouted at first. We had a full progression chart for just her hair - in which year what her hair looked like. While shooting, we had to keep referring to the chart and go back and forth. Poori picture mein baal ka bahut panga tha (Right through the film, her hair posed a huge challenge). In some scenes, where we required real short hair, we gave Priyanka a scarf to hide her hair which was longer than required. Fortunately for us, Mary Kom wears scarves in real life."
What also posed a problem was that Priyanka didn't have the typical North-Eastern eyes...
That was when Omung's talent as an extremely gifted artist (he paints too) came to the rescue. He revealed that two years before the film took off, when they were still working on the script, he had sketched the whole storyboard...
"Mary Kom doesn't have freckles. But I had sketched her with freckles and a fringe. I gave that look to Priyanka and it worked... Priyanka loved the freckles so much, she'd go home with it...
What made the assignment tougher for Priyanka was that the film was not shot at one stretch.
"She got busy with other films. She was shooting for Gunday then and her director there used to curse me, saying, 'What have you guys done to my heroine? She's got muscles and now I have to hide her beauty, hide those muscles under long sleeves.' Even that sexy dance in Ram-Leela happened in between the shooting of Mary Kom. It was six to eight months before she could shoot with us again."
And so it happened again - by the time she reported for the next shoot, the assiduously built muscles had disappeared and the whole process had to start again.
Excerpted from Priyanka Chopra: The Dark Horse by Bharathi S. Pradhan; Published by Om Books International; Price: Rs 495