Booze is tougher than coronavirus to fight in Kerala
In Kerala, the state government is the sole distributor of liquor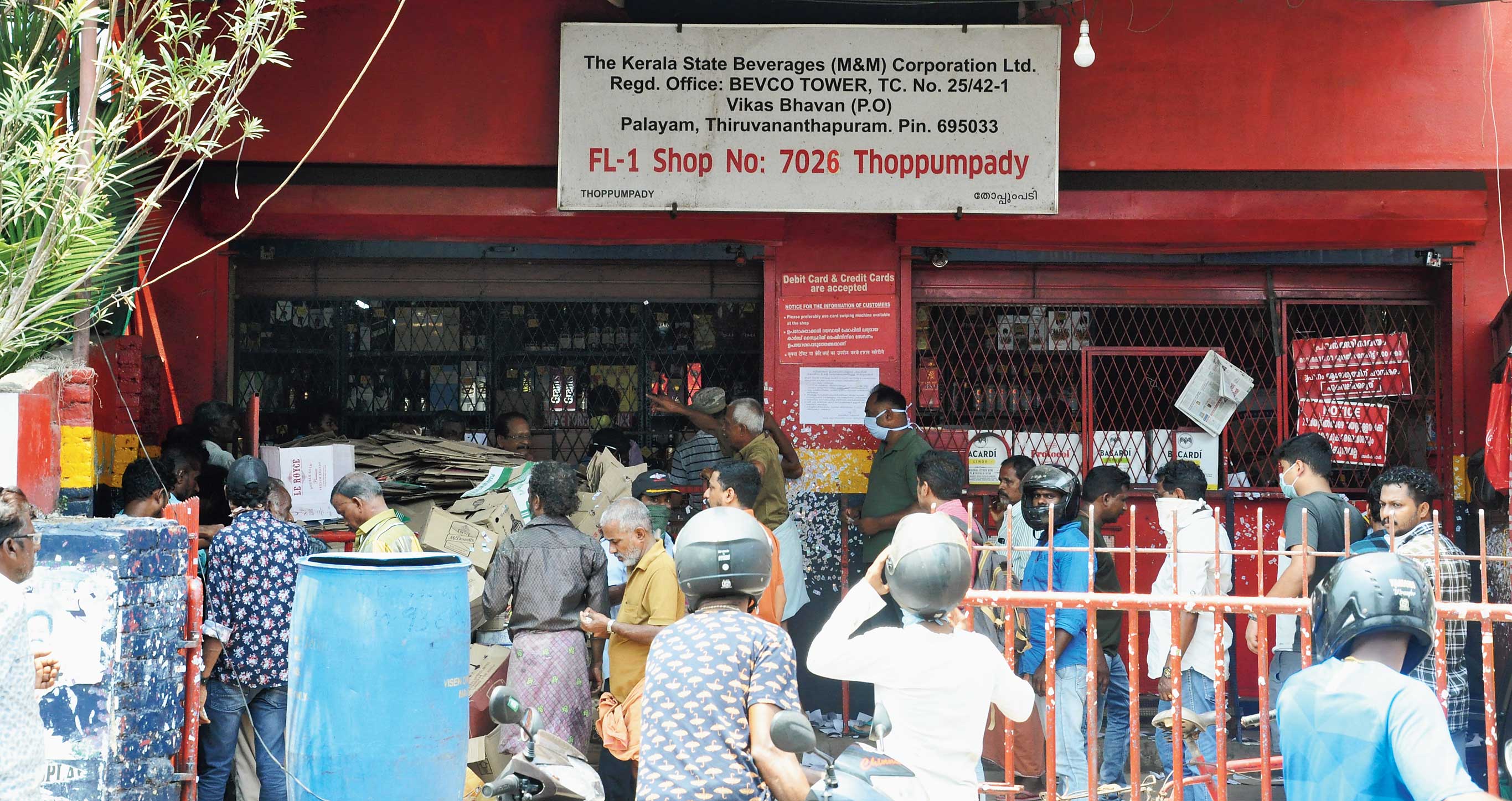 Customers at the beverages corporation outlet in Thoppumpady, Ernakulam, on Monday.
Picture by AS Satheesh
---
Bangalore
|
Published 24.03.20, 10:05 PM
|
---
Liquor, which earns the Kerala government hefty revenues, is proving to be an Achilles' heel in the state's fight against the coronavirus.
While stringent measures have been put in place in Kerala — where the number of those infected surged to 105 on Tuesday — liquor shops are still open although most other retail outlets excluding essentials are closed.
Although Kerala was the first state to come up with a liquor-shop-specific plan — asking customers to maintain a distance of one meter from each other and limiting the queues to a maximum of 30 people — the restrictions have only been partially successful in the past five days.
In Kerala, the state government is the sole distributor of liquor.
There have been instances where the restrictions have worked, but there are places where people have ignored all norms, posing a major health hazard.
"The government is messing up everything by keeping these liquor stores open. It's a huge risk to open them," leader of the Opposition Ramesh Chennithala of the Congress told The Telegraph on Tuesday.
He accused the Left Democratic Front government of chasing revenues by selling liquor despite the pandemic. "They are after revenue, as liquor sales bring about Rs 48 crore each day," Chennithala said.
Among the major markets for spirits, Kerala earned revenues of Rs 14,505.67 crore in the 2018-2019 financial year from the sale of Indian-made foreign liquor and beer.
Malayalis guzzled IMFL and beer worth Rs 487 crore during the last eight days of the 10-day Onam festival in September 2019.
Chennithala also took the government to task for holding auctions to set up traditional toddy (coconut liquor) shops in several districts, some of them on Monday. Youth Congress activists had protested at each of the auction venues.
"All this points to a very irresponsible government that has no concern for the people. Liquor stores must be closed until normality returns," Chennithala said.
However, there was no sign of the government closing down the liquor outlets, revising shop timings to 10am-5pm from 9.20am-9.30pm. The government also allowed the state's 570-odd bars, which are all closed, to function as retail outlets where liquor can only be bought. This was done to ease the pressure on the liquor outlets.
G. Sparjan Kumar, the managing director of the Kerala State Beverages Corporation, the sole distributor of liquor in the state, said the government was reviewing the decision to keep the shops open.
"The government is weighing the pros and cons since this (liquor) is a very sensitive issue in Kerala," Kumar said.
"We had considered the possibility of people switching to spurious liquor if we decide to close down the outlets. If that leads to something untoward, the whole focus on coronavirus prevention could get affected," Kumar said.
The state has often reported deaths by consuming illicit liquor.
Moreover, since alcoholism is a problem in Kerala, a sudden unavailability of liquor could cause withdrawal symptoms and overwhelm hospitals at a time when the healthcare system is pulling out all stops to tackle the coronavirus crisis.
Another reason for the huge rush outside liquor shops is the limited number of shops.
"We have around 300 liquor stores against 7,000 in Tamil Nadu and 3,000 each in Andhra Pradesh and Telangana. This naturally leads to a lot of rush," Kumar said.
Hoarding of liquor is posing another challenge. "We have information that many people are storing liquor fearing a closure of shops. But they will have to face the law since hoarding is illegal," Kumar said.
A senior doctor at the government hospital in Attingal, Thiruvananthapuram, G.S. Vijayakrishnan, said liquor sale was a government policy but crowding should not be allowed.
"Crowding at any place is dangerous. But I saw a couple of liquor stores today in Thiruvananthapuram that strictly maintained the government order," said the doctor who is also the general secretary of the Kerala Government Medical Officers' Association that often sends suggestions to the government.
Kerala health minister K.K. Shailaja on Tuesday issued fresh guidelines on keeping a minimum of one-metre distance between customers and between customers and shopkeepers at all times.
A government doctor heading a coronavirus team said liquor was not an essential commodity.
"Addicts need to drink every day. But that should not be a criteria to keep liquor stores open," said the doctor, who declined to be named.
"I agree that a minimum distance should be maintained everywhere. But the sale of liquor is a risk since customers often turn up drunk and naturally violate the protocols," he added.
The previous government headed by Oommen Chandy of the Congress had shut down most of the private bars aiming for total prohibition. But that gave rise to smuggling from neighbouring states such as Karnataka and Tamil Nadu. The economically weaker sections even switched to spurious liquor.