'Insult' to Prophet: BJP sacrifices Nupur Sharma, Navin Jindal
Statement and action taken on directions from top, PMO: Party source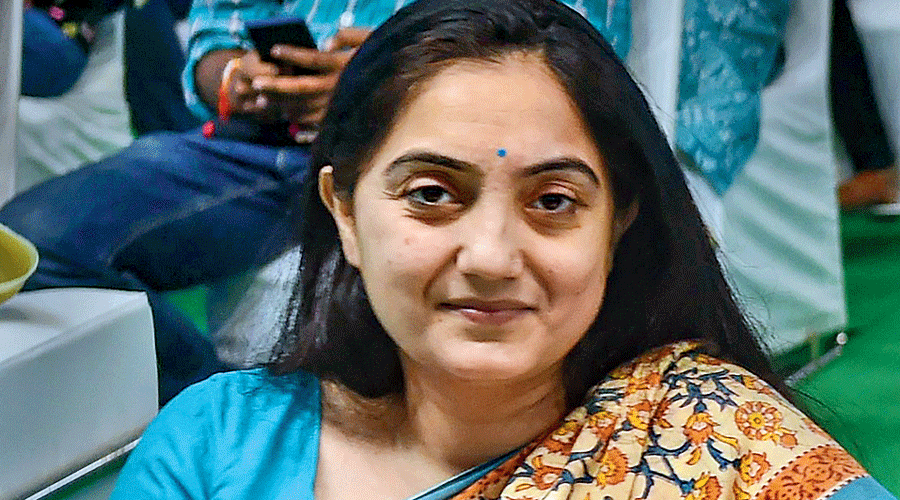 Nupur Sharma.
PTI file picture
---
New Delhi
|
Published 06.06.22, 02:18 AM
|
---
Like a wayward pupil compelled to write lines as punishment, the BJP on Sunday betrayed a familiarity with the rights the Constitution guarantees all religions and rushed to punish two spokespersons for derogatory comments on Prophet Mohammed.
The nature and speed of the action after a backlash in West Asia was uncharacteristic of a dispensation whose leadership tends to ignore not just Muslim-bashing but even calls for genocide against the community. The rapid response to the outrage abroad stood out against the initial attempt to ignore the comments made by Sharma on May 27 that triggered protests within the country. (See chart) The party suspended national spokesperson Nupur Sharma and expelled its Delhi unit media cell head Navin Kumar Jindal after their comments provoked the backlash from West Asia, where governments exerted diplomatic pressure and people called for a boycott of Indian goods. Clashes had broken out in some parts of India on Friday. Seen against the BJP's earlier failure to punish MP Pragya Singh Thakur who had called Mahatma Gandhi's assassin Nathuram Godse a "patriot", party sources suggested the latest action had come under "extraordinary pressure".
Hours before the suspension and expulsion, the BJP issued an unlikely statement affirming respect for all religions and minorities' constitutional right to practise their religion — taking a stand its leaders have historically disparaged as "pseudo-secular" and its ecosystem mocked as "sickular".
"The statement and action have been taken on directions from the top, the PMO," a BJP source said, implying that a leadership that likes to boast about its "56-inch chest" had buckled before the counterblast in Arab countries.
India has also been under pressure from the US on religious freedom, with secretary of state Antony Blinken on Thursday citing "rising attacks on people and places of worship" in the country.
In late April, the US Commission on International Religious Freedom had recommended that India be designated a "country of particular concern" — equating it with the likes of Pakistan, Saudi Arabia, Iran, North Korea and Russia — saying its government "engages in or tolerates 'particularly severe' violations of religious freedom".
Sunday's statement by the BJP said: "During the thousands of years of the history of India every religion has blossomed and flourished. The Bharatiya Janata Party respects all religions. The BJP strongly denounces insult of any religious personalities of any religion."
The statement, signed by BJP general secretary and headquarters-in-charge Arun Singh, added: "India's Constitution gives right to every citizen to practise any religion of his/ her choice and to honour and respect every religion.
"…We are committed to make India a great country where all are equal and everyone lives with dignity, where all are committed to India's unity and integrity, where all enjoy the fruits of growth and development."
Before Sunday's statement and action, neither the BJP nor any of its leaders had officially condemned the comments by Sharma (on a TV show) or Jindal (on social media).
Instead, pro-BJP publications had come out in support of Sharma, and she had publicly claimed the backing of the "Prime Minister's Office, home minister's office, party president's office".
The letter to Sharma from the BJP's disciplinary committee, as reported by a news agency, said: "You have expressed views contrary to the party's position on various matters, which is in clear violation of Rule 10(a) of constitution of Bharatiya Janata Party.
"I have been directed to convey to you that pending further inquiry, you are suspended from the party and from your responsibilities/ assignments if any with immediate effect."
Modi, the supreme leader of government and party, has tended to greet violence against Muslims with silence. He had not reacted when BJP poll campaigners abused anti-CAA protesters two years ago and advocated they be shot. The Prime Minister had himself profiled these protesters by saying they could be "identified by their clothes".
Even on the rare occasion when Modi felt compelled to break his silence, no action has followed.
When then party candidate and now Bhopal MP Pragya Singh Thakur, a terror accused, had called Godse a patriot during the 2019 general election, Modi had said he would "never be able to forgive her". Then BJP president Amit Shah had promised disciplinary action.
None came.