BJP pushed India into dark age of religious polarisation: Surjewala
Having ignored a national outcry, saffron party acted against spokespersons after Arab nations issued a strong condemnation and sought an apology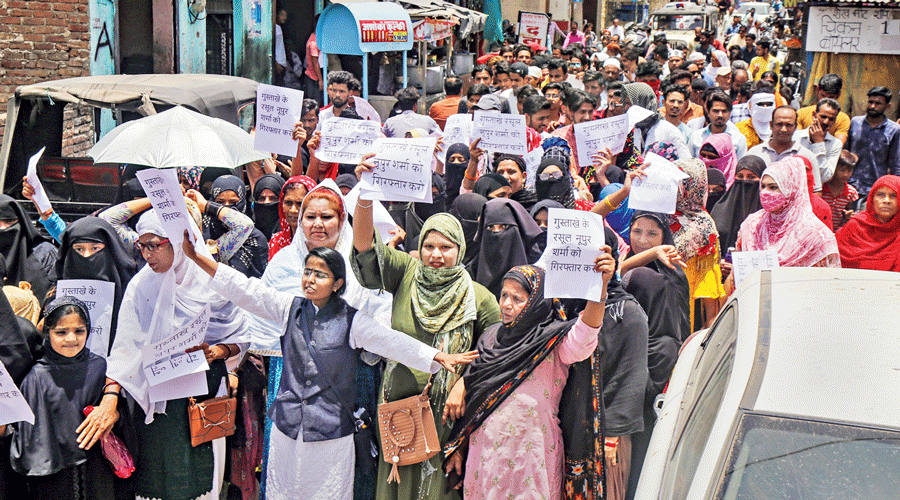 Congress supporters protest in Kota on Sunday against Nupur Sharma over her alleged remarks on Prophet Mohammed.
PTI picture
---
New Delhi
|
Published 06.06.22, 01:10 AM
|
---
The Congress on Sunday dismissed as "pretence" the BJP's assertion that it respects all religions, wondering if it had suddenly decided to atone for its sin of having founded its ideology on religious division.
Arguing that the BJP's posturing was a tactful retreat under pressure and a sham attempt at damage control, Congress communications chief Randeep Surjewala said: "Is the BJP sincere in course correcting? Is the BJP trying to atone for its immeasurable sins or is it more chameleon-like posturing? Will the bulldozing of India's soul, its ethos and its all-encompassing humanity by the bulldozer of hatred finally stop? Will the mob-lynching of our constitutional ethos cease? Is repentance by the BJP and its leadership possible? A short statement by the BJP is unlikely to heal the millions of wounds inflicted on the ethos of Indianness."
Having ignored a national outcry for several days, the BJP on Sunday acted against two of its spokespersons after Arab nations issued a strong condemnation and sought an apology. The party also asserted that it respected all religions. The country has witnessed social turmoil and communal violence for the last few years because some forces, including BJP leaders and ministers, made incendiary statements and remained silent on communal violence in various states.
The political ambience has changed dramatically and the secular ethos is now treated with contempt on social media, with terms like "sickular" being freely used by supporters of this regime.
The Congress statement said: "BJP's statement today saying it is 'strongly against any ideology which insults or demeans any sect or religion' is nothing but a blatantly counterfeit pretence, which is evidently farce and another sham attempt at damage control. This is what is called — 'nau sau chuhe kha kar billi chali haz ko'. The placatory expulsion of two key members and spokespersons of the BJP from its primary membership, done obviously under duress of threats from external powers, exposes the much touted 'muscular posturing' and positioning of the BJP and the Modi Government."
The Congress warned those who risk violating the constitutional scheme to sustain the communal agenda, saying: "One thing is clear. It is a lesson to the virulent members of the BJP that they are nothing but fodders in this game of political grandstanding and that they can be used, thrown and discarded at the drop of a hat."
While no action was taken against party MP Pragya Singh Thakur and others for insulting Mahatma Gandhi, spokesperson Nupur Sharma was suspended for insulting Prophet Mohammed.
Surjewala said: "The BJP and its shenanigans have repeatedly and by design insulted India's centuries-old civilisational ethos of 'vasudhaiva kutumbakam' by constantly pitting one community and religion against another to polarise, divide and spread hatred. The intrinsic character of the BJP and the Modi government is now founded upon religious violence, divisive conservatism and nurturing hatred to secure vote-bank politics. None less than the Prime Minister and the BJP chief ministers, of the ilk of Adityanath, have introduced a new political vocabulary of State-sponsored division of society."
Rattling off the expressions used by top BJP leaders such as "shamshan-kabristan", "80 vs 20", "bulldozer" and "garmi nikal denge", he added: "The language of politics in elections no longer centres around phrases like development, employment, progress, education, agriculture, irrigation, electricity, trade and business, infrastructure etc. It is now entirely centred upon creating, propagating, promoting and executing a wedge between religions and communities based on what they wear, what they eat, how they live, how they celebrate their religion or even how they speak."
Uttar Pradesh chief minister Yogi Adityanath used to talk about "Ali versus Bajrang Bali" at election rallies. Home minister Amit Shah spoke of giving electric shocks to the anti-CAA protesters of Shaheen Bagh. Dog-whistle politics to keep the communal pot boiling has become a routine feature of public discourse. Though the Prime Minister has made a public appeal to set aside communal politics for 10 years, most of the television debates revolve around the Hindu-Muslim divide and there has been no structured attempt by the government to sanitise the toxic social ambience.
Surjewala said: "The truth is that the BJP has pushed India into a dark age of religious polarisation to subserve its parochial political agenda in the short term. Its leaders as well as workers have perpetrated only one thing and that is creating a schism in India's universally celebrated idea of unity in diversity.
"The BJP and its leadership need to rethink the irreparable damage being caused to the polity by their insatiable lust for power. Resultantly, Sikhs, Muslims, Christians as also SC, ST and OBC's have had to face the wrath of lumpen elements backed by State power. This cannot be the central theme of any political party."