BJP leader highlights militant attacks on outsiders in Kashmir
Ram Madhav's statement comes a day after army chief's speech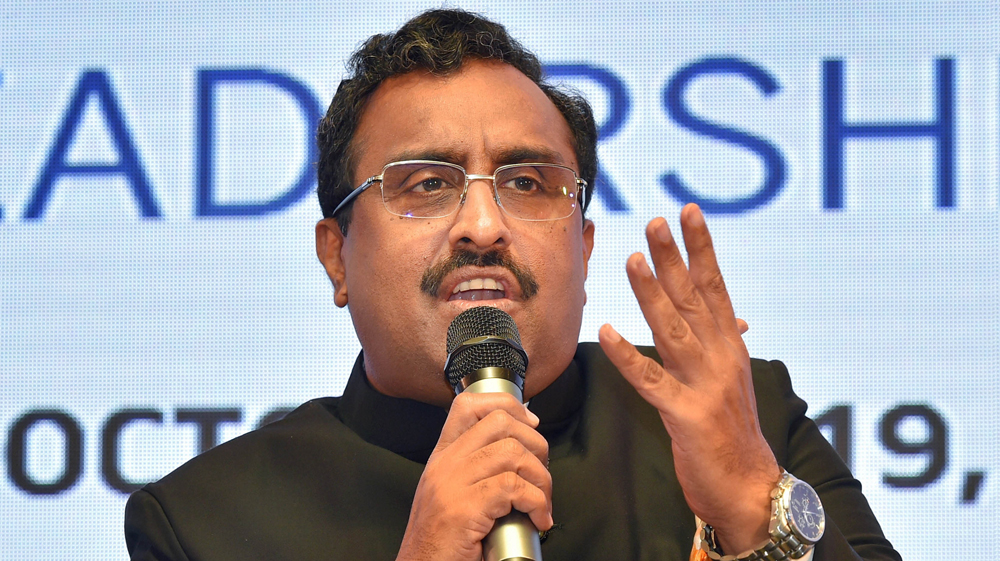 Ram Madhav, the BJP general secretary
(PTI file photo)
---
Jammu
|
Published 26.10.19, 01:53 PM
|
---
BJP general secretary Ram Madhav on Saturday said militants were destroying the "beauty of Kashmiriyat" by targeting traders and truckers from outside the state but security forces would not allow such activities and deal with them strictly.
Madhav's warning came a day after army chief Bipin Rawat made a politically loaded speech on similar lines. 'Attempts are being made by these terrorists to disrupt resumption of normalcy in Kashmir post the abrogation. We have been seeing killing of apple traders, drivers from outside of the state, preventing shops from getting opened, and threatening schoolchildren from attending schools,' he said. 'All this narrative is coming from Pakistan and terrorists.' 
In the past 11 days, terrorists in south Kashmir have killed five non-Kashmiris, including an apple trader and three truck drivers who were transporting apples. They also burnt several trucks.

The statements by Madhav and the army chief, taken together with the full-page government ads in Kashmir newspapers asking people to come out of their homes and fully open businesses, forms a pattern. 
The government has betrayed its inability in ending the self-imposed civil disobedience by Valley residents, who have stayed shuttered inside either out of fear of government forces or militant action.
Given this situation and the targeted attacks on outsiders, Pakistan has emerged as the culprit in the state's narrative. Pakistan is known to have supported Kashmiri militant outfits for a long time.
Madhav today said  Prime Minister Narendra Modi's "well-thought-out" decision of abrogating Jammu and Kashmir's special powers would not be revoked as it was done for the betterment of the people who had remained deprived of various rights for 70 years because of this constitutional provision.

"Pakistan is continuing its efforts to create unrest in the Valley but our security forces will frustrate all its attempts," the BJP leader told reporters on the sidelines of a seminar organised by his party on the "accession day" in Jammu.
Asked about frequent ceasefire violations by Pakistan, he said necessary security arrangements were in place to scuttle such attempts to foment trouble in the Valley.
"The militants are trying to scare away and frighten businessmen who have come to Jammu and Kashmir for trade. They are only harming the interests of the people of Kashmir and destroying Kashmiriyat," he said, responding to a question about the recent attacks on non-local truckers and traders in south Kashmir.
Defending the BJP for removing sections of the law without taking people into confidence, he said Article 370 itself was implemented unconstitutionally and so were the amendments made by the Congress. "They have no right to question us on the manner of taking the decision," he said, accusing other mainstream political parties of misusing the provision to empower themselves.
The BJP leader also lashed out at politicians for exploiting Kashmiriyat over the years and said: "Kashmiriyat and Hindustaniyat are the same which teaches equality, living in harmony and respecting everyone irrespective of creed, colour, cast and religion.... Driving away lakhs of Kashmiri pandits from their homes is not Kashmiriyat and as also the attacks on traders from outside the state," he said.