BJP colt held in anti-CAA shooting case
The possible objective of this arrest is to pre-empt passions escalating if one of the shooting victims died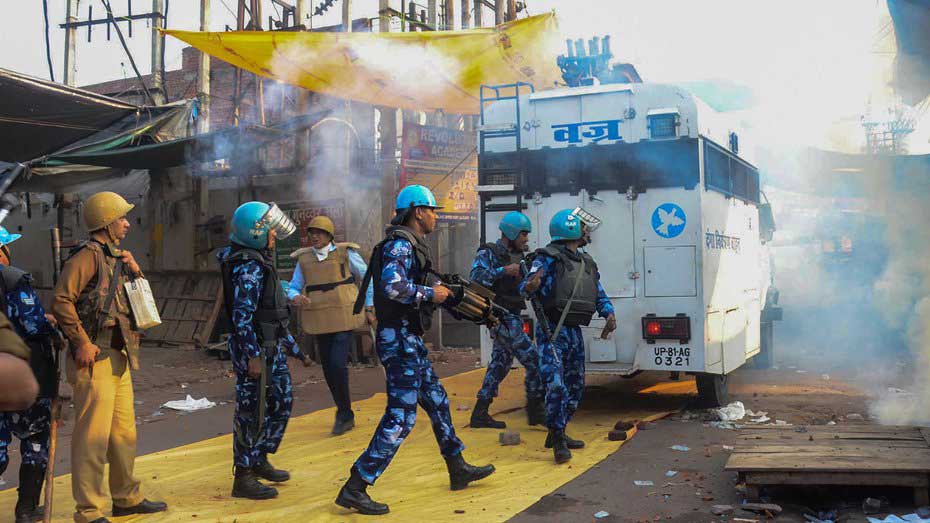 Police personnel at the site where the clashes broke out between anti-CAA protesters and cops at Uparkot Jama Masjid, Aligarh.
(PTI)
---
Lucknow
|
Published 12.03.20, 08:35 PM
|
---
Yogi Adityanath's police on Thursday arrested a BJP youth wing leader for allegedly shooting at an anti-Citizenship (Amendment) Act march in Aligarh on February 23, the move coming after one of the victims turned critical on Wednesday night.
Vinay Varshney, 35, general secretary of the Bharatiya Janata Yuva Morcha's Aligarh City unit, and associates Surendra Yadav and Triloki Prasad are the first Sangh parivar members arrested in Uttar Pradesh for attacking or threatening anti-CAA protesters.
Varshney and his supporters had allegedly fired from pistols from Yadav's house in Babri Mandi in the Uparkot locality, hitting Mohammad Tariq, 25, in the stomach and blinding Mohammed Ibrahim, 26, in the left eye.
Asked what had prompted the arrests now, police sources said the trio had been picked up at 4am after Tariq's condition worsened and he was put on a ventilator, the idea being to pre-empt any escalation of passions if he died.
"We will hold a meeting in the evening to prepare a strategy to ensure the release of Varshneya, who is innocent," a BJP leader in Lucknow said on the condition of anonymity.
Local people said Varshneya was being groomed as a possible Assembly polls candidate in future. Yadav is a milk seller and Gopal a grocer.
All three have been charged with attempt to murder — which has to be changed to murder if either victim dies — and breach of peace. They have been sent to jail custody for 14 days. Sources said the police were looking for three more of Varshneya's supporters, including a grocer named Gopal Singh.
Officers said some 37 people had been booked on the same charges, of whom about a dozen are BJYM supporters and the rest are anti-CAA protesters, accused by parivar supporters of firing at them.
"The Hindu side registered three FIRs and the Muslim side one," a police inspector, Ravindra Kumar Singh, said, opting to identify the two sides by their religion rather than their political stand on the CAA.
Tariq and Ibrahim are being treated at the J.L. Nehru Hospital of Aligarh Muslim University.
"Eyewitnesses told me that Tariq was hit when Varshneya fired on the crowd from the balcony of Yadav's house. Gopal Singh shot and injured my son," Ibrahim's father, Farooq Ansari, told local reporters.
Tariq's father Munnawar Khan said: "Clips from CCTV footage that are in the public domain show Varshneya firing at my son."
Ansari said: "A friend of Tariq told me that Tariq was just passing by when he was hit. My son had gone out to buy biryani from a restaurant."
Varshneya, himself a resident of the Uparkot locality, had led a pro-CAA march soon after the shooting.
Police sources quoted Varshneya as saying in his statement: "I threw stones at some anti-CAA protesters, who were not from Aligarh. They had attacked the Hindu residents of Uparkot and it was my responsibility to protect my people. I didn't use firearms."
An officer said: "Some shopkeepers have closed their stores in protest against the arrests. A huge force has been deployed in the area."
Varshneya had been booked for participating in a communal clash in 2016, when he claimed that intimidation by Muslim criminals was forcing Hindus to flee their home.
The then Akhilesh Yadav government gave him police security in the form of an armed constable, who was withdrawn after Thursday's arrest.
In another case, the police on Wednesday night arrested five anti-CAA protesters for allegedly attacking the force on February 23.