Teen kills self after failure to get father's killers arrested
Rohit Kumar Agrawal set himself on fire and jumped off the third-floor terrace of a building near his home at Harsiddhi in East Champaran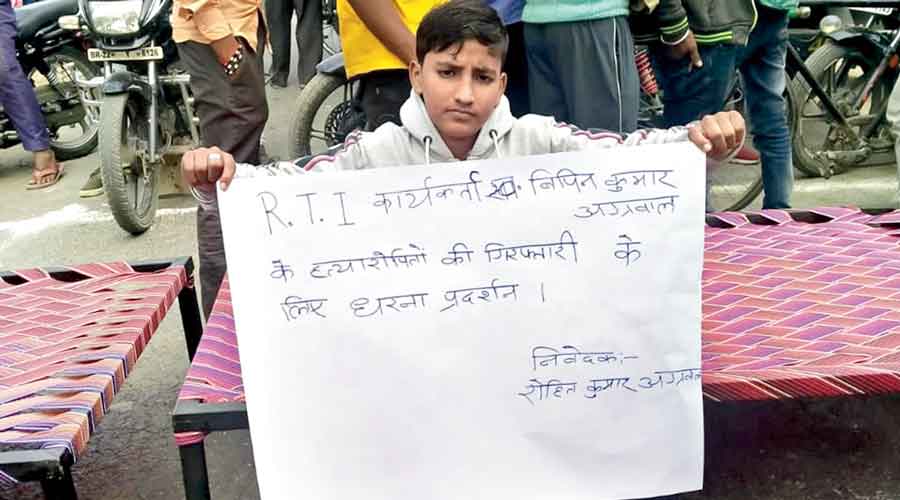 Rohit stages a protest a few weeks ago at Harsiddhi in East Champaran to demand the arrest of the people accused of killing his father.
Sanjay Choudhary
---
Patna
|
Published 26.03.22, 02:17 AM
|
---
For months, 14-year-old Rohit Kumar Agrawal did the rounds of the local police station and district-level administrative and police offices, engaged in a frustrating battle to secure the arrest of those he believed had got his RTI activist father killed.
The insults the schoolboy allegedly faced from the police on Thursday proved the last straw, his family said. Rohit poured kerosene on himself on Thursday evening, set himself on fire and jumped off the third-floor terrace of a building near his home at Harsiddhi in East Champaran, Bihar. He died in a hospital.
Rohit had earlier in the day travelled to district headquarters Motihari, 30km away, to meet superintendent of police (SP) Kumar Ashish at his office.
He failed to meet the IPS officer. Some of the policemen manning the desk there abused him, his family said.
"My grandson came back agitated, set himself on fire and jumped off the building. We took him to hospital, where he died," Rohit's grandfather Vijay Agrawal told The Telegraph.
He alleged that police and administrative officials were pressuring him to give a written statement saying Rohit was mentally disturbed and blaming his suicide on his state of mind. "I refused," Vijay said.
Rohit's father Vipin Kumar Agrawal was gunned down outside the Harsiddhi block headquarters on September 24 last year. He had made powerful enemies by exposing how a network of the land mafia, administrative officials, police, businessmen and politicians had grabbed about eight acres of prime government land in the area.
The family accused 26 people but the police named just 15 in the FIR and arrested only seven. The family members say the main conspirators, including the police and administrative officials they had named, were let off and kept threatening and insulting them.
Rohit, the eldest of three siblings, decided to fight. Apart from visiting government and police offices, he led agitations of 400-500 people to force the police to act.
"My son Vipin was a fearless RTI activist. Gunmen fired at our home in 2020. We complained to the local police station and the then SP but they did not take it seriously," Vijay told reporters. "A year later, he (Vipin) was killed in daylight and now I have lost my grandson."
SP Ashish told this newspaper he was in his office till 5pm on Thursday, but Rohit had not arrived or secured an appointment till then.
"When I left to attend a meeting convened by the district judge, 10 to 15 people were in the queue to meet me but Rohit was not among them," he said.
"I have reviewed the CCTV footage. He (Rohit) is seen talking on a mobile phone while leaving the premises along with one of his uncles at 5.27pm. He seems comfortable — there doesn't seem anything untoward (suggesting frustration) in his movements."
Ashish said he had met Rohit and his mother about two months ago and promised appropriate action.
Rohit's suicide has achieved what his pleadings could not.
"We prayed to the court today (Friday) to issue warrants for the arrest of the eight remaining accused mentioned in the FIR," Ashish said.
"We also prayed to the court to grant compensation to his family. Investigations are being conducted on the remaining 11 accused (not mentioned in the FIR)."
Ashish added: "This is an unfortunate incident. However, some people have told me the boy (Rohit) had become mentally unstable."
Shiv Prakash Rai, convener of the Nagrik Adhikar Manch, an organisation of RTI activists, said Rohit's suicide had proved that "Bihar is once again lawless".
"The entire episode reeks of the involvement of people patronised by the government, the land mafia, administrative officials and the police. Public land cannot be encroached on without their connivance," Rai said.
"They had tried to dissuade Vipin from his activism. He refused to oblige and was killed."
Rai added: "My colleagues in East Champaran have told me Rohit had begun to believe he would not get justice. Nobody was supporting him and he feared for the safety of his family."
Rohit's post-mortem was conducted on Friday and the body handed over to the family.
A large number of police personnel and administrative officials have been deployed in Harsiddhi amid public anger at Rohit's death.