Bihar: Nitish Kumar plays safe on Lalu Prasad's prison term
CM raked up the past to point out that some of the people who had filed cases at that time are currently with RJD chief and suggested media persons to take their reaction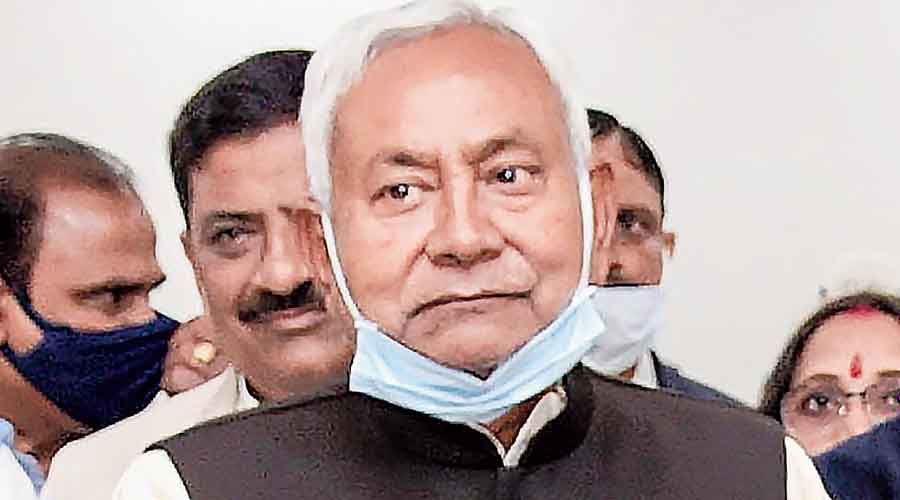 ---
Patna
|
Published 22.02.22, 01:32 AM
|
---
Bihar chief minister Nitish Kumar treaded cautiously and avoided any justification or jubilation on the five-year prison sentence and Rs 60 lakh fine awarded to Rashtriya Janata Dal chief Lalu Prasad in a fodder scam case by the CBI court in Ranchi on Monday.
"What should I say about this? I will not say anything. I had neither filed the case, nor was involved in it. Some people had come to me at that time (1990s) to get the cases filed, but I refused and asked them to do so on their own," Nitish told the media on the sidelines of his janata durbar to listen to complaints of the people.
Nitish also raked up the past to point out that some of the people who had filed cases at that time are currently with Lalu and suggested media persons to take their reaction.
"It is his (Lalu's) right to appeal in a higher court and they will do so," he added.
The safe play by Nitish on the issue, especially when Lalu and his younger son, leader of Opposition Tejashwi Prasad Yadav, have been vocal against him, might be an indication of the way politics in Bihar is going to shape up in the near future.
Sources in various parties have revealed a growing unease between Nitish's Janata Dal United (JDU) and ally Bharatiya Janata Party (BJP) over various issues of governance, power-sharing and coalition ethics.
The sources have also pointed towards a corresponding thaw in Nitish-Lalu relations in the recent past.
Nitish's future political decisions will depend on the BJP's performance in the Uttar Pradesh Assembly polls. If it fares poorly, it could spark off a million mutinies by friends and foes on the political front.
Speaking further on the sidelines of the janata durbar, Nitish asserted that the state government was determined about conducting a caste census, but at the same time wanted to take ideas from all political parties with the intention of incorporating the viable ones.
"We are already actively planning on how to conduct the caste census in the state. All castes, sub-castes will be properly enumerated. It will benefit everyone," Nitish said.
"We will definitely conduct it in Bihar even if it is not conducted at the all-India level. Do not go on how it was done in other states, we want to do it in a much better manner," he added.
The chief minister also downplayed his recent meeting with election strategist Prashant Kishor in New Delhi. He said the rendezvous was an offshoot of the personal relation between them and nothing political should be read in it.
Nitish also said the state would revive its demand to include Bhojpuri in the eighth schedule of the Constitution.