Bihar farmer hangs himeslf over electricity bill
Family members claim it was an inflated one while the state-run power company says victim had never been billed since he had taken a borewell connection in 2010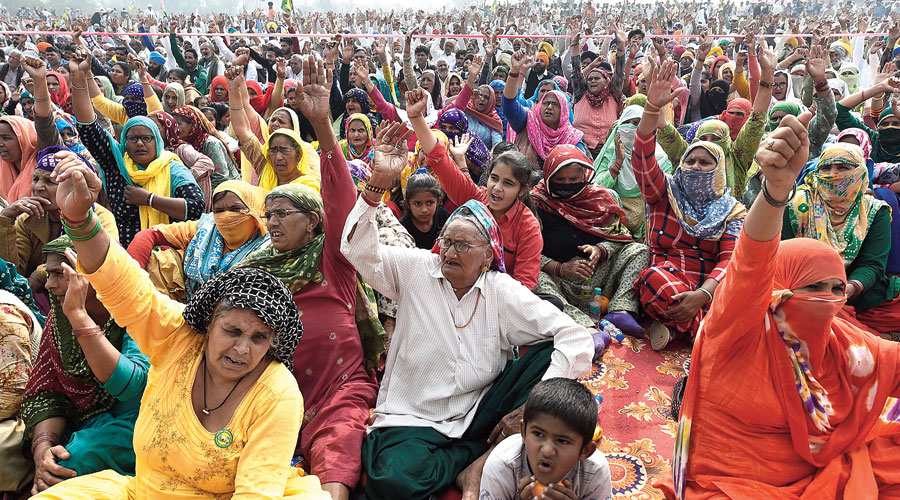 A kisan mahapanchayat at Bahadurgarh in Jhajjar, Haryana, on Friday. The Samyukta Kisan Morcha said that over 10,000 farmers participated in mahapanchayats in Bahadurgarh and Bilari (Uttar Pradesh).
(PTI picture)
---
Patna
|
Published 13.02.21, 03:48 AM
|
---
A Bihar farmer who received an electricity bill for around Rs 50,000 in December and paid Rs 25,000 after taking loans hanged himself on Thursday after power officials insisted on full payment, his family said.
Family members of 48-year-old Dinesh Singh of Naugai village, Rohtas district, said the bill — for the connection to a borewell on his small patch of farmland — was an inflated one.
Officials of the state-run South Bihar Power Distribution Company Limited (SBPDCL) said the bill was correct. They said Dinesh had never been billed since he had taken the connection in October 2010, and that the December 4, 2020, bill covered the entire period since then — along with interest.
Key points that emerged from conversations with the farmer's family and power officials:
No staggering: SBPDCL general manager (revenue) Arvind Kumar said: "Sometimes a consumer does not get billed. When it's detected, his power consumption is traced through our system and he is billed accordingly. One or two such cases happen."
Couldn't the bill amount have been staggered over a few months, since it was not Dinesh's fault that he was never billed before?
"There is no provision for sending bills in a staggered manner," Kumar said.
Bill high, says relative: Younger brother Ramesh Singh agreed that Dinesh had never been billed for the borewell connection, which he had secured "a few years ago" for his 10-cottah (half a bigha or one-fourth an acre) farmland.
He said the borewell was run only twice a year — during the rabi (winter) and kharif (monsoon) crop seasons — and just for a few days, that too only if the rainfall was deficient. "There's no way the bill could be so high," Ramesh said.
"He (Dinesh) was extremely perturbed after receiving the bill in early December. He visited the nearest electricity office many times to get the bill rectified but ended up harassed and frustrated."
The bill: The bill amount was Rs 49,453, if paid by the due date of December 19. It included dues of Rs 48,471.23, and Rs 984.68 for the latest month (November), with a Rs 3.78 rebate for timely payment. If unpaid by December 29, the amount rose to Rs 49,818.
The bill shows actual dues of Rs 28,620.70 and accumulated interest of Rs 19,850.53. However, it gives the consumption figures for only the last 11 months and not a complete break-up from 2010, which means it does not explain the amount charged.
Kumar had no answer why this had happened.
Unmetered connection: The borewell connection was unmetered, as the bill showed and electricity department executive engineer Prem Kumar Praveen confirmed.
Asked how such connections are meant to be billed, power officials said they were billed for a fixed number of monthly units, determined in advance on the basis of the presumed needs of the farmer.
Kumar, the SBPDCL general manager, expressed surprise that Dinesh's connection was an unmetered one. "Such connections were stopped way back in 2005," he said.
He agreed this was a lapse on his department's part.
The maths: Agriculture-related connections are billed at 65 paise per unit, power officials said.
Since Dinesh's actual dues were Rs 28,620.70, he would have consumed 44,030 units. Assuming he had incurred this bill between October 2010 and November 2020, he would have had to consume 44,030/122 or about 360 units a month.
The bill shows a flat 275-unit consumption per month for the past 11 months. Since the consumption is fixed in advance for unmetered connections, the gap of 85 units a month remains unexplained.
"There's no way a motor-pump could have used up such a huge amount of electricity drawing water from the borewell," Ramesh said, referring to the figure of 275 units a month. He iterated that the pump remained switched off most of the year.
Dinesh leaves behind his wife and six daughters, four of whom are unmarried.
Ramesh said Dinesh had submitted two applications to rectify the inflated bill.
"He was worried about losing the power connection. He borrowed money and paid Rs 25,000 in the hope of a compromise, but the officials kept asking him to pay the full amount. He finally gave up his life without telling us," Ramesh said.
Praveen, the executive engineer, told reporters: "Dinesh paid Rs 20,000 on December 28, 2020, and Rs 5,000 on February 6, 2021. We probed his application to rectify the bill but there was no error in it."
Naugai mukhia (headman) Ramashray Singh said: "The bill made an illegal demand of money from Dinesh and the electricity officials just made him run around and harassed him."
Ramesh said the family had not filed a case against anybody in connection with the suicide.
"We don't even know who was responsible for the inflated bill or who harassed him and made him run around so much. How can we lodge a case?" he said.