Bhim Army Chief, four others named among TIME magazine's top emerging leaders
'Everyone on this list is poised to make history'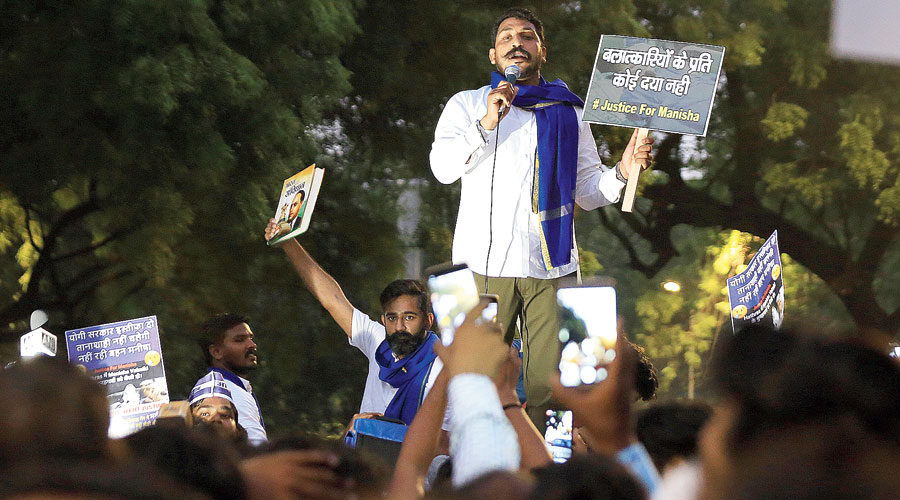 Chandrashekhar Azad.
File picture
---
New Delhi
|
Published 18.02.21, 03:39 PM
|
---
Five Indian-origin personalities, including Twitter's top lawyer Vijaya Gadde and UK's finance minister Rishi Sunak, and an Indian activist feature in TIME magazine's annual list of 100 "emerging leaders who are shaping the future".
The 2021 TIME100 Next, released on Wednesday, is an expansion of TIME's flagship TIME100 franchise of the most influential people in the world and highlights 100 emerging leaders who are shaping the future.
"Everyone on this list is poised to make history. And in fact, many already have," Dan Macsai, the editorial director of the TIME100, said.
Other Indian-origin personalities on the list are Instacart founder and CEO Apoorva Mehta, doctor and Executive Director of nonprofit Get Us PPE Shikha Gupta and founder of nonprofit Upsolve Rohan Pavuluri.
Bhim Army chief Chandrashekhar Aazad is also on the list.
Mr Sunak's profile in the TIME feature says that a little over a year ago, the 40-year old was an "unknown junior minister in the British government" but after he was named to lead Britain's Treasury last year, he "quickly became the benevolent face of the government's response to the Covid-19 pandemic, approving large handouts for many citizens whose jobs were disrupted by the virus."
Mr Sunak has however also been criticised for advocating early relaxation of lockdown rules, the profile said.
"Nonetheless, Sunak remains the country's most popular politician, according to the pollster YouGov. And he's the oddsmakers' favourite to be Britain's next Prime Minister," it added.
On Ms Mehta, 34, the TIME profile said that in the initial days of the Covid-19 pandemic, Instacart "faced a tidal wave of orders, as people with means opted en masse to pay the service's workers to buy groceries for them." Ms Mehta describes that period as a "wartime moment," it said.
However, later Instacart also "faced new criticism about the way it treated its workers, including labyrinthine sick-pay policies, frequent rule changes for shoppers and demanding performance metrics." Instacart continues its focus on expansion.
"The smartphone is the supermarket of the future. We are going to help co-create that," Ms Mehta said in the TIME article.
The TIME profile described Ms Gadde, 46, as "one of Twitter's most powerful executives" who was the one to convey the news to CEO Jack Dorsey that President Donald Trump's Twitter account had been suspended following the Capitol attack of January 6.
Mr Dorsey "has delegated to her Twitter's content-moderation decisions; she was the architect of the 2019 decision to ban all political advertising, and is responsible for the warning labels that Twitter applied to Covid-19 and election-interference misinformation in 2020.